3PM-Quick-Hitting Rain, Snow System
3PM Update: Thanks for all the reports this late AM for the Noon show on FB today. Most areas continue to get a mostly light rain/sprinkles with some still getting some pellets and flakes. I do have one report up in far N MO some maybe some snow sticking around Guilford, MO, which is just SE of Maryville, MO. Trenton, MO is reporting a nice dusting right now of snow. Not out of the question that areas well to the north or NE of the KC can sneak in 1″ or so of snow.
It looks like this will be the "worst" of the "storm" for KC. Already the back end of the decent precip (that might be overstating things) is moving into far eastern KS and moving eastwards. My forecast thoughts have not changed really for the rest of the afternoon. If anything the precip for the KC area may end a little quicker. This really is one strange winter! The winds will start to increase behind the "cold front that isn't" during the evening and probably gust to 20 or 30 MPH later tonight.
Concerning what's ahead. The weekend will see highs well into the 40s, but it will be breezy at times. Then on Monday we'll surge well into the 60-65° range, but also stay windy with gusts to 35 MPH possible. Alas that is the price we pay for seeing well above average temperatures.
Again no significant storm systems are showing up for the foreseeable future.
Today is the 39th straight day with less than .50″ of moisture. This 'storm" certainly won't do it.
The latest 6-10 outlook isn't promising for winter lovers out there.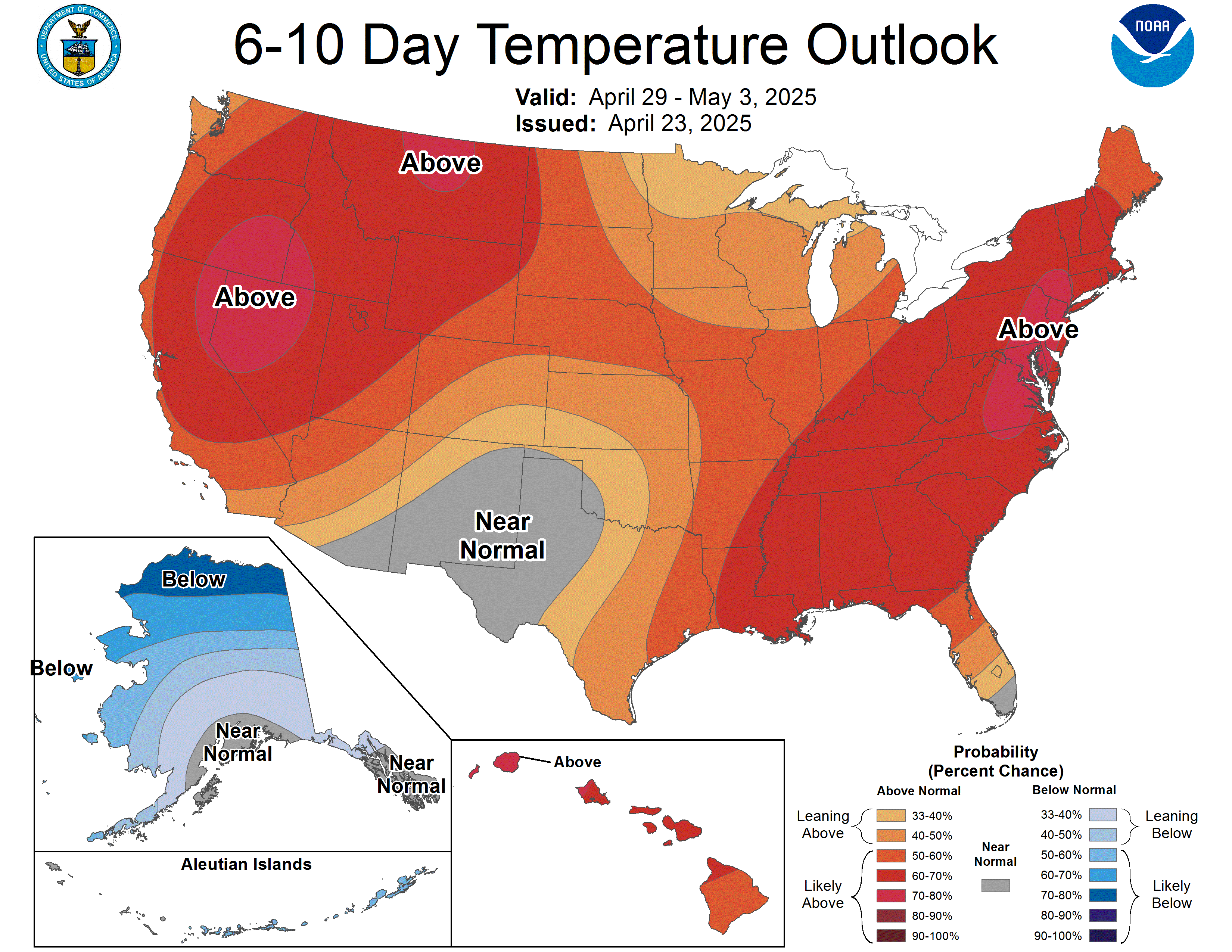 That's it for this afternoon…now lets return to your morning blog.
Even in a year with little to almost no snow across the region, it's tough for me to get very excited about the system heading our way today. It's disorganized, but will get somewhat better organized once it heads off to the east of the region. This could end up being somewhat more favorable for NC and NE MO than for us in W MO and E KS. There is going to only be a limited amount of time where precip will move through the area and despite the good look to radar now, very little of that precipitation is actually reaching the ground as of 9:45 AM. We did get a FB report from Cameron of a few flakes just now.
What is slowly happening however is that the atmosphere is getting more saturated and that will be a process that continues for quite some time. For the last week or so we've talked about soundings. I hate to go through all that again now, but I did want to show you the sounding from Topeka (the closest station that sends up a balloon near KC) and point something out again to you.
What I wanted to point out to you, as I've done a bit in the past is the large spread in the RED line (temperature) and the GREEN line (dewpoint) that you see in the bottom 1/5th or so of the sounding above. Roughly from the 700 line down. 700 means 700 millibars or roughly 10K feet up. Also notice the diagonal blue 0°(C) or 32°(F) line and compare the RED line to that diagonal BLUE line. Notice how for the bottom part of the atmosphere 780 mbs down, it's to the right of the 32° line. That means that the air is above freezing from essentially 8K feet on down. There is no way snowflakes can survive that journey down to the ground based on this instant of time. Again the large spread between the RED and GREEN lines means that the air is dry and what falls will evaporate and cool down the atmosphere. This will allow the snowflakes to slowly make it to the ground.
Regardless with temperatures approaching 40° this afternoon nothing will stick here. Maybe some minor accumulations can happen to the north or NE of KC. That will be something I watch for you.
At this point here is what I'm expecting for the rest of the day for the METRO.
11AM-5PM: Very light rain which at times may mix with or briefly start as some frozen precip. with temps approaching 40°
5PM-7PM: We may see some snowflakes mix in with temps falling to near 34°
After 7PM: Precip ends, wind pick up from the NW and we start to dry out.
For areas east and NE of KC, let's say from Chillicothe to Marshall into Central MO and NE MO
2PM-8PM: Some light precip, mostly liquid
8PM-10PM: Flakes mix in, maybe some minor accums on grassy surfaces.
After 10PM: Drying and breezy
The weekend looks fine.
I'll have another blog update this afternoon at around 2PM this afternoon.
Joe