Latest Drought Report Is NOT Good
Well we'll start with at least a iota of good news…some saw some decent rainfall last night. There was an area from JOCO through N Douglas Co, KS that picked up 1-1 1/2″ of rainfall last night. Just SW of Eudora got a report of about 1 1/3″. Here are some additional totals from last night. KCI, officially for KC only received about .02″
.
Click on that image to make it larger. The storms came through the region and/or developed as the evening went along last night on the KS side. Additional development occurred before midnight and at least some go some much needed rainfall.
The weather for the next few days though is the type of weather though where we evaporate close to 1/4″ of moisture from the ground. So IF you got 1/4″ of rain last night, that should all be evaporated over the next 1-2 days. Basically while nice and welcome, this is literally a drop in the drought bucket for the area.
On that note, the latest drought report came out earlier this AM. Our twitter followers @fox4wx learned the information within minutes of the report. Here is the information for the MO side first.
Now for the KS side…
What's my takeaway about all this. 1) 100% of MO and KS are in a drought and 2) there was a major expansion of the "extreme" drought criteria on both sides of the state line. To go from 10% to 23% on the MO side and to leap from 28% to 64% on the KS side is VERY significant and not good for anybody I don't think. Also note the upgrade to "exceptional" drought, the highest or worst category across parts of western KS.
All of this was somewhat expected…when parts of the area haven't had more than 1/2″ of rain in a day since early May…it's never a good thing. As a matter of fact going forward, the drought is expected to worsen heading towards the fall season. Here is some new information from NOAA.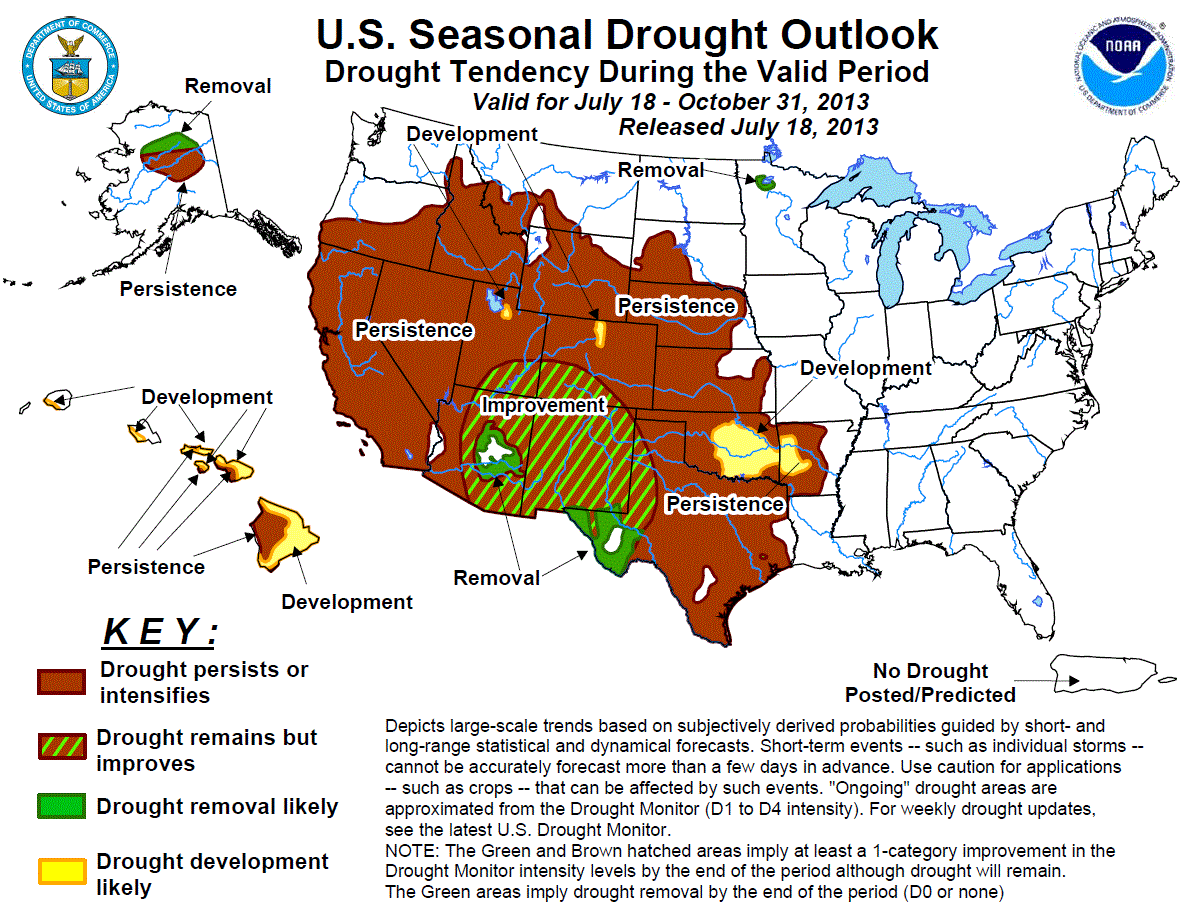 St Louis, MO today tied their second longest streak of having highs 90° or above with 23 days. The record is 28…should be no issue to get there and beyond.
An Excessive heat Warning remains in effect for the KC metro through Sunday. This will likely be extended daily for another 24 hours through the middle of next week at least.
Concerning the heat…really don't know what else to say at this point. There will be fluctuations in the highs and the lows over the next 7 days. There should be somewhat drier air moving in over the next couple of days so the dewpoints are going to come down rather nicely, but that dry air will get hot fast as the AM moves along. Highs should be near 100° Friday with highs 100-105° over the weekend and as I mentioned earlier in the week, the core of the heat will be on top of us early next week…so a run towards 105-110° is certainly possible for a few days next week.
Stay cool and remember your heat wave safety ideas.
Joe