So Much Weather…So Little For KC
Man that was a crazy weekend, and I really don't want to re-hash every thing I wrote over the weekend but gosh between two blizzards, a mini severe weather outbreak in the SE part of the country and a lot of wind here int he Midwest, I certainly had a lot to talk about for the last couple of days. Yet for KC, granted we had the winds (gusts to about 50 MPH) but we really had little else aside from about 1/10″ of rain. Whoop-de-do!
Let's start with the tornadoes down to the south. some of the videos are rather impressive, especially of the one passing through the Hattiesburg area yesterday afternoon. They all had plenty of warning as Tornado watches/Warnings were in effect in plenty of time. Perhaps that strong awareness, even on a late Sunday afternoon in February kept the death toll at zero as of this writing. Pretty impressive when you have an EF2 or 3 tornado ripping through a metropolitan area, especially as it carved through a college campus.
The NWS from Jackson will be sending our crews today to rate the tornado damage and label said damage with EF (Enhanced Fujita) ratings. From the damage I saw in pictures/video, this looks to me to be solid EF2 or even EF3 damage. Here is the headline this AM from the Jackson, MS Clarion-Ledger newspaper.
While there were about 30 reports of tornadoes yesterday, when the weeding out of duplicate reports is taken into account, the number should be cut in about half or so. It's also a reminder the the atmosphere can create violent and severe weather at any time in any month. The southern part of the country, especially the SE can be active during the winter months with severe weather and yesterday was certainly a case in point. MS averages about 43 tornadoes per year, and yesterday was a pretty big start to what's ahead over the next 10 months or so.
Here is a close in version for more perspective…
The severe weather outbreak was caused by the 2d blizzard that formed over the weekend. As I mentioned there are some pretty interesting videos and a LOT of "salty" language in the videos that are on You Tube today. I retweeted what I thought was one of the better ones from John Sibley (without the language) yesterday evening. Click on that link to see it…it runs about 5 minutes or so.
There are a lot of others on You Tube…
Meanwhile, without going into all the details of the NE Blizzard again, it did leave an interesting impression from space. A couple of years ago, MA was hit by some tornadoes, and with the weekend snow that fell, and there was a lot of it, it actually revealed a tornado scar from space of the tornado path. I've seen this before, I think up in WI a couple of years ago, and blogged about it in the past, so with a h/t to @geofffox) take a look at this image he tweeted out.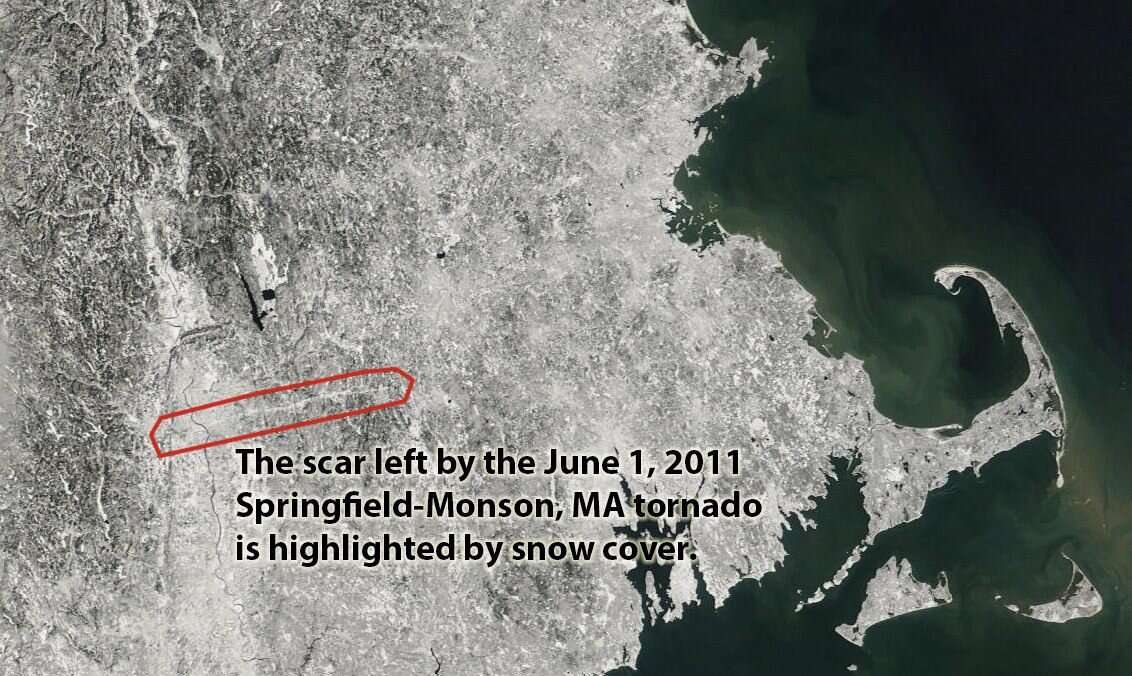 By the way all that white, and there is a lot of it is snowcover from the blizzard!
Meanwhile the 2nd blizzard of the weekend formed early yesterday and raked the upper Midwest with upwards of 12-18″ of snow in spots. While not as severe, it was packing winds of 30-50 MPH or so. Interesting to note the winds down here (connected to the storm) were just as fierce as the winds up there! That's what a pressure gradient will do for you (large change in atmospheric pressure in a relatively short distance). Their winds up there seemed to be mostly in the 35-45 MPH category. North Platte, NE did have a gust to 51 MPH. For more on blizzard #2…go here.
Not much happening around these parts this week, aside from some minor ups and downs in the temperatures and I'm still expecting some colder weather this coming FRI/SAT.
Here are some interesting weather-related tweets this AM.
https://twitter.com/WGNWeatherGuy?protected_redirect=true
and finally, I'm excited about this year!
Have a great day!
Joe