Blog: Latest snow models for upcoming storm
The latest data has come in and my confidence hasn't really changed nor are there any big changes needed to the timeline that I illustrated earlier today. This update basically will show you all the model data in terms of how much snow the models are cranking out. Us humans will massage that data and try to figure out the sleet aspect of the storm. So let's get into the model output 1st. Here is the NAM model for snowfall…
Now the Hi-Res NAM model…
Now the GFS model…
and finally the Canadian model…
Let's get more specific for the northsiide…here are the snowfall ranges @ KCI
and on the Southside, for Pleasant Hill
Obviously click on all of those images to make them more readable.
Now I want to show you a forecast sounding of what the NAM thinks the atmosphere will look like at 9AM Thursday when we should be in the thick of the storm. This data is valid for KCI on the Northside of KC.
Now let's move about about 50 miles SSE towards Pleasant Hill, MO…I want you to notice hot the air aloft is just a bit warmer in that circled area…that is the "warm" layer that we've talked about so much and the key to sleet production.
The biggest issue with the data as I mentioned this AM in the writing below this is will this elevated warm layer be a reality or will there be various factors within the storms environment to alter this layer or even eliminate it or perhaps strengthen it more.
I think what you take out of this is the I-70 corridor will be the battle ground between the sleet and snow.
Here is a simpler way of looking at that information. Take a look at the model forecast for 9AM, in terms of precipitation type…look how the KC Metro area falls into things….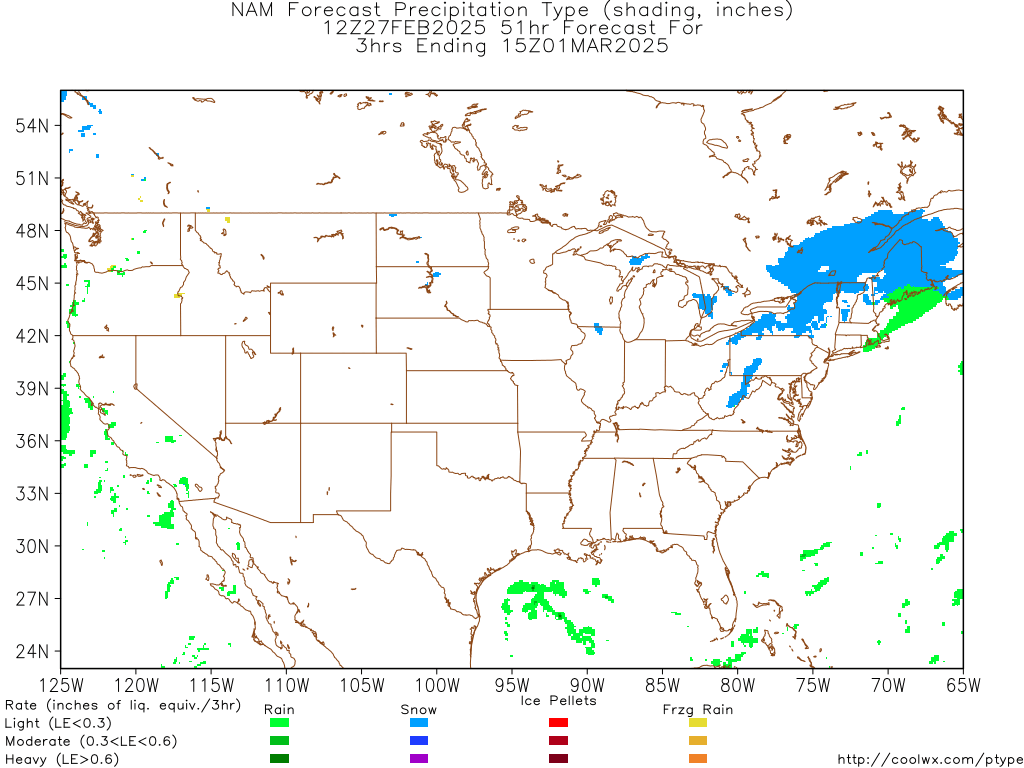 Now take a look at the GFS…it does not have the detailed resolution of the NAM model above and that is important when you're trying to forecast county by county.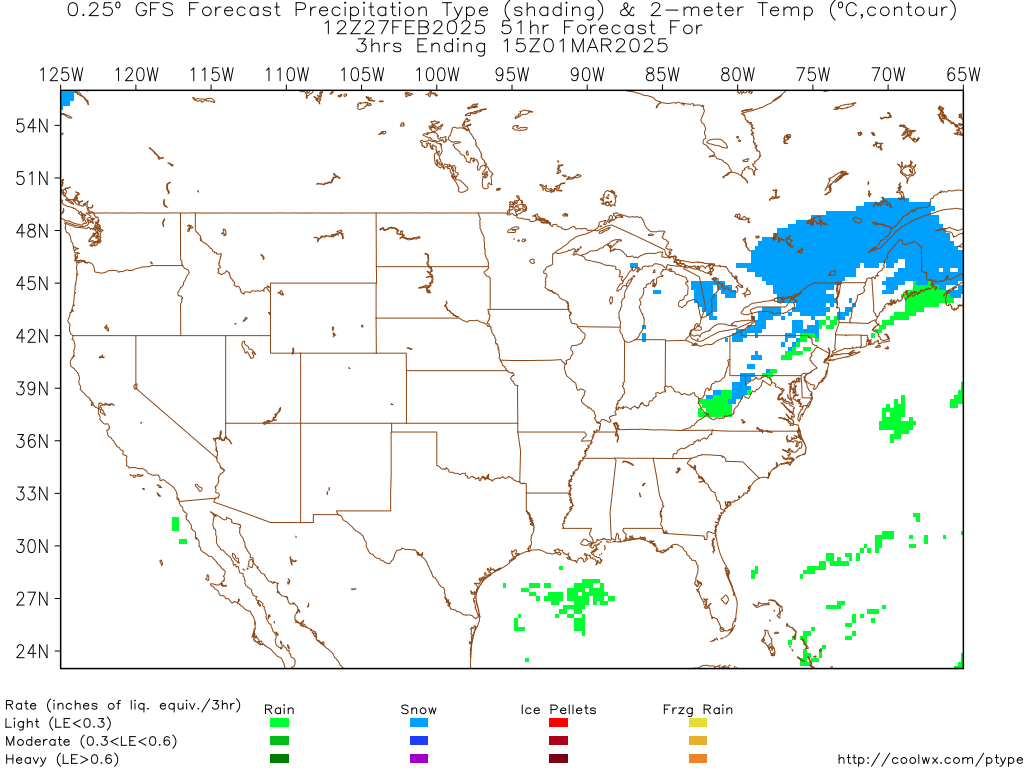 Both images above are courtesy coolwx.com
++++++++++++++++
Good morning and thanks for reading the Fox 4 Weather blog. A big thank you as well to all who have been reading lately. There has been/is a lot of discussion about the impending winter storm and yesterday, just like the day before the Weather Blog was the most read item on the website. That usually happens when something big is going on or is about to occur so again a big thanks for all of you for reading my ramblings, looking at the maps and hopefully getting something useful out of all this typing. Hopefully as you pass all this information along to someone else, at least no one can say that they're "surprised" that we're having a winter storm.
Make no mistake about it, it does look very likely that we will have the most significant winter storm here in the past couple of years, going back to February of 2011. Not only will the storm produce snow, but some sleet and freezing rain is not out of the question. I'm also starting to ruminate about the potential of some thunder being thrown into the mix somewhere in our viewing area. The air aloft as the storm moves up across NE will be fanning out to such a large degree that the air below has to rush in and replace it. This leads to faster rising air and can set the stage for some thunder. I'm not totally sold on that potential yet, but it's something that I'm thinking about. More on those thoughts tomorrow.
So where are we now? Well first of all, again today this will be a blog that gets updated at least one more time and perhaps a couple of times. The storm is about to come ashore and the evening model runs will go a long way in giving me more confidence about snow totals for the metro at least. There has been no change in my thinking that areas north of KC, from NW MO to NE KS should get more snow than us. Also there is no change in my thinking that areas S/SE of KC will have more sleet and perhaps freezing rain issues than the metro, cutting their snow totals compared to us. The trick is the KC area because we're still on the ragged edge of snow and sleet.
Since we're on that edge, 1-3 hours of sleet can cut down out potential snowfall 1-3″ or so. Should there be all snow, that goes out the window and we end up with a very significant snowstorm, although I have a hard time imagining at this point us receiving over 8″ should that be the case.
I'm also going to make adjustments to the timeline and slow down when the worst of the storm will affect the KC area by about 6 hours. I still expect a significant dry slot to overtake the region later THU AM cutting the snow/sleet off for the most part and replacing it with some freezing mist/drizzle. I'm hoping that we could warm up to near or perhaps just above freezing by later in the day or night depending on the exact track of the storm.
The model trends last night were subtle but there, and as I mentioned in a comment on the previous blog, I really don't put any more faith in a snowy solution for the KC area as opposed to the previous runs yesterday suggesting more sleet. I'm still not convinced that this is all snow for KC or mostly sleet. I mentioned as well in a comment on yesterday's blog that at that point I was about 80% snow and 20% sleet in terms of how the storm would play out. In other words, 80% of the storm would be snow and 20% sleet. Since we haven't had more than 3″ of snow @ KCI in one "storm" for a couple of years, I do think this will be our biggest "snow", especially on the north side.
I also think that we're going to be looking a lot at radar tomorrow night and wondering when all this precipitation out west will finally get here. There is going to be a lot of dry air for the initial wave of snow to overcome, and it may take awhile for the atmosphere to saturate, so that's a big reason why I'm going to slow down the arrival time of the snow for us and the worst of the storm's effects. The effects of that dry air are showing up already in the new runs of the NAM this morning…just chewing away at the snow as it comes towards us later Wednesday night into early Thursday AM.
Our storm now is just off the coast of CA/OR. Here is a look at the 500 mb map or about 18,000 feet up showing 1) the storm that affected us yesterday near the Great Lakes and 2) the soon to be storm heading this way off the CA coast with the future track defined for you. That track going through KS/NE is a little farther south than yesterday's data showed, hence why the atmosphere may a bit colder. That track can/will change and that's why it's tough to pin down the snow/sleet ratios for the KC metro area at this point.
As has been talked about, this is a bit of a odd duckling of a storm for us since the path of the upper core of the storm is still well to the NW of here (not unusual) but the surface storm is closer by. Typically in these scenarios we would get a quick hit of rain/t-storms and then nothing else. The models though seem to want to generate 1/2″-1″ of moisture. The NAM model last night was even wetter, but I think those wetter solutions will come back down as we get closer to the storms impact on us.
The storm will produce decent mountain snows all the way through S CA into the mountains of the SW part of the country which is great for them and their water needs. Here is a look at the storm now.
I don't really want to re-type all the whys and why nots from yesterday, but suffice it to say, as the storm gets into the Plains, aloft it will start to suck in moisture and also "warm" air. While temperatures here at the surface will be round 25° or so for the storms beginnings, aloft temperatures at around 6000 feet will be somewhat "warmer". How close to 32° or above will determine whether or not we deal with sleet.
I want you to think about this for a second. I wouldn't bet the mortgage what the exact temperature on the ground will be @ 6AM Thursday morning. It could be 25°, 26°, 27° or whatever. That is tough enough to figure out. From a data standpoint we have temperature sensors (dozens) all around the region so we'll know the exact temperature when the time arrives here on the ground. Keep in mind though that we will have no precise answer for what the temperature of the atmospheric column above us is during the course of the storms evolution. Sure we'll have a weather balloon go up round 6AM or so and again at 6PM, but those will provide snapshots of the atmospheric profile. Also keep in mind that the balloons go where the winds take them so that as they go higher in the sky, eventually reaching well over 15 miles and since they travel with the winds, the balloon launched in Topeka, KS and Springfield, MO will end up far from their launch points so in a sense we're getting a slanted look at the atmosphere above. What I'm trying to put out rather clumsily is that we don't have weather data (temperatures) that's truly accurate for the atmosphere above on a constant basis. Sometimes airplanes can fill in the gaps on a more real time basis to help the cause somewhat but still…think about trying to forecast the temperature of the atmosphere in a 2000-3000 feet layer about 5000 feet above the ground with little to no real-time data…oh and that information is critical to whether or not KC gets a bunch of snow or some sort of snow/sleet combo cutting totals. Does that make sense?
Sorry for the aside, but I want you to know why this is so complicated. That's why yesterday I said meteorologists and weather enthusiasts hate these storms a bit. Give us one or another or a clear cut transition and things are somewhat easier to figure out. I don't want to sound like I'm playing the smallest violin either…it's a thrill ride for sure and one that we've been on (for those who have a passion for what we do) many times before. What was that line from the movie "Parenthood" it goes something like "some of us enjoy the ride" or something like that.
So with all that typing done…let's update the timeline.
Wednesday: No weather issues. Clouds increase during the day with highs 30-35°
Wednesday Night: clouds increase more and slowly lower and thicken up. Lows 20-25°
Thursday 3AM-6AM: Snow moves into the metro, light initially it may become moderate as the pre-rush hour gets going. Roads deteriorate. Schools will have a tougher decision to make with this scenario since when the people responsible for making those tough decisions wake up, the snow may have just started to stick. Do they cancel school based on the forecast of more snow/sleet coming in through Noon, essentially cancelling school based on a forecast instead of based on road conditions at that early AM hour?
Thursday 5AM-10AM: The "worst" of the snow/sleet storm for KC. Accumulations will maximize in this period. Winds will be from the E or ESE at 15-25 MPH so there may be some blowing and drifting as well. This may complicate conditions on I-35/29/49 as well as 169/69/71 highways. Basically those N/S roads.
Thursday 10AM-1PM: Snow/sleet winds down as the "dry slot of the storm takes over.
Thursday 1PM-5PM: Some light mix is possible here from freezing drizzle to flakes to ice pellets. Minor accumulations of whatever falls. Temperatures approach 32° IF the surface storm is nearby.
Thursday 5PM-10PM: Some wrap around snow is possible but amounts should be under 1″ or so…more fluffy snow though as the atmosphere is getting colder.
Friday and Saturday will be cold days.
That's it for this AM…I went light on the maps but will add those with another update around 2PM today.
Joe