5PM Update…I'm adding the snow map that MT will be running with for the newscasts…basically a broad swath of 4″-10″ snows through the heart of KC…higher totals favoring areas north of I-70…IF there is no sleet on the south side, add a couple of inches to that at least…plus IF you have thunder with snow, add a couple of more inches.
Another update later this evening! JL
3PM Update: Good Afternoon as the clouds are thick and the temperatures are stuck around 20°. Plenty to go over this afternoon as you might imagine with a Winter Storm Warning in effect for the entire viewing area, and odds are also for most of your friends in the region as well. All of KS and most of MO are under a Winter Storm Warning! 407 counties in the US are under a Winter Storm Warning, 21 under an Ice Storm Warning adn 304 under a Winter Weather Advisory. That's a lot of winter weather going on across the central and SW part of the country. Wichita, KS as of this writing have had 4.8″ of snow so far. It's snowing in the SW part of the country and that is where the storm is located right now. You know me and my golf, and yes there is a connection to be made…the World Accenture Match Tournament is being held this weekend. They had to suspend play because of this happening. (courtesy of @RS_Dunn)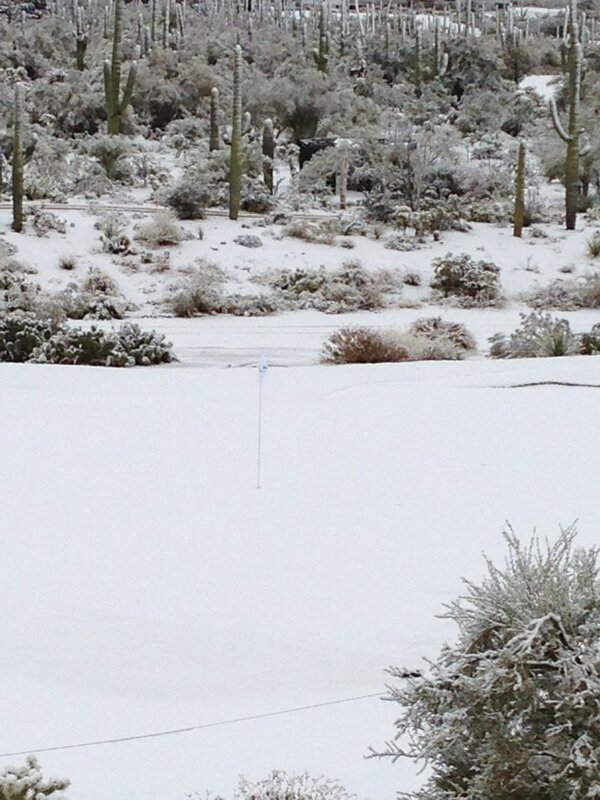 Tough to find your golf ball under those conditions!
As far as that storm goes, while radar looks impressive closer to KC all of that activity that you may see from east of Emporia through the viewing area is all evaporating before it reaches the ground. I guess there may be a few flakes somewhere making it down but it's not consequential at this point.
So everything is moving along as expected. As far as the model snowfall projections go nothing has really changed and our forecast is not really changing at this point. I'm almost positive that this storm will throw some of us a curveball, probably connected to the sleet transition and the placement of that wavering line especially south of I-70.
Here is a look at the GFS and NAM model forecasts for the snowfall.
Click on that image to make it larger but that covers the viewing area specifically. Notice the trick to the forecast and that is the rather sharp delineation between the nasty totals 8″+ N/W of Downtown KC and the lessor totals due to a sleet transition  S/SE of the metro. Even parts of JOCO, KS and JACO, MO on the NAM see less total snow than let's say KCI. Even the hi-res NAM is trying to show the sharp cutoff between areas of heavy snow and where the sleet is more of an issue. I think the trickier forecast here is for areas from Sedalia to Harrisonville to Paola and points south.Snow amounts could be much lower but sleet amounts could be much higher.
OK so let's try and answer the what is it going to be doing in my backyard at ___ question. I plotted up one of our in house  models for you for every 4 hours beginning at 10PM tonight. Consider these a snapshot in time if you will and certainly not a perfect model forecast but I think you'll get an idea what will happen when.
Photo Gallery
That's the 1st time I've attempted something like that on the blog. I hope it works.
There are no changes needed to the timeline at this point in time. I'll add another image to the blog at about 4 or 4:30 with our total snowfall forecast but in a nutshell we're going 5-10″ through the metro from south to north with lessor totals towards the Lakes area and about 8-12″ for NW MO and NE KS
Joe Lauria
+++++++++++
Well I'm starting this blog a little after 7 a.m. on Wednesday, and I suspect that about 24 hours from this writing this things will be getting worse in the region, moving from the SW to the NE.
I've made adjustments to the timeline of when things happen and also adjustments to the snowfall. The continuing mantra that amounts farther south will be less due to sleet transitions at times and amounts farther north will be heavier because this will be all snow for them. I'll post an accumulation map that the NWS came out with this morning that I think fairly shows the spread not only through the region but also through the metro and there should should be a spread. I will be writing another update around 2-3 p.m. or so with more detailed maps and thoughts so check back in then. Also don't forget to follow us on twitter at fox4wx. I'll be updating that as well tomorrow.
A couple of days ago, I brought up the potential of thunder occurring as well with this system. That would mean the potential of the somewhat rare thunder snows and thunder sleets. See yesterday's blog for the reasons that this would happen but basically the air aloft, above 15000′ will be spreading/fanning out so much, that the air below has to rush in to replace it. In the weather world we call this diffluence. This creates pockets of intensely rising air for a cold winter system, and thus the potential of thunderstorms with winter precipitation. Should this occur, and it won't be widespread, it would be localized, it will pour down snow and/or sleet and you can get snowfall rates of 3″ per hour.
So with all that said let's start getting into the nuts and bolts of things. First look at how widespread this storm is. The lightest blue colors across the northern Plains represent Wind Chill Advisories, aside from those though there are either Winter storm Warnings or Blizzard Warnings for a large swath of the Midwest and the Southwest part of the country. Even as far south Tuscon, AZ there are Winter Storm Warnings for heavy snow about about 3000′ elevations. So this is a broad, expansive storm system.
The counties in pink are all the counties under a Winter Storm warning. Notice that that includes EVERY county in KS (that's unusual) and most counties in MO except the Bootheel area. So the major interstates affected are I-29/35/49/70/44 as well as all the loops etc around the bigger cities of St Louis/Topeka, KC and Wichita. as of this writing 392 counties in the US are under Winter Storm Warnings and that number will increase as the day goes along for SD and IA especially.
The counties in purple, in northcentral AR are under Ice Storm Warnings.
The storm itself is still a long ways from here and will take it's sweet time moving our way. One thing that I've talked about that will slow the arrival of snow down is the dry air that's in place now and will linger through the wee hours of tomorrow AM. Eventually the dry air will be overcome by the strength of the storms leading edge but again there is going to be a period of time that we're watching radar and wondering later tonight when all the snow will get here. Right now snow (some reports of moderate to heavy) is falling across a vast area of Central and Western KS and a good chunk of OK. This is the beginning stages of the snowstorm.
Here is the latest map as of 7:45 AM showing the circulation of dry air into the KC area from the N and NE.
Here is a look at the storm now…and the path forecasted…this forecasted path is closer to KC than what we thought a few days ago and as a result our precipitation amount will be higher and the air will be colder, that's why the snow accumulations are going up. As usual, any deviation north will bring "warmer" air aloft into the storm and allow for more sleet to make it farther north of the I-70 corridor. Any farther south and the snow/sleet line will be shoved farther south placing the southern side of the metro in the heavier snow as well.
With all this said there are some rather significant changes to the timeline that typically happen as we get closer to the storm.
Today: No weather issues. Clouds continue to increase and thicken all day long. Highs only near 27°
Tonight: Clouds slowly lower and thicken up. Radar will show snow well to the west and SW of here but the leading edge will continually get chewed up by the dry air being sucked into the storm's leading edge. Lows 20-25°
Thursday 6AM-9AM: Snow bands moves into the metro from the SW, light initially it may become moderate as the latter part of rush hour gets going. Roads deteriorate. Schools will have a tough decision to make with this scenario since when the people responsible for making those tough decisions wake up, it may not even be snowing. Do they cancel school based on the forecast of more snow/sleet coming in through the rest of the day, essentially cancelling school based on a forecast instead of based on road conditions at that early AM hour? If they don't cancel, expect early dismissals which will be bad because the roads should be pretty dangerous around lunch time and afterwards.
Thursday 9AM-4PM: The "worst" of the majority snow/some sleet storm for KC. Accumulations will maximize in this period. Winds will be from the E or ESE at 15-25 MPH so there may be some blowing and drifting as well. This may complicate conditions on I-35/29/49 as well as 169/69/71 highways. Basically those N/S roads. My guess at this point is that we'll see 4-8″ of snow in this period of time and there could be some rumbles of thunder as well increasing the snow accumulations in localized areas.
Thursday 4PM-6PM: Snow/sleet winds down as we see "somewhat" of a dry slot move in, although there may be some light sleet/frz. drizzle or mist/or some light snow in the later PM. Accumulations should be light.
Thursday 6PM-Midnight: We may get into another band of wrap-around snow. This too is a change from yesterday and also helps to increase our total snow accumulations. An additional 1-2″ is not out of the question for some areas from this band
Friday 12AM-6AM: Additional light wrap around snow is possible but amounts should be under 1″ or so…more fluffy snow though as the atmosphere is getting colder.
So as far as totals go and to answer the question of who gets what…here is a map from the NWS that shows the region. I'll add other maps farther westwards in case you're wondering how the relatives or friends are doing. I pretty much agree with the NWS on the metro layout. Again IF there is no transition for you, you get more snow, IF there is a transition the amounts will be less.
All the graphics above are courtesy of the local NWS offices in our immediate area and should update automatically should they change anything through tonight.
OK a lot of useable information I think on the blog today. Again I'll be making some major additions to the blog this afternoon after I look over the PM data. There will likely be another update later tonight too. So check back in often. I'll be sending out twitter updates and tidbits throughout the day and evening as well.
Joe