Joe's Wx Blog: Summer On Leave
Our fabulous weather continues to start off the week as temperatures this AM have started out in the upper 50s, officially dropping to 57° @ KCI. The record is 54° set back in 1995. Mary asked me on the news last night if we've started July so "cool" before and actually we have, many times…in 2007 it was 79° and in 1995 it was 75°…one of the chillier starts to the month was in 1988 when we started @ 66° for the month. Regardless another great day in a string of great weather for the KC area for late June and now early July.
I've been sending out numerous tweets over the last couple of days highlighting the changes compared to one year ago when we were battling temperatures 100-105° for the beginning of July. Just comparing the two Junes is an interesting study of differences…take a look.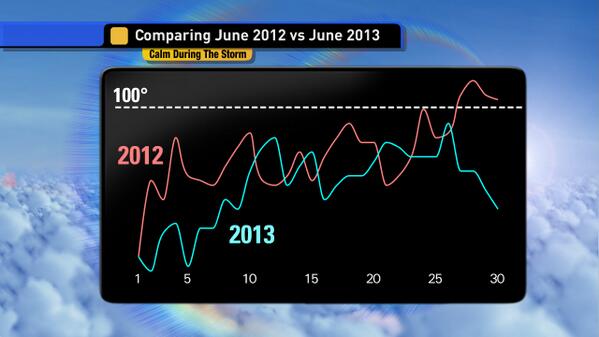 That is just for the month of June…how how overall for the year through June 30th…this next graphic shows the differences between the number of 90°/100° days through 6/30…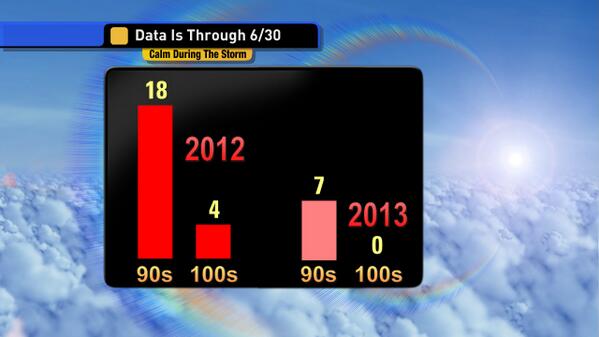 On average we get about 36 days with highs of 90° or above…so far we're at 7 and I don't think we'll get there for the next week or so, perhaps through the holiday weekend.
We've talked about this a lot lately but basically in the upper part of the atmosphere there is a big(!) ridge out to the west, and a decent trof associated with a weakening upper level storm to the immediate east of the KC area…here is a look at the flow aloft from NEXLAB also combined with the water vapor satellite picture…
There is also a big ridge off the east coast…so we have a ridge-trof-ridge pattern that tends to be stable and slow changing. Hence the continued decent weather for us. Thos ridges, mainly the one out west are the heat wave generators…and boy the west sure knows about that. Yesterday Las Vegas tied their ALL-TIME high temperature by reaching 117°.
Death Valley hit 128° and Phoenix hit 115°, for record highs as well. There were a bunch of daily records as well…here is a sampling from Storm2K.
Bellingham WA 87F
Camarillo CA 89F
South Lake Tahoe CA 89F
Eugene OR 96F tied 1951
Idaho Falls ID 97F
Ely NV 97F
Pocatello ID 98F
Galveston TX 98F
Brownsville TX 99F tied 1900
Houston Hobby TX 99F tied 1969
Burns OR 100F
Eureka NV 100F
Cedar City UT 101F
Harlingen TX 101F tied 1937
Pendleton Airport OR 102F
Salt Lake City UT 103F tied 1979
Reno NV 103F
Kanab UT 104F
Boise ID 104F
Elko NV 104F
Winslow AZ 105F
Winnemucca NV 106F
Campo CA 107F
Bishop CA 109F ** all time June record tie Jun 22 1954**
Paso Robles CA 110F
Zion National Park UT 112F tied 1950
Lancaster CA 115F ** all time record**
Phoenix AZ 115F tied 1979
Las Vegas NV 117F **all time June record and tied all time record with Jul 24 1942 & Jul 19 2005**
Needles CA 122F
Bullhead City AZ 123F tied 1994
Death Valley CA 129F ** breaks all time June record ** (Updated)

For a little perspective on what they're expecting over the next couple of days…take a look.
You can see the heat nicely on the forecast map for the RAP model for later this afternoon…notice where the core of the heat is, from the SW up through E WA state where more records are likely to tumble. Click on that image to make it larger!
The heat in the SW should have the edge taken off as the week moves along, as the ridge starts to push farther northwards…this means that the worst of the above average temperatures will shift farther north as well.
Finally the weather created a tragedy last yesterday as a lightning sparked fire took the lives of 19 firefighters, the largest mass firefighter tragedy since 9/11. They were fighting a fire near Prescott, AZ which is between Phoenix and Sedona, AZ. They were most of the force in Prescott and members of the Granite Mountain Hotshots who are trained to deal with these types of wildfires. Here is a look at the front page of the newspaper in Prescott, AZ.
and also the front page of the Arizona Republic out of Phoenix with a map better showing the location of the fire in Yarnell, AZ.
Additional details are also avail on our FOX station in Phoenix.
Joe