Joe's Wx Blog: Rain And More Rain
About 10 days ago we were upgraded to moderate drought conditions in the region, especially from KC-Topeka northwards…ever since then we've gotten some rainfall and there is more ahead. There has also been a lot of rain on the KS side where central and eastern KS has had a LOT of rainfall. Concordia, last night alone, picked up close to 5.5″ of rain…and things have been very wet in the Sunflower State, except farther to the west. Take a look at how much rain has fallen over the last week, and again notice the KS side…and also notice the NW>SE streak, indicating the approximate flow aloft during that time span…
Specifically the rain earlier this AM was another good soaker for many areas, although further NE and E of the metro, the amounts weren't that great. Closer into KC here is a look at dozens of rain gauges through the metro area. First let's head up to the north…
Now the central part of the metro…
and the southside of KC…
So where do we go from here…I think the next decent chance will be later tomorrow night into Sunday AM…the bulk of Saturday should be OK with temperatures well into the 80s. Another cluster of storms should again develop to the west and NW of KC and make a run at us to finish the weekend. My feeling is that SUN AM has the best chance of seeing additional rainfall. I don't trust the model predictions with the rain amounts however. With these clusters IF you're in the right place, like the KS side was, you can get flooding rainfall, but I think we won't be in that region this weekend. I think rainfall amounts will be in the 1/2″ to 1 1/2″ range to finish the weekend.
The bigger picture shows the region right on the edge of some pretty nasty heat, and while there may be some warm days early next week the latest long term forecasts are still somewhat cool. It seems the EURO model may be backing off (just a bit) from the real chilly air (for August) for later next week. Another long term forecast for the NEXT weekend and into the 3rd week of August shows this…and that is some cool air!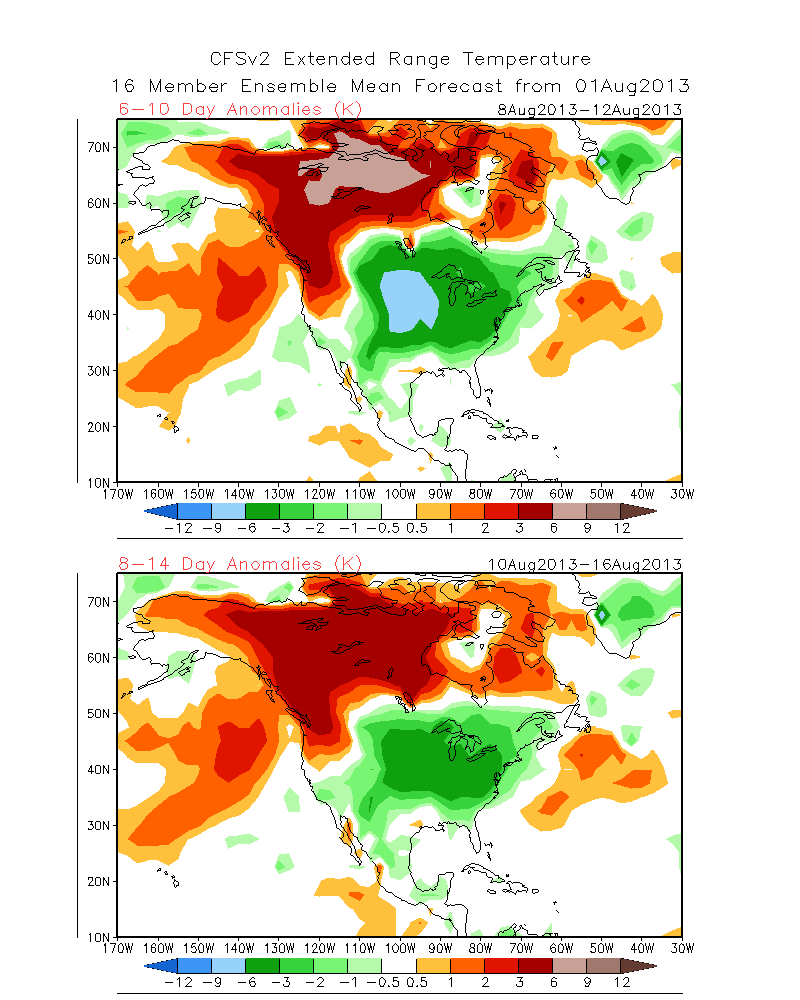 Here is a tidbit concerning life on Greenland, which the other day soared to it's highest temperature recorded. It's very important you that data only goes back to the late 1950s, so the POR (period of record) is not extensive. By comparison ours goes back to the 1880s.
That's it for today. I'll be off tomorrow and then will be working the evening shift on Sunday and filling in for MT for the next 2 weeks as vacation season continues @ FOX 4.
Joe