Joe's Weather Blog: Saying Goodbye To An Old Friend
It served me well over the past few years and I was planning on getting a new one in the next couple of months but sadly it's demise was sudden instead of drawn out. Every day for years it was a shining beacon for me as I planned out my day…or needed a fast weather fix…or had to advise somebody on a forecast for the future. It was there…shining bright and ready to go at a moments notice and then tragedy.
Last weekend while on vacation with friends my cell phone took an unexpected plunge. If only it wouldn't dropped in an ocean…or perhaps an olympic-sized swimming pool in some tropical locale…it could've gone out in a blaze of glory…but no…this plunge was to the depths of a place I could never go.
Here is the set-up for you. It's late at night…we're walking through the parking lot on the way to the car…we figure that the time to get out of a crowded lot was going to be long so we hit the bathroom so that we don't have to worry about that "situation" while waiting to get out of the lot. It's about 10:30 and very dark. So when I go into the port-a-john it's obviously tough to get my bearings. I decide to be smart about things and turn on the flashlight feature on my cell-phone. I've used it before and it's always been reliable. Sure enough on cue it woks perfectly and I can navigate my way around the "facilities" if you know what I mean. The problem is that I wasn't aware that the ground below said facilities wasn't exactly stable. Sure enough the "facility" moves…not just a little mind you…a few inches worth. It doesn't sound like much but it was enough to shift the ledge where my phone was doing it's job of lighting the "facility" and sure enough the phone heads into the abyss of blue…or whatever. Perhaps this picture best shows the demise of my trusted friend.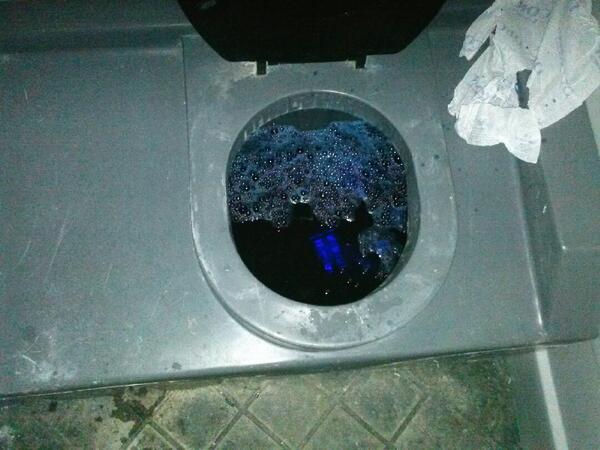 It was a perfect "swish" or maybe the better word is "slosh". It didn't hit the surrounding hard plastic at all. If it did maybe I could've made a fast grab for it before it was too late. Nope this thing just went in hook, line and sinker.
There it is…still shining through the deep blue…something. Now I don't know if this has ever happened to you…I'm guessing not…but when it happens you're faced with a decision. 1) Go for it or 2) Let it be. I choose #2 and I think I choose wisely.
Now my human friend was willing to go all in. He was going to wrap his arm in toilet paper and hope that would be enough to prevent all sorts of possible recriminations down the road. The idea however of rescuing my trusted friend though had little appeal to me. It just wouldn't be the same. Never again could I put it near my ear…or speak into it again and not think where it's been. All the alcohol in the world, whether inside of me or inside of it wouldn't kill the thoughts that would constantly be swirling in my head and here is my confession…I was sort of starting to cheat on my friend as well.
Now it was nothing terrible, but for the last few months I'd been flirting around and looking for something new. As we age, things just seem to not work as well…and for my friend this was becoming an issue. It's heart was not doing so good…it constantly needed charging and couldn't get through the day anymore without getting a "little boost". It happens to the best of us. There were bigger and better objects in the store…screens that would put my friend to shame. It knew about my flirtations with "these other phones" but I always came home. For awhile it was just a phase for me I think…but lately things had been getting more serious. I'd peruse the new phone section…hold my EVO up to the newest gadgets…try and picture how I would hold the newest and greatest. Was the "screen" to big? Could I handle something like that in the gym? Would others be jealous of my newest addition?
So essentially what happened last weekend just sped up the process of what would eventually happen down the road. Now as I play with my new Samsung Galaxy Note 3 I have quickly fading memories of what's it's name.
You see this thing has a screen of epic proportions…almost 6″ in diagonal. It's huge…it's immense! The internet is bright and clear. The battery lasts for 2 whole days without needing a boost. It has all these features…in essence it's own personality. It actually listens to me when I talk and unlike my old friend the amazing thing is that it also does what I ask it to do as well. I can write things on it with a special pen and it stores my thoughts so that as I get older and more forgetful it will remember for me. It starts the latest applications so quickly it makes my head spin…yes I feel like a kid again…I feel years younger…everything is so much faster…I'm back in the fast lane of my technological life again and I'm flying.
Yet I'm still wistful…in the back of my head I'm hearing sounds…something like gurgle…gurgle…gurgle.
RIP (think about that last letter a bit) my old friend. You served me well for almost 3 years. I only wish your eventual resting place would've been more pleasant.
You're former owner,
Joe