Joe's Weather Blog: Summer Heat And A Fall Chill (TUE-9/9)
A muggy morning out there today as dewpoints have climbed nicely overnight into this morning. This increased moisture plus a cold front coming in tomorrow AM will all lead to an increased storm threat…then a different airmass(s) comes in in waves dropping temperatures significantly.
Forecast:
Rest of today: Warm and humid with increasing south winds. Skies will be partly-mostly cloudy at times today. Highs should be well into the 80s. It's not out of the question there could be some showers or storms in the area this afternoon after 2PM. May not be widespread coverage but there could be something just about anywhere.
Tonight: Storm chances increase as the night wears along. The higher chances of storms of significance through may be across N MO for most of the evening then eventually working down towards the KC area overnight. The front itself should move into the KC area tomorrow AM near daybreak. There could be some sort of outflow from the N MO storms that may move through ahead of time.
Tomorrow: Wave one of the cooler air moves in with lingering clouds and a stiff north wind blowing to make it feel cooler. We'll probably have a midnight high well in the 70s and it's not out of the question even at daybreak that we're still in the 70s. Odds are though in the PM tomorrow we may only be in the 60s. Some rain is possible with the front itself and some drizzle is possible in the PM. A blustery afternoon though will make it "feel" like a real fall day.
Discussion:
By now you've heard about all the rain in the Phoenix area yesterday. It quickly ascended their records in terms of daily and monthly rain totals and was a very impressive event. Most of it fell in a 12 hour period. The NWS in Phoenix put this together.
Now let's relate that amount of rain to the KC area. Phoenix had 3.29″ which would be impressive even for us…but all we have to do is look back into early August to find that much rain in one day here in KC. On 8/6 we had 3.47″ of rainfall. To give you an idea how unusual that is for KC to get that much rain in let's say a 12 hour period…it happens roughly every 2-4 years. So unusual but not necessarily rare for us in KC. For the Phoenix area however that amount of rainfall over 12 hours statistically happens roughly every 350 YEARS and over the course of 24 hours happens every 75 years or so. So yes that is rare for them!
Back home our attention is on a cold front that is across the N Plains this morning…and will eventually sag our way tomorrow AM.
That's some pretty cool air up there and the chilly airmass was responsible for creating some pretty decent snow yesterday up in Calgary Canada amongst other places in Canada…so this airmass is packing a nice little punch to it and will move into the area tomorrow sending our temperatures downward later in the AM hours. The change may be abrupt. Later PM temperatures near 60° are not out of the question.
A surface storm will rapidly develop later today across the W Plains today and move northeastwards. This will slow the front's progress south today then accelerate it through the area tomorrow tomorrow.
For time reference…00Z is 7PM the night before (00Z WED is really 7PM (TUE)…06Z is 1AM…12Z is 7AM…18Z is 1PM.
The rain behind the front will help to cool down the air even more so as it sweeps into the area tomorrow, as I mentioned the change in temperatures may be fast and hard. If you're in shorts in the AM WED…you'll want long pants and a jacket in the PM at some point. A second push of the real chilly air moves in later in the week sending temperatures down again towards the weekend.
Over the next 18 hours or so we'll be keeping an eye out across far north MO for the potential of some severe weather. It seems the better chances will be farther north towards and south of Omaha and Des Moines but some action could work further southwards (mainly in the form of wind and marginally severe hail). Also let's watch for the potential of flash flooding overnight up there as well.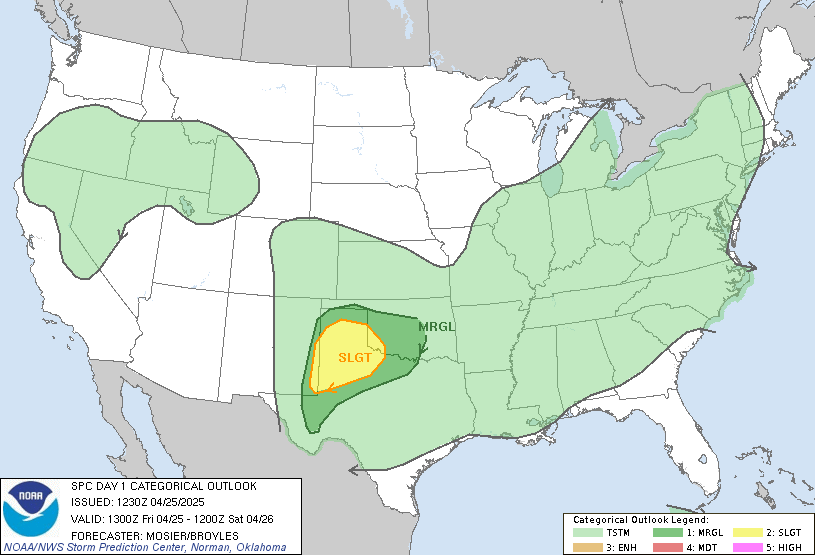 It looks like we'll have to put our fall clothing in standby mode and also think about forecasting chillier temperatures than what the model guidance suggests for later in the week. Friday in particular will need to be watched should there be some rain in that area. That could turn into a furnace day?!?
Joe