Joe's Weather Blog: Round 2 likely…some get it worse (TUE-7/7)
Good afternoon…parts of the viewing area (hello N MO) are seeing more sunshine than areas south of KC. there are a few showers to the south of KC…moving eastwards…let's consider those an appetizer to the next good chance of rain arriving overnight into Wednesday.
Forecast:
Tonight: Dry conditions are expected through the evening hours. Rain chances increase towards 12AM or so…and the rain will effect areas from St Joseph, MO southwards it appears. Temperatures drop into the 60s.
Tomorrow: Rainy weather is expected with some locally heavy rain possible to likely from KC south and SEwards. The metro will be on the NW edge of the heaviest rain, so much like a winter storm, precip amounts will vary widely. Lessor amounts north of KC with higher totals more likely from La Cygne, KS to Warrensburg and SEwards. Any deviation of the storm 50 miles one way or another will move the heaviest 2-3+" rain totals one way or the other. Temperatures may drop into the 50s where the rain is falling hardest. 60s elsewhere.
Tomorrow night: Drying out with temperatures holding steady.
Thursday: Scattered showers/storms are possible. Warmer but still below average for July with highs approaching 80°
Discussion:
Here would be the forecast IF this was a winter storm instead of a weird July storm system that will put KC on the northwestern fringe of getting the heaviest rain…
2″-20+"…nice right?
The forecast maps for tomorrow look a little strange for early July. In the fall>spring…it would make sense but in July…strange.
There is a wave developing in OK that is going to ride along a northward retreating, but now stationary front to the south of KC. The developing storm will have a full fledged comma-head, much like a mature winter storm would have. Instead of being fed by a large temperature contrast of single digits > 60s…it will be fed by a range of temperatures from the 50s>80s. Exactly where the storm's core goes though will play a role in determining who gets the most rain. It's NOT out of the question that KC get's less than 1/2″ of rain. It's NOT out of the question that we get 2+" of rain. The northwestern flank of the storm will create impressive rainfall amounts…whether that is centered from Ottawa up I-35 to Kearney…or from Paola to Warrensburg to Marshall, MO remains to be seen.
Model forecasts are varied…the NAM seems to be the farther north, while the EURO which last night had everything farther south and virtually out of the area…has now trended back northwards although it keeps the heaviest SE of the KC metro area.
My feeling is that the heaviest will be farther SE of KC with 1-3″ totals more likely in the Pleasanton, KS>Clinton>Sedalia>Columbia area. For KC amounts will be more in the 1/3-1 1/4″ range I believe.
Here is the hi-res NAM…
The NAM…
the GFS…
You can see why during the winter this would be an extremely difficult forecast with caveats all over the place…again my feeling is that the NAM model to just a bit too far northwards..it's been doing this since the weekend.
Regardless a 50-75 mile farther north OR south track will go a long way in dictating how the amounts will go and the rain should arrive more in earnest later tonight and linger into tomorrow afternoon.
With all this going on there is a flash flood watch in effect for part of the region…notice the farther north you go the less likely rain will be as big an issue.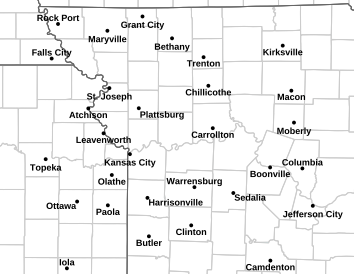 More storms are possible on Thursday in the sometime in the afternoon through overnight and there may be some severe weather with that depending on where a warm front sets up. Perhaps to our south…something to watch for though.
On the subject of severe weather…here are the tornado reports from yesterday. There was an EF1 tornado in Eudora with winds between 86-110 MPH. That tornado then crossed the county line into Johnson Co, KS.
It appears that the same storm did indeed produce a very weak spin up in Olathe, KS.
In addition to this there was also a brief tornado in Liberty. This was "upgraded" (weird phrase) from believed straight line wind damage.
It's real tough, in my opinion to judge things from this video…but it does look suspicious.
I put this out on our twitter feed (@fox4wx)…supposed you were in charge of making this decision…severe weather, 7 tornado warnings issued…100's of thousands affected by those warnings…all those people getting information and wondering what's going on through their cell phones alerts…that was yesterday. Brief tornado touchdowns and all…
Now let's say yesterday's events occurred one day earlier…to be more precise about 22-23 hours earlier…
We televised the final game of the Women's World Cup soccer match. KC had the highest ratings in the country for the match. Interest was through the roof.
Put those two events together…what should we have done? It's a "conceptual" question but I'm curious what you feel would've been the best way to cover this. Some have suggested a split screen type approach with us covering the storms and our words…and then the other side with the soccer and no sound there. So you would hear us giving out information…and be able to see the game but not hear the game.
Either way a lot of folks would rip us for doing the wrong thing. That's a given. What do you think we should've done in this hypothetical situation…one that didn't happen by 22 hours.
Joe