Joe's Weather Blog: Winter Storm Begins (SUN-12/27)
Good afternoon…one of the tricky things about this particular storm is remembering that the atmosphere is more than what's happening near the ground. As a meteorologist I need to also worry about the conditions from just above the ground to 10s of thousands of feet into the atmosphere itself. Why tell you about that? Well as you know sometimes in these types of winter storms, the temperature on the ground is critical in determining the potential impact of a weather event. Will there be just plain rain, will the rain freeze (freezing rain), will snow fall but melt because the temperature is 34° instead of 31°…things like that. As you know we have 1000s of temperature sensors on the ground. So we can figure things out as an event unfolds.
Now get ready to have your mind blown. With these particular storms the temperature of the atmosphere several thousand feet to 10,000 feet above the ground will determine whether or not we have a sleet storm, a snow storm, an ice storm, or just plain rain. Now these temperatures through the atmosphere will be changing almost hourly. Sometimes staying below freezing all the way up, supporting some snow, sometimes having alternate layers of freezing and sub-freezing air, also constantly changing in location and timing. You can see why forecasting some winter storms is harder than others.
Oh and one more thing…we really have no data-stream during a storm's movement. Well we do…TWICE PER DAY at 6AM and 6PM. Oh and we only have that data for about 120 different places…IN THE COUNTRY.  To be fair we will get occasional aircraft weather reports of some critical information…but for those of us in the media these reports are tough to come by.
The bottom line is in an ever changing atmosphere with a strong storm, we get VERY little to no timely data.
Mind blown…
Forecast: (9PM Update…FOX 4 Snow Index raised to a 7)

Tonight: Winter Storm Warning goes into effect through Monday afternoon.  Freezing rain and significant sleet is likely overnight along with some snow in parts of the area. The snow aspect may be enough to cover the ground in parts of the area Temperatures should be near 30° at the surface at least in KC. What falls will, in time, make roads slick depending on treatment and what does fall may be rather heavy at times. Might be a tough sleeping night with sleet pounding the windows.
Monday: Snow>sleet will then transition to periods of freezing rain and perhaps some liquid rain. This is where the surface temperature will determine what happens in you local area. Some areas may just have liquid rain, especially east and SE of KC, while other areas across far NW MO may have more sleet and some snow. In between, the KC area, if the temperature is 33°, most will be either liquid rain or sleet, IF we're 30-32° more freezing rain and sleet potential. The freezing rain issue is concerning because IF there is enough freezing rain combined with the strong NNE winds of 20-40 MPH…power lines in some areas may become vulnerable. Then as the storm finally moves through, and tries to chill the atmosphere even more, a switchover to snow is likely. Some accums are possible, and depending on the length of the falling snow, in hours, accumulations could be enough to shovel in parts of the area, especially from KC and north/west. I still feel the snow aspect though will be minor. There are some indications that a heavier band of snow may set up NW of KC…but too close for comfort…we'll have to see how that potential p[lays out overnight Sunday into Monday morning. Don't be shocked IF you hear a rumble of thunder as well.
Tuesday: Variable clouds and chilly. Highs may reach 32° IF there is no snow on the ground. IF there is snow on the ground it will be only in the mid 20s or so.
Discussion:
So here is the month of December…we're 10.2° above average and in this sea of warmth, I'm watching this winter storm taking aim on the Plains. Already it's been deadly and destructive. Tornadoes yesterday in TX killed more than 10 people and in the last 4 days more have died from tornadoes in the USA than did in the previous 11.5 months. The images from TX are heartbreaking as an incredibly strong EF4 tornado ripped through the Dallas suburbs. Winds were over 166 MPH with just one of several tornadoes that hit yesterday evening. As a matter of fact this is the 1st time that the month of DEC has had the majority of tornado deaths since record keeping began around 1950. (h/t Greg Carbin from SPC)
Meanwhile the snow is coming down like crazzy in parts of western TX and NM. Helped by 40-50 MPH winds snow drifts are 5-10 FEET in places and motorists who get stranded then watched their rescuers get stranded too.
It's pretty obvious where the storm is by looking at the water vapor loop…
That storm will be moving up through central MO tomorrow afternoon and night. Notice as well the storm sucking in dry air (denoted by the darker shades rotating around the storms circulation). This is certainly a consideration for tomorrow as well. How long will we stay in the better precip generating part of the storm and will the storm, being so wound up when it gets closer to us, suck in dry air and allow that dry air to wrap around the circulation cutting off the heavier precip around the KC area.
I'm getting ahead of myself though.
Let's start with right now…
The 1PM surface map is important to track because of the temperatures (in RED)…right now we're holding at 31°. I don't expect anything more than a 1-2° change in the upwards direction, if that, for the rest of the day. Also of note are the dew points (in GREEN) in the upper 20s. That's important because when whatever develops tonight and moves through, their will be some evaporation initially, allowing the temperatures to drop 1-2° or so. So my feeling is that when things get going tonight the temperature should drop to 28-30°. Whatever falls will be frozen. There is actually some drier air to the north coming southwards this afternoon so that will tend to nip away at the leading edge of the precip shield. It would really just delay the inevitable by a couple of hours tops.
The latest RAP model shows a wave of moisture moving northwards overnight. With the atmospheric profile still showing various areas of above freezing air above the surface, what falls will more than likely either be sleet (which would be better) or rain that freezes. Of the two, sleet is actually better, in a sense, because while it will accumulate on the ground, it won't stick to the power lines.
Also notice in the map above the bottom right corner of the map…where the air is warm and tropical…80s with dew points in the 70s…impressive to contrast with the single digits in NW NE.
So the storm in W TX is now on the move. Here is the NAM model depicting the storms movement. Again, just like yesterday, the more circles around the storm the deeper it is. we're going up to about 18,000 feet to track this circulation.
As the circulation moves towards MO it will help to bring up, above the surface at least, milder and moist air from the southern part of country and this is the crux of the precip issue for tomorrow morning. How much and how far westwards will that "milder" air push. Will it get to the state line…will it stop 50 miles east of KC…will it push 25 miles west of KC…this is so critical because this relates to the snow aspect of the storm in a major way.
The models are showing these elevated "warm" layers certainly complicating the forecast for tomorrow. One model, the GFS, has been banging the drum on major snows on the State Line area. The NAM model hasn't really done this, indicating more sleet and/or freezing rain. Our EURO model shows roughly a 18° difference in the temperatures at around 5,000′ from Sedalia to St Joseph at noon Monday (from the lower 40s to the mid 20s). That warmer air will be fighting westwards and at the same time circulating around the NEward moving storm. This is why forecasting the TYPE of precip tomorrow is so challenging. It's also important to note that the GFS model
It would be soooo much easier to forecast a 6-10″ snowstorm. I can't forecast that though.
So here is what I continue to think…the majority of this storm will be freezing rain and or sleet. It will be heavy too overnight into early Monday. I still feel any snow will be minor in comparison and only last a few hours. There should be heavier accumulating snow farther west of KC…from Topeka westwards. even N MO may not get a lot of snow out of this as they too will be fighting some of this elevated "warm" stuff as well especially through noon Monday. N MO may actually see more types of precip out of this, perhaps even some snow in the morning which switches over. Here is the RAP model (short term only goes for the next 18 hours) showing the precip types overnight into Monday.
For timing purposes…CST is the 2nd column.
I realize all this is tough to figure understand. I also realize IF you live in Sedalia or Odessa, MO, your weather will vary widely compared to the weather in Lawrence and Topeka. I realize that the weather in Harrisonville and Paola will vary greatly compared to the weather in St Joseph and Maryville. This is what happens when we straddle the dividing line of precip types…and it's not a pleasant experience on my end of thing.
My feeling of reduced snow totals for KC will be blown out of the water if it's pouring down snow at 9AM-12PM tomorrow. That will then tell me that the atmosphere is cooling itself off enough to overcompensate for these elevated "warm" layers…this is where the forecast will blow up in my face, because we then could have a significant snowstorm on our hands (4-8+"). Again I feel that the best chance for that to happen is about 75-125 miles west and NW of KC. Would I be shocked if this forecast blows up on me…nope. I've tried to maintain a consistent message over the last few days on the air and in the blog…I still have no strong reasons or see compelling changes in the model data for me to change my thoughts.
So I leave you with this…it's a conceptual issue of the reasons why we get a variety of different precip types…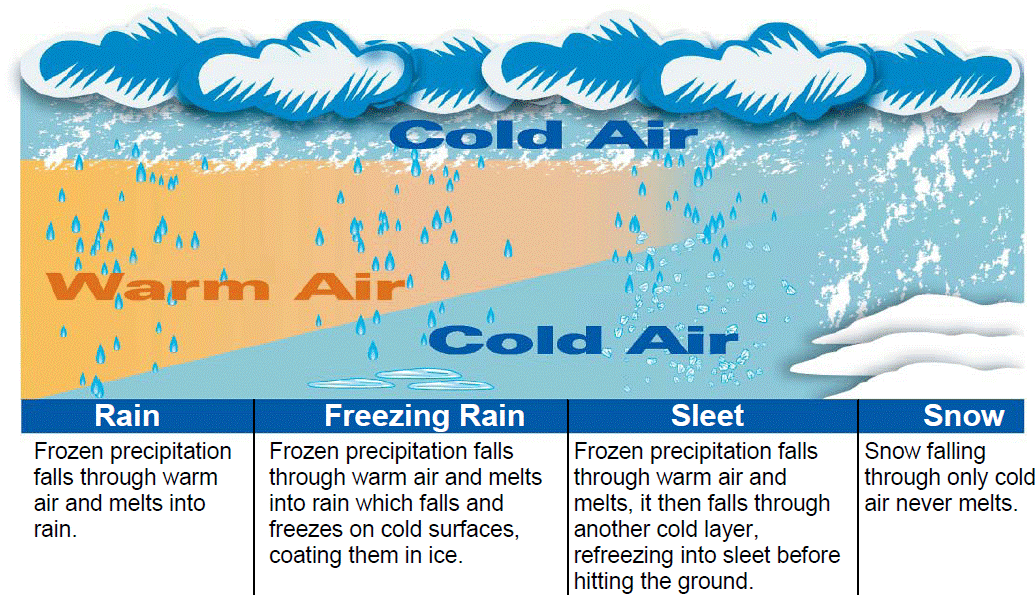 Now stare at the image above…put your city at the bottom of the image…now over the course of 15-21 hours, move your city from side to side…also at the same time imagine the cold air and warm air varying in depth and warmth. That in a nutshell is why this storm in particular is tough forecast.
OK that's it for now…1800 words is plenty. IF there are significant changes in the evening models, I will post an update on the blog. Obviously we'll have additional details tonight at 9/10.
Joe