Joe's Weather Blog: Rainier times ahead (TUE-8/23)
Good afternoon. After a spell of some mesmerizing weather around these parts with cool mornings and mild afternoons…we've started to see the "muggy" factor move back into the region and I'm watching a disturbance move up from south-central KS that may create additional storms locally later this afternoon. It should move through pretty fast though and we should be OK after 7PM or so.
Forecast:
Tonight: Partly cloudy skies and muggy with lows in the 70s
Wednesday: Warmer and more humid. Rain chances look better later WED night into Thursday. Highs closer to 90°
Thursday: Rain is likely during the 1st part of the day and it may be a "cool" day overall with temperatures only in the 70s.
Discussion:
Lots of moving parts to the forecast over the 5+ days including rain chances almost every day (but it won't rain every day). There is potential for some heavier rains out there…I'm not overly gung ho about severe weather risks locally.
1st things first though as we're keeping an eye on radar. As I type this there are some sprinkles coming through…but there is a little wave to our SW that I'm watching.
That wave is moving into more unstable air in E KS as I type this blog. CAPES (which is an index that allows us to measure instability) are rather high…and the atmosphere is not really capped (non blue shaded regions)…
So the disturbance will have some "juice" to work with. Whatever forms and moves through (if anything does) might be more from KC southwards and won't last too long it appears. The atmosphere does overall have quite a bit of moisture in it…so brief heavy downpours are possible. Let's see how radar trends go for the rest of the afternoon.
The better chances of more widespread rains should wait till later Wednesday into Thursday AM…that will be connected to a cold front that is moving towards the region.
The 1PM surface map shows this front…it's not moving much…but there is a noticeable dry air mass moving into the western Plains…there is some nice downsloping off the Rockies that is helping the cause as well.
That front will be on top of the area early Thursday and then gradually push southwards Thursday afternoon. As it gets farther away the rain chances will drop off briefly. The front though won't get too far away…and will actually retreat northwards as a warm front into the weekend…that means a return to the warmer and muggy regime…and with the potential of some embedded disturbances sparking that warm moist air in place…some storms are possible really at any point. Odds favor this activity to be more scattered…and perhaps more towards the afternoon/early evening hours.
The tropics are sprouting to life. This is typical from mid AUG-late SEPT. We have several systems out there.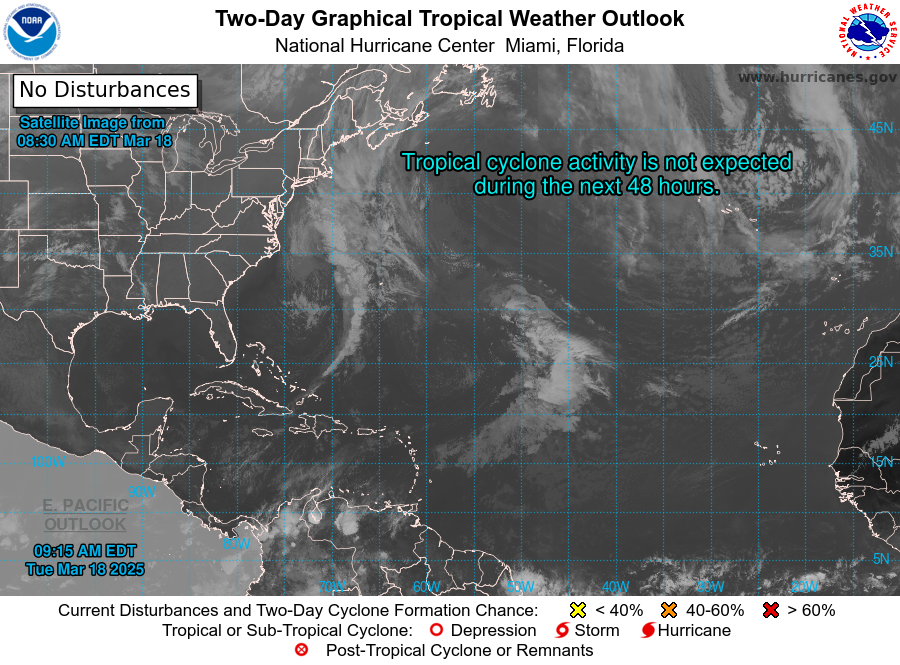 There was Fiona…which fell apart this morning…and there is Gaston which is near hurricane strength and will be a "fish" storm…not threaten anybody for days to come…and maybe forever.
There there is the matter of the "X" that you see off the Leeward/Windward Islands. That is the curiosity of the day. Right now it's just a small cluster of pretty disorganized showers and thunderstorms.
A hurricane hunter aircraft has been checking on this are today and found nothing to really write home about in terms of any real surface circulation. Looking at the sat pics through…there is at least some broad circulation in the cloud pattern.
The issue is what does this thing do in terms of 1) where it goes and 2) at least more importantly for now…how strong does it get.
The reason why tropical meteorologists are leery about potential with this thing is the really warm waters that the wave may be going over over the next 7 days. Now IF the wave moves more towards Hispaniola and gets it's circulation messed up in the higher terrain there…then this may not be that big of a deal…and that is certainly possible…
If though this thing gets into the SE Bahamas and then continues to move WNWwards…that is concerning because we're into the warmest time of the year for water temperatures in that area + the waters are warmer than average as well…that is a troubling combination.
The GFS model has this solution for next Monday…it's not even an identified feature really…
Then there is the EURO model…and it's been bullish for 3 straight runs and it's why meteorologists are going "hmmmm" right now.
Then it crosses FL into the Gulf (where the waters are crazy warm) and blows up…
Now this is NOTHING BUT EYE CANDY at this point. this thing may never even develop into anything at all…the concern though is that there is VERY warm water…just sitting there and wanting to create something.
Again A LOT of speculation for something that may or may not ever turn into anything.
One last note…I saw this pop up on my twitter feed and it really puts some of the devastating flooding that is still occurring in LA into perspective.
Play with this tweet…
It really is tragic…and obviously with the heart of hurricane season just now starting and with whatever is out there moving westwards…folks in LA are watching this a bit more closely compared perhaps to others…because the last thing they need is more rain.
Finally I saw this in my twitter feed (@fox4wx)…showing a thunderstorm over the Phoenix yesterday and the resulting rain cooled air mass spreading out over the desert. These winds then picked up the desert sand and created a haboob.
Our featured photo today is from Stacey Clark of a sunrise out in Leavenworth Co.
Joe