Joe's Weather Blog…And the rain keeps coming (THU-9/8)
Just a heads up…I'll be attending a weather conference in Norfolk, VA for the next week or so…so after today blogs will be infrequent and dependent my internet connections…so I'll do the best I can…looks like another decent cold front is on the way early next week.
Forecast:
Tonight: While I can't promise a perfectly dry evening…it appears the better rain chances may wait till overnight into Friday morning. It appears KC may be on the northern end of more storms with heavy rains. The better chances of those storms will be south of the metro. Though with us on the northern fringe…some decent rains may fail. Lows tonight in the 70s
Tomorrow: NOT an all day rain with higher chances before noon then again in the evening. We should at least see some sunshine in between and we'll see how warm we can get. Enough sun and we pop to 85-90°. Not enough sun (sort of like today) and we're more in the 80-85° range. More heavy rains are possible and depending on the amount of heat that can build up in the afternoon there is even a risk of some strong to severe storms (winds and hail). Perhaps the better chance of that occurring in N/NW of the KC metro. We'll just have to see how things set up in the afternoon.
The weekend: Great…lows on Saturday near 60° and well down into the 50s on Sunday morning. Highs both days the the 70s. Low humidity…great weather!
Discussion:
Pretty ripe out there after the rains this morning. Some areas had over 1.5″ of rain…it was a good soaker for many areas too. Doppler radar estimates show this nicely.
Some areas saw over 2″ of rain. it appears that most of the KC metro was in the 1/2″-1 1/2″ range.
We're not done.
There are still additional chances ahead of some decent rains.
Chance #1 will arrive overnight tonight. There is some sort of lingering boundary in the region. There will be a developing low level jet stream that will be overriding that boundary and there should be more storms popping later this evening and overnight. Where the heaviest rains set-up for this is a bit murky though odds may favor areas a couple of counties south of KC…roughly from Franklin Co, KS eastwards > Miami Co > southern Cass Co>south of US 50 and points southwards.
This would place KC proper on the northern fringe of the heavier rains. Always tough to pinpoint the worst of the rains BUT some areas may see over 2-4″ of rain. I would normally show you some rain totals but my confidence in any one outcome is not very high. I will however show you the higher chances of flooding rainfall.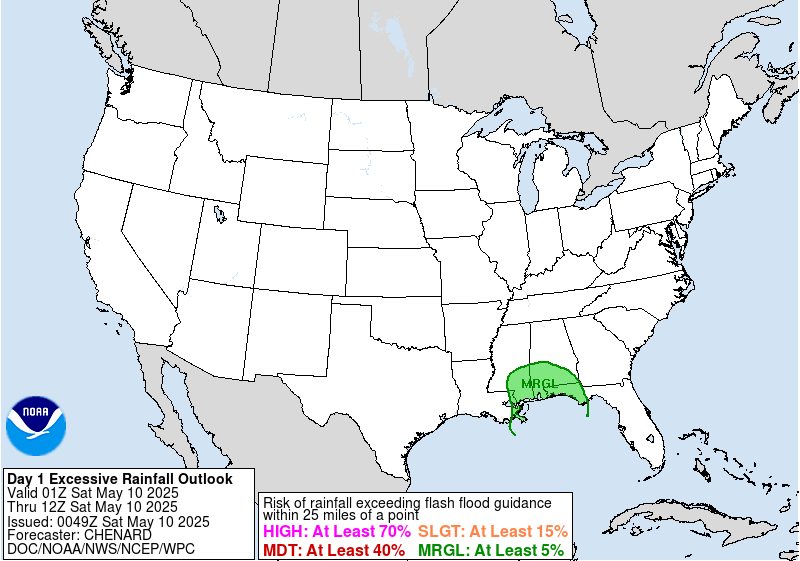 Again to reiterate this is NOT to say KC will get nothing. As a matter of fact some areas again may see over 1″ of rain. Here is a look at current radar showing how things are evolving.
There is a Flash Flood Watch in effect for areas south of KC (as of Thursday afternoon)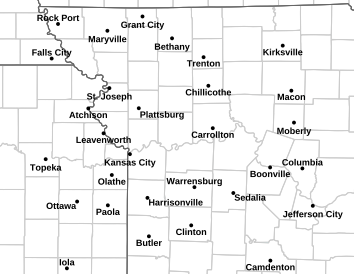 The counties in the dark green are the Watch counties…if there are any brighter green counties filled in…those would be warnings.
I will post the HRRR model forecast that goes out to 18 hours via IA State.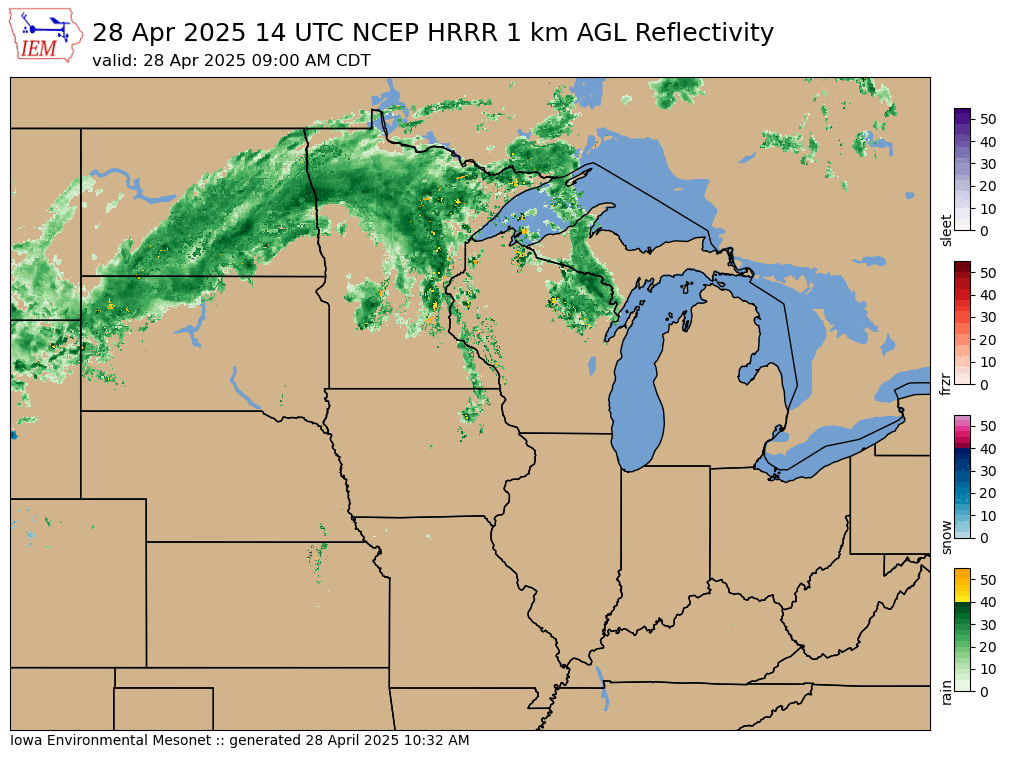 Chance #2 (this would be a more widespread event)…
There will be a cold front developing in the western Plains later today and overnight. It will be pushing towards us on Friday and move through Friday evening. So depending on how things play out in the morning and how we try to clear up a bit in the afternoon and how unstable things get…and how quickly the cold front comes through and how many storms are on the front…and how strong those storms are…blah blah blah.
Needless to say how this plays out is also a bit iffy. Confidence is increasing in rain/storms to effect the region from the NW to the SE from roughly 7PM-1AM or so Saturday morning. This will effect the majority of the area with at least some rain. Some areas may see some healthy rains again although since the front will be moving along…so will the rain.
Drier and cooler air will be overspreading the area during the wee hours on Saturday and lows may drop to the 55-60° range in the morning…and perhaps cooler on Sunday.  A rather quick return of the warmer air will occur later Sunday into Monday.
The bottom line is to have an umbrella and rain gear at the ready for tomorrow AM and again tomorrow evening for the various outdoor events happening through the region including HS Football (some games are already being shifted into Saturday) and Sporting KC.
The folks at NOAA are releasing some interesting information about how the year is going so far. To really no ones surprise it's a warm one. A really warm one.
For the summer specifically…it was a toasty one across the eastern 1/3 of the US compared to average and also for the western 1/3 of the US. The higher the number (closer to 122) the hotter it was compared to average. So CA and CT had the hottest summers on record. MO had their 16th hottest and KS had there 28th hottest.
Another note…there was a while there where we were expecting to see a flip from El Nino conditions to La Nina conditions (cooling of the Equatorial Pacific waters). While there has been a marked decrease to near elimination of El Nino…the resultant push towards La Nina has been weak at best. So weak that today the folks at the Climate Prediction Center dropped their "La Nina Watch". No it appears the odds favor a La Nada or "neutral conditions". This in and of itself may not have a huge impact on the winter weather locally.  Some model data indicates that a rather weak El Nino may try and return again heading towards later spring of 2017.
What is sort of catching my eye through is the same darn warm blob of Pacific Ocean waters that seems like it's been there for the last several years.
Let's see how that is doing again come mid-Late November…but ridges aloft love these warmer bodies of water. Ridges out there mean warmer conditions in AK…warmer conditions in AK can favor cold air dumps into the Plains during the winter season. Just saying.
Our feature photo comes from Tammy Grimmet down in Miami county from late August. She adds "Hi Joe, sunsets have been amazing in southern Miami County KS. This was taken at Middle Creek lake near Louisburg, KS."
Joe