Joe's Weather Blog: Fall has finally arrived (SUN-9/25)
Good afternoon and while it's not the prettiest of days…and yes there is still more rain/drips out there early this afternoon…we should see some slow drying over the next few hours and the weather has certainly cooled down. Remember how I was saying we'd be about 35° cooler today than what it felt like earlier in the week with a heat index of 100°…well I was wrong. It "feels" 40° cooler. at noon the temperature at KCI was down to 60°. we should recover a few degrees during the late afternoon as the rain ends.
Forecast:
Tonight: Clearing skies and chilly! Lows tonight 45-50° with 40-45° readings towards the IA border.
Monday: After that cool start…a nice warm-up to about 70°
Tuesday: Another cool morning in the 40s with milder weather in the upper 70s
Wednesday: A slight pull back with highs in the mid 70s.
Discussion:
The calendar says that fall arrived on Thursday morning but the reality says that fall arrived at around 10AM today as the temperature dropped from the upper 60s to the lower 60s in the course of about an hour.
Our cold front has moved SE of KC proper…but it's still mild towards central MO (80s but dropping soon) and downright hot towards eastern MO where readings at noon are near 90°.  Here is the noon surface map showing the front as well as the temperature contrast from 90° weather to 60° weather. The temperatures in the above map are in red.
Nice front!
Another note that I mentioned this morning…the drop in temperatures today. certainly not a surprise on my part. This graphic below, is from IA State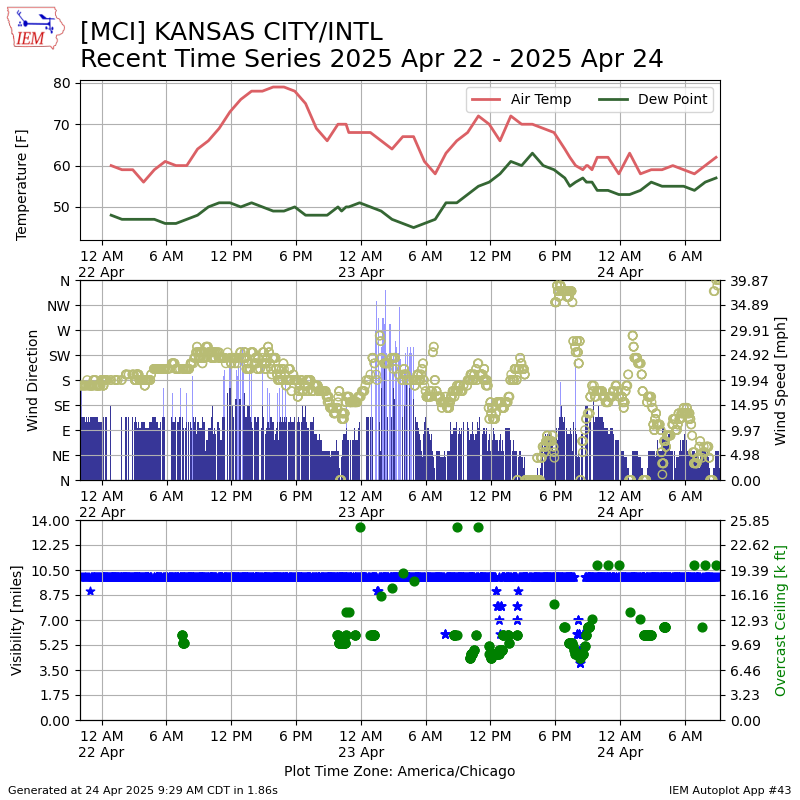 Notice that late morning drop today…
So last Sunday, ahead of the hotter weather moving our way this past week. I mentioned that we were running 1.5° above average for the month so far…well as of this morning we're now 4.5° above average for the month…that's what kind of week it was around these parts.
This coming week overall will be closer to average…but the month will certainly be a month with warmer than average temperatures. It's been one of those years.
The week overall looks fantastic. There may some re-enforcing shots of cooler air preventing highs from bubbling up much. Odds are Tuesday will be the milder day. We should have some downsloping winds ahead of a weak front that will allow temperatures to pop higher. Then cooler air comes back into the area on Wednesday. Highs may approach 80° in parts of the area on Tuesday then drop about 5+° on Wednesday. Nice weather overall!
We're coming into the downsloping time of the year. It seems the fall and spring seasons favor this type of wind regime around these parts. The day are still long enough and the sun angle still good enough to allow the winds to flow from the west to the east…or WNW>ESE to allow the air to come down the Plains (from an elevation standpoint). For example the elevation in North Platte, NE is close to 3000 feet…towards Goodland, KS it's almost 3700′ and towards Dodge City it's around 2500′. Locally KCI is about 1000′. So the air comes "down the Plains slope" almost 2-3000′.
This is important because as an air bubble does that it warms about 5.5°  per 1000′. So you can see how, given we have the right wind direction…and enough sunshine with the proper conditions. These events can be more dramatic when mountains come into play. It should be noted that downsloping air typically starts coming down the Rockies and then comes into the Plains.
Here is a graphic from USA Today showing this phenomena.
Downsloping air also can play a role in other parts of the country. Out east it's been a common feature with the Appalachians.
It also happens on the west coast…and it's happening today.
OK that's it for today. A lot of great pictures these days from our viewers these days so thanks for tweeting and FBing them into me/us.
Our feature photo today is from Tom Flanigan in KCK
Joe