Joe's Weather Blog: +1 to fall weather & Matthew update (FRI-10/7)
Thanks for taking a few minutes and reading the FOX 4 Weather Blog. Our weather has certainly changed around these parts as a cooler and drier air mass has moved through the region. Temperatures are in the 60-65° range today and will drop off considerably tonight. As a matter of fact tonight will be the coolest night since May 15th!
Forecast:
Tonight: Clear and crisp with lows in the 40-45° range. There may well be some upper 30s out there, especially north or NE of KC. I guess somebody could see some isolated frost outside of KC as well.
Saturday: Sunny and seasonable with highs near 70°
Sunday: Ditto
Discussion:
So did you notice that we didn't really have any severe weather locally last night. There were some 50 MPH winds that knocked some tree limbs down and also took down a few power lines resulting in some power outages. Overall though, despite some forecasts that were circulating…my forecast was perfect. Sometimes you just have to rely on what you think instead of others.
There were severe storms in KS though for sure…including more than a few tornadoes. the count was 20 reports…but with filtering of duplicate reports that number will come way down.
Here are a couple of videos that were shot of the tornadoes that occurred.
Chip said I could add his video into the blog as long as I show you some data from the KS mesonet...well allow me to show you some 1PM temperatures…
That's a beautiful afternoon in KS and they aren't the only ones…lots of clear skies out there.
Look carefully a the picture above..see that white patch in NE…that's snow on the ground!
The cold front has moved off towards the east of the region. Memphis, TN at 2PM was close to 90° while it was near 50° in parts of SW MO!
The cooler air in place will allow temperatures to tank overnight to near 40°. The winds will be switching towards the SW in the wee hours of the morning so that may stall the dropping temperatures heading towards daybreak.
The weekend looks great and aside from maybe a few sprinkles on Monday and or Tuesday the forecast looks pretty dry into Wednesday of next week.
Matthew:
Well around 600,000 customers are without power. Flagler County in FL which is where Daytona Beach is located is totally dark. Restoration efforts won't start till tomorrow for areas from central Florida northwards…the winds have to fade off.
Matthew managed to stay off the coast. As a result, technically the streak of 4000+ days without being hit by a landfalling hurricane continues in FL. It was amazing to watch the tiny little wobbles last night as the eye of the storm was going through reorganization at times. When these cycles occur, the hurricane can vacillate in intensity.
The highest wind gust report came from an "elevated" weather station in northern Brevard County near Titusville…indicating 107 MPH wind gusts. Daytona Beach has an unofficial 91 MPH wind gust. The has been a lot of storm surge flooding…and this may worsen as the storm moves farther north towards GA and SC.
Another issue is the expected rainfall that will occur heading into tomorrow.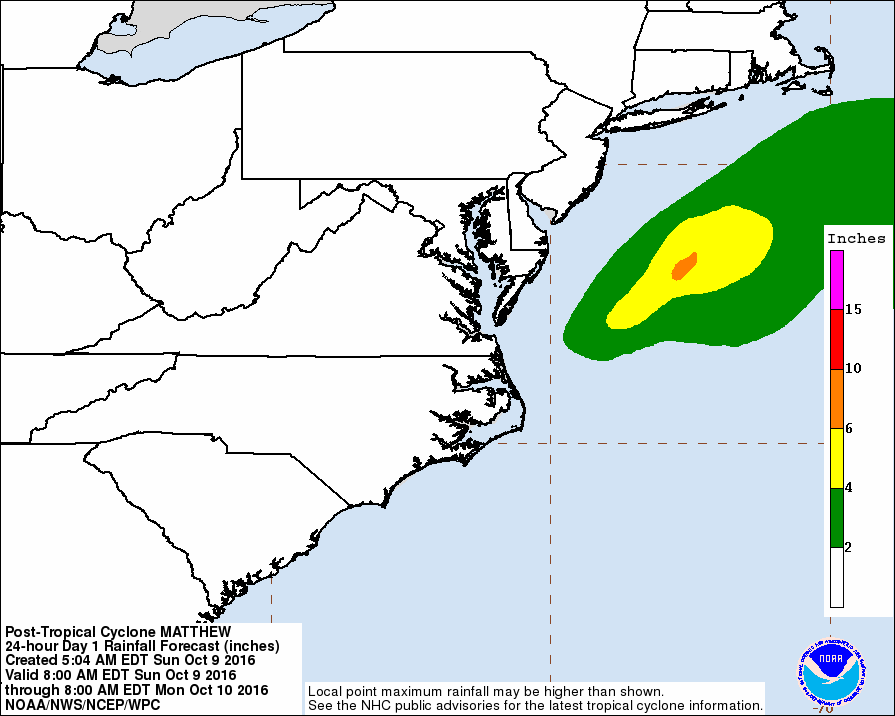 Between the flooding rains…and the storm surge…things may get pretty bad along the coastal areas of GA and especially SC. Here is the NWS radar from Charleston, SC showing the storm coming northwards.
As far as what happens over the weekend…there may be a slow weakening of the core of Matthew.
As you can see this thing is going to be VERY close to the shore on GA/SC and for southern NC.
While the worst of the winds stayed offshore…the flooding issue associated with the storm surge is really becoming a big problem in NE FL as I type this.
Much like Sandy…it may not be the wind that caused the most damage…but instead the storm surge.
It seems worse from near Daytona Beach northwards this afternoon.
It's going to be a big news story through the weekend and a very expensive one as the damage continues to evolve.
Meanwhile the death toll from Matthew in Haiti is growing. Upwards of 1000 have lost their lives and odds are that number will go higher.
Strangely there is going to be a loop in the future of Matthew. It's going to interact with a former hurricane to it's east (Nicole) and may eventually wrap back towards the Bahamas in a weakened state it appears by the middle of next week.
OK that's it for the day. I should get a blog together tomorrow afternoon for you. Look for an update towards 2PM or so.
Our feature photo is from Nathan Pickman from the lightning show that was pretty massive last night in the area. This was from St Joseph, MO
Joe