Joe's Weather Blog: No records…but my goodness! (SAT-10/15)
Just got back from a couple of days in Hermann, MO. Had never been there before and didn't want to attempt to fend off the craziness of the weekends there (which are crazy during Octoberfest). Had a nice time overall and ran into a bunch of KC folks while there!
If you remember last weekend I showed some special graphics indicating that the time frame from the 15-19th would be a mild to warm period in the KC region This is happening now. Our morning low was a VERY mild 65° which tied for the 8th warmest in KC weather history for today's date (assuming we stay above 65° through 12AM). So the warm air has arrived…and with it comes lots of low level moisture.
Forecast:
Today: Mostly cloudy and mild with highs well into the 70s (average is 71°). Windy as well with south winds of 15-25 MPH. There may be a few light showers in the area later this afternoon.
Tonight: Cloudy and mild with lows in the mid 60s
Sunday: AM Clouds and then more PM sunshine. Highs in the 80-85° range with enough sunshine
Monday: Windy and warm with highs well into the 80s.
Discussion:
Interesting weather in these parts over the next several days as some very warm air will be moving through the Plains states. The problem we're having right now is that there is a bunch of moisture several thousand feet thick just above us. It's taken the form of cloud cover and every so often the clouds try and break up. Yesterday we were fighting the clouds through the middle of the afternoon. We may do so again today at least.
We can't fully realize the warm air potential until we get more sunshine on a consistent basis.
Here is the current surface map…the temperatures are in RED.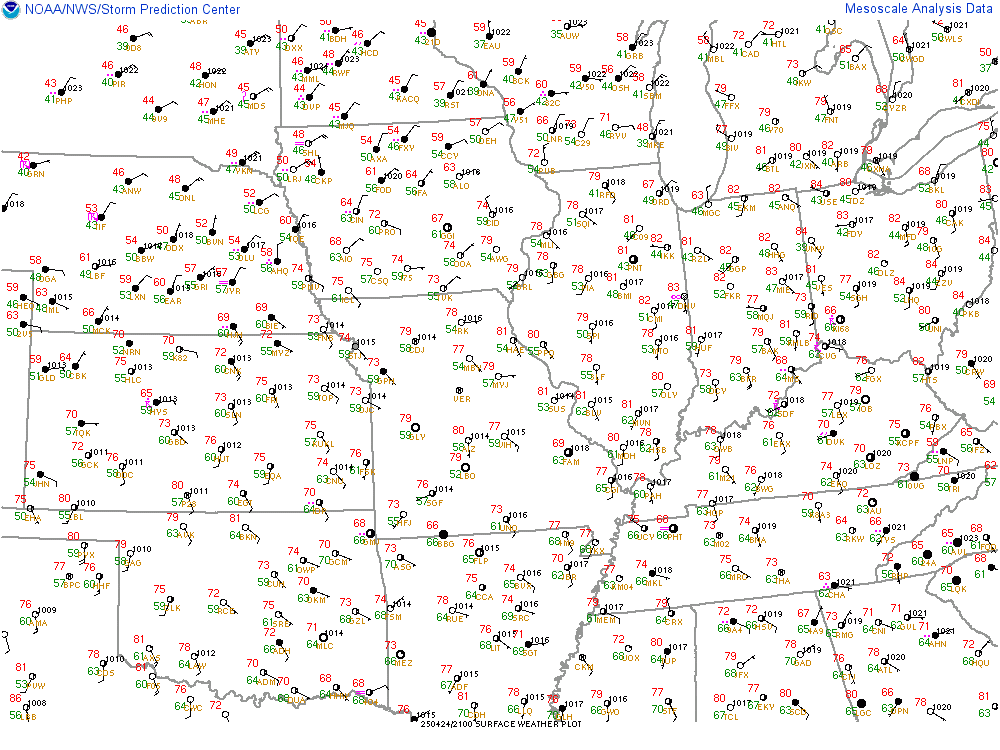 Temperatures aloft are going to be very warm for mid-October. We need the sunshine and we need to get rid of the cloud cover to maximize our potential.
Don't be shocked if you see or experience a few light fast moving showers later today as well.
I'm somewhat hopeful that will occur sometime on Sunday. Monday would actually be the day that could be the warmest in this stretch…as highs potentially could soar to 85° (hotter downtown). A cold front will come through sometime Tuesday AM and that will bring back the more seasonable temperatures into the area for Tuesday.
A couple of notes…1) temperatures through yesterday are running about 1° above average for the month. 2) despite the warmth…these will NOT be record highs.
Interesting to note that 15 years ago on this date…we had snow!
Also of note is on the 22nd…back in 1996…20 Octobers ago…we had the October "Surprise" snowstorm!
We should see chillier weather move back into the area later next week…around the 20th or so.
Overall very typical weather for October around these parts in terms of the ups and downs.
Meanwhile the PAC NW  is being hit by a massive storm…creating all sorts of winds/severe weather/heavy rains etc. Here is some video of a rare EF2 tornado that hit Oregon yesterday. Rare because Oregon doesn't experience these tornadoes often.
Yesterday the NWS in Portland, OR issued 10 tornado warnings…so far in 2016 the NWS in Pleasant Hill has issued 12 tornado warnings.
See those rapidly moving clouds in the Pacific Ocean heading towards CA…that is the strong winds of the jet stream with max winds of almost 185 MPH
Pretty impressive!
Have great weekend! Our feature photo comes from Violet Dawson of a beautiful full moon.
Joe