Joe's Weather Blog: Active weather day nationwide…but for KC…just blah (SUN-1/22)
This blog will talk a bit about other parts of the US. There is an ongoing severe weather outbreak in the SE part of the country including a very rare HIGH risk of severe storms for parts of GA/FL. This is the 1st high risk issued by the SPC (Storm Prediction Center) since June of 2014. For that part of the country…the 1st since 1989! Meanwhile out west…flooding rains and tremendous mountain snows will be the issue today. Here in KC though, we just have clouds and colder air filtering in from the north. We're on the back edge of the storm system so that is all we're going to get.
Forecast:
Tonight: Gradual late clearing. Some AM fog is possible. Temperatures drop to near 25°. Could have some heavy AM frost.
Monday: Mostly clouds in the AM then clearing and highs may pop to 45-50° with enough afternoon sunshine
Tuesday: Warmer and windier. Temperatures have the potential of getting to near 55°. There may be some PM showers as well as a seasonably strong cold front comes into the area.
Discussion:
Let's start with the SE part of the country. Storms are raging right now…and there have been numerous tornado warnings in the last couple of days. Last night, it's believed at least 11 were killed in the storms in GA.
The atmosphere is getting more and more unstable there…and there is a strong surface low moving towards NE GA.
This is a bad combination as the atmosphere gets more and more unstable. The combination of shear and instability is VERY high today (rarely so) hence the heightened concerns.
HIGH risks are rather unusual, as indicated above. As a matter of fact they are outright rare for January.
This is the 2nd HIGH risk of severe storms…in January…since 1980!
The language is strong coming from the SPC.
"The late morning surface analysis shows a rapidly deepening low near MOB, with a convectively reinforced warm front extending eastward from the low along the FL/GA border. This low is forecast to deepen over 12mb in the next 12 hours as it tracks northeastward. This rapid cyclogenesis will be accompanied by very strong low and mid level wind accelerations across parts of GA/FL. The result will be a zone of impressive shear profiles in the warm-sector of the low, along with ample low level moisture and rather steep lapse rates. Forecast soundings in the HIGH risk area are characterized by effective helicity values of 500-700 m2/s2 overlapping MLCAPE of 1000-1500 J/kg. This rare parameter space will support the risk of long-track strong tornadoes across the HIGH risk area. Also, very strong low and mid level winds and steep lapse rates suggest a significant risk of bowing structures capable of widespread damaging winds and large hail. The line of storms will eventually sag southward across the entire FL Peninsula overnight with a continued severe risk."
MOB is Mobile, AL. Lapse rates refer to the change in temperatures between levels in the atmosphere. Helicity is a value given to the atmosphere when it can spin like a corkscrew (above 200 is VERY high). It combines other values such as speed and directional shear as well as the low level winds moving into the area of speed and directional shear. MLCAPE refers to the instability of the atmosphere
The end result is a potentially bad day/night ahead. The storms will also be moving at close to 50-90(?!) MPH…
Here are the storm reports coming out so far. This will auto-update as the day/night goes along.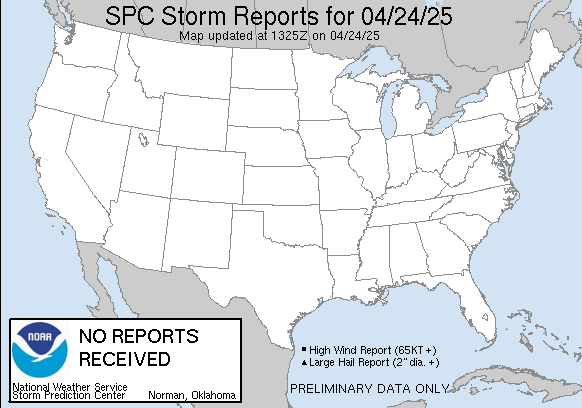 Here is NWS radar from Tallahassee, FL. They were having radar issues earlier but it now seems to be up and running.
and also from Atlanta, GA.
Meanwhile out west…the rains and snows keep coming.
The water vapor loop shows the storm that will be spinning towards the SE part of the country tonight…and also an onslaught of Pacific moisture that slams into the mountains of CA.
That Pacific moisture gets shoved into the mountains…then is sent upwards by the mountain terrain…creating even more lift…hence the heavy precipitation potential. The latest snow forecasts are enormous over the next 3 days. There is a chance some areas could see over 6 FEET of snow…and they've been blitzed all month.
We've talked about Mammoth Lakes in CA lately…well the snow piles are getting higher and higher.
This month alone…over 212″(!) of snow has fallen there…that's almost 20 FEET
That's just incredible!
Closer to the coast..this is all rain…
There has been (though its decreasing now) tremendous surf with this. I believe I saw a record wave height in Monterey Bay of over 34 feet yesterday
For us locally…nothing too exciting…we'll get colder on Wednesday but nothing terrible…and no significant storms are expected for the next 5-10 days…if not longer.
Our feature photo comes from the @PeopleOfCowtown…it's a stunner!
Joe