Joe's Weather Blog: Loving the spring fever warmth (TUE-2/14)
Another fabulous weather day in the KC area this afternoon as filtered sunshine is allowing temperatures to be in the 50s this afternoon. This will be the 10th day this month with above average temperatures and many more are on tap into next week. What is not really showing up is rain. There is a system, perhaps, for next Monday…we'll see about that though in terms of what it can actually produce.
Forecast:
Tonight: Fair skies and cool with lows in the 25-30° range.
Tomorrow: Mostly sunny and a bit cooler than today with highs closer to 50°
Thursday: Big-time warm-up as highs soar well into the 60s! Skies should be mostly sunny. Spring fever begins again!
Discussion:
There really isn't a lot to write about today…no active weather for at least 6 days…mostly dry conditions are expected and after a "cool" (bit still above average day Wednesday) it will really warm up. I stuck a couple of near 70° days in there for the weekend. We're running 5°+ above average…and that trend will continue to increase into next week as well.
There are a couple of things to look for though…in case there are some adjustments to the forecast needed. One would be this area of circulation across the SW part of the country…notice it spinning in western AZ…that will drop towards Baja CA over the next couple of days…then start to come out towards the northeast and eventually head towards northern TX to start the weekend. From there it should pass towards AR…BUT if it comes farther north we could get into more cloud issues.
During this time of the year…when forecasting aggressive warmth (more than 25° above average from several days out) …clouds can easily put that forecast in jeopardy. So let's watch that…
Then there "may" be another system on Monday. The GFS has this cranking out at least some rain in the area…either Monday or Tuesday. The new EURO though has backed off considerably on the rain potential…sending this next system even farther south into central Mexico before curling it towards the NE but since it goes soooo far south…it can't get this far north…so the decent rain it had last night for the area for early next week…has gone poof. I'm NOT saying that it's correct…but's it's a bad look…
Considering what it is forecasting is wayyyy out towards the NW of Hawaii…there is still a long time to track it. It will bring CA (especially southern CA) some heavy rainfall though.
The wind energy in the atmosphere that is forecast to be the system to watch for MON>TUE in the Plains is way towards the WNW of Hawaii…noted by the "lumpier" look to the clouds…indicating colder cloud tops. Ummm…it's only 5000-6000 miles away. That's how desperate we are on the 21st straight day with nothing more than a trace of moisture.
I won't even waste your time on any snow potential for the next 10 days.
On that subject…snow lovers can wistfully look towards northern New England in particular as the late weekend blizzard there cranked out a max of 40″ of snow…and yes more is coming in the next few days. The NWS in Caribou, ME put out this graphic today.
Can you imagine?
Meanwhile the warmth coming up for later int eh week will be through the Plains and upper Midwest…that means a lot of the snow up there…goes bye bye by the end of the weekend.
The last time Chicago had more than 1″ of snow was December 17th! That's pretty impressive…even for Chicago. They had some decent snows in DEC during the 1st 11 days…since then…not much.
Here is the Climate Prediction Center's forecast for the rest of the month as far as temperatures go…these show the odds (confidence) of above/below average temperatures.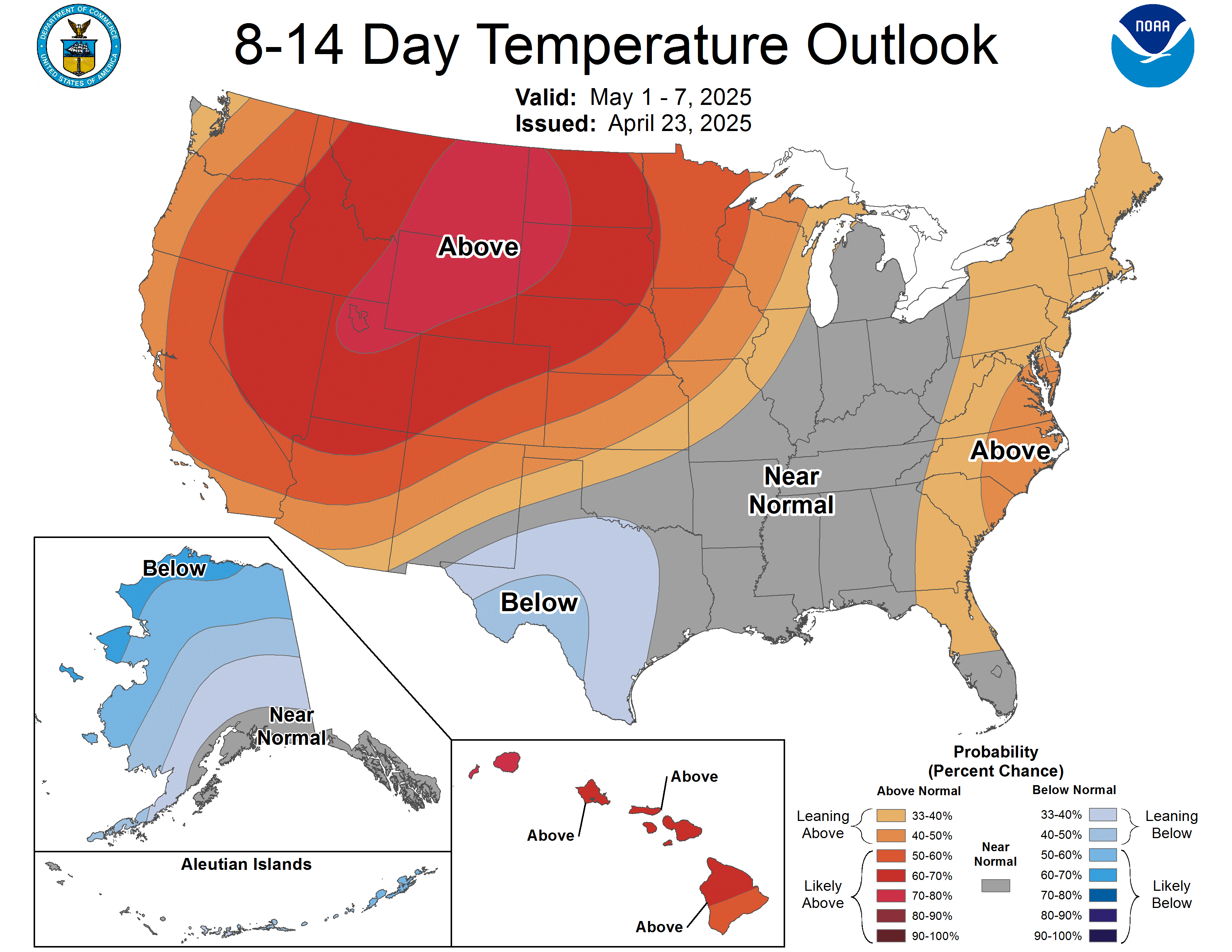 As far as the western part of the country goes though…they don't care so much about the temperatures right now…they care about the moisture and more is coming…here is a look at the next 7 days…that bullseye in northern CA of over 10″…that is right around that Oroville Dam region. That's why they're being super aggressive right now in releasing water through the damaged concrete spillway. They've dropped the levels almost 9′ since Sunday…and since so much more water is coming…there still are big-time concerns.
OK that's it for today…I'll have a "different" type of blog posted for tomorrow. As you know I've been researching the "overuse" of severe thunderstorm warnings in their present form. Tomorrow I'll be presenting that research to Emergency managers, NWS and NOAA personal and some of my TV colleagues. I think there is rather significant apathy from the general public about these warnings in particular. I'll be posting that presentation tomorrow afternoon after about 3PM or so…so look for it then.
Our feature photo comes from the Island of Aruba…beautiful place…thanks to Pat Allen for send it to me the other day!
Joe