Joe's Weather Blog: Some rain ahead and a ton of warm weather too! (SUN-2/19)
A mostly sunny afternoon in progress in the region as temperatures today should top 70° once again. This will tie a record of 4 straight 70s in FEB. The last time was back in 1932. I'm not sure we can get to 70° tomorrow or not in the afternoon. Some model data suggests it can be done. I'm worried about cloud cover issues. IF we get there tomorrow…we will again on TUE>WED and maybe THU…that would be 7-8 days in a row of 70°+ weather. That is the incredible part about all this…in the winter…in February.
Forecast:
Tonight: Increasing clouds with some showers possible towards daybreak. Lows will be mild…in the 50s. Dew points will be increasing into the 50° range. Winds will be south at 10-20 MPH
Monday: Showers AM…maybe even a rumble of thunder somewhere. Then Variable clouds PM and warm. Highs well into the 60s. A VERY weak front will slip towards the area in the evening…it's not out of the question there could be some isolated thunder with that too. The bottom line is NOT an all day rain and the amounts will still struggle to get above 1/3″ or so.IF you get some convection you may be able to get a bit more.
Tuesday: Another phenomenal day with highs 70-75°. Record is 75° set in 1935
Discussion:
Well we're close to having a temperature forecast bust today…one look a the satellite mage this afternoon shows the area of low clouds towards the west of the KC area. Not that far west and it's impacting temperatures where those low clouds are more prevalent.
Notice in the following surface map, showing the temperatures in RED that areas with the lower clouds are only in the 50s today (especially towards the Wichita area and northwards) while areas with sunshine are running towards 70° as I type this blog up. KCI, for example is 70° while Emporia is 56° at 1PM
We're living large in KC…that's for sure. Look at the departures from average (top left map) via Penn State for the current hour.
For those keeping track…FEB (through yesterday) is running 8.3° above average and since we're tacking on about 1°/day with these warm temperatures…by Thursday evening it's not unrealistic that we could be some 12° above average for the month!
We'll get at least some rain into the region tomorrow. How much remains a question and will really be determined by whether or not we get some sort of little wave coming up from the SSW in the morning that may have some convection in it.
The latest HRRR (via IA State) model is showing something (some what decent too) coming up from OK later tonight into tomorrow AM. Right now it may be more aimed towards the west of the KC area…into NE KS and NW MO but it bears watching.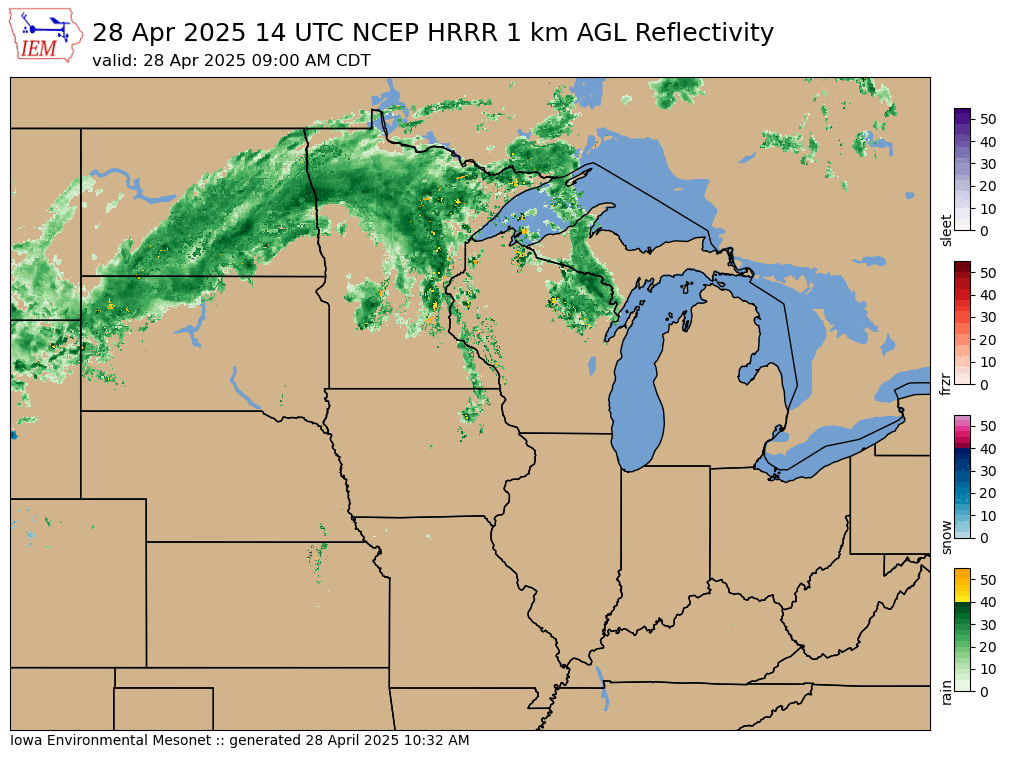 IF we can get that to come closer to the state line…we could see more significant rainfall. Perhaps over 1/2″ in some areas…that will be more known later tonight.
Here is a look at reality via actual radar so far.
Once that system moves through and the upper level wave breezes by in the evening Monday…once again we're off to the races for temperatures with a record high on Wednesday being threatened.
A more significant storm will be moving into and developing through the Plains Thursday into Friday. The forecast does get a bit trickier on Thursday as temperatures will be dependent on the placement of a warm front near the KC area. IF we're on the northern side of that front, we'll be in the 60° range…IF the front is closer to the US 36 corridor towards N MO we could again be in the 70ss.
The change in the weather will come with the passage of a seasonably strong cold front with will create a blustery and colder day on Friday. If things slow down a few hours we could be in the 60s with then falling temperatures at some point during the day. IF the front comes faster we'll start to see falling temperatures in the morning hours with gusty NW winds of 20-30 MPH adding to the potential chill.
The storm that will be the trigger to the return to average (the horrors!) is the one that will be slamming CA again tomorrow. More heavy rains and mountain snows are expected through central and northern CA on Monday.
Another boatload of snow in the higher elevations.
It really is amazing what's been happening out there in the last 2 months.
I'm not even sure that that system will give us any rain locally later in the week.
Our feature photo today comes from Leann Strang Gump from Plattsburg, MO this morning of the fog that was out there for awhile before dissipating.
Joe