Joe's Weather Blog: An "average" weekend (SAT-2/25)
Good afternoon. Bright and clear out there today and cool too. As of 12PM the temperature is a more seasonable 35° at KCI and we'll finish the day with highs 40-45°. That's actually a bit below average and today will be the 6th day this month with below average temperatures with 19 days of warmer than average temperatures. Overall though our FEB averages are close to 10° above "normal". We still have more warm weather to go before the month is done.
Forecast:
Tonight: Clear this evening followed by increasing clouds overnight into Sunday AM. Lows in the 20s.
Sunday: There may be a few snow showers out there in the morning (before 10AM). Then IF anything falls…there could be some sort of rain/snow mix shower thing happening. I doubt there will be issues but it's worth paying attention too at least for a few hours in the morning. During the afternoon variable clouds with highs around 50°
Monday: Actually a pretty nice day with highs around 60°. There could be a few showers during the evening.
Tuesday: Warmer with partly sunny skies & highs well into the 60s to near 70 ahead of another cold front.
Discussion:
Unless something of significance changes…not sure I'll put a blog together on Sunday. This weather is starting to really bug me because of the "lack" of interest on my part about what's happening. What I'm trying to say is that despite systems coming through…and cold fronts coming through again…warm ahead of the front…cooler behind the front…aside from that…there isn't a lot going on of importance in the KC region.
We've seen blizzards 4 hours north of here…we've seen severe weather well down south…we've seen tons of record highs…but what we're not seeing is much needed rainfall. These piddly <1/10″ systems are more of a nuisance than anything really and don't help the cause that much.
I'm not sure how much will change over the next 2+ weeks regarding that. Again while the landscape is dormant that's OK but it won't be OK in about 2-4 weeks or so when things are really coming to life. I'm not going to get to revved up about it aside from the fact that it would be nice to write something about an interesting weather change happening locally.
Instead I'm sort of stuck writing about these weak little waves coming towards the area. Another one may come through tomorrow but again with a limited chance of getting appreciable moisture back in the Plains…it won't be able to do too much. The afternoon satellite picture shows the clear weather around the region.
The lack of cloud cover indicates a pretty dry air mass around the area. The other issue is that when these waves come at us…right now there is no real moisture across the southern Plains and TX either.
Those are 2 pretty clean satellite pictures…so clean that you can really pick out the various lakes out there denoted by their darker spots in the terrain. Also note in the top picture the field of white north of the area…that is snowcover and within that there are lots of rivers and streams showing up…they look like veins.
So anyway these little disturbances come towards us tomorrow and create lift. There is only so much moisture in the atmosphere available to turn into cloud cover with that lift and things happen so quickly that any precipitation production may be fleeting before 10AM when the lower part of the air is capable of producing snow. In the end, most of the lift may just go to creating the clouds and that's it. With that said though…these situations can surprise and it's the reason why I want to keep the chance of some snow showers in the forecast for the morning on Sunday. Obviously IF something can fall at a decent rate and with no treatments on the road…there could be an isolated slick area develop wherever snow showers actually develop. It will be a matter of watching radar in the morning and then checking to see IF anything on radar is actually reaching the ground or will it be evaporating aloft (virga) before it gets to the ground.
Beyond that…we go back into a warmer air mass on Monday into Tuesday. Tuesday in particular has potential of really popping again however we may have lots of clouds around above 10,000 feet or so filtering out the sunshine but I think 65-70° is very doable. If it means anything I made a tee time for Tuesday…just saying. Another seasonably strong front comes through later Tuesday. There may be some flakes or raindrops (or both) around during the 1st part of the day on Wednesday.
We'll come back to average by Wednesday for highs at least.
Then there's this…and this is becoming an issue…and that is the advanced warmth that appears like it doesn't really want to stop for any length of time. The next 2 maps show the probabilities of above/below average temperatures and above/below average precipitation from 3/4-10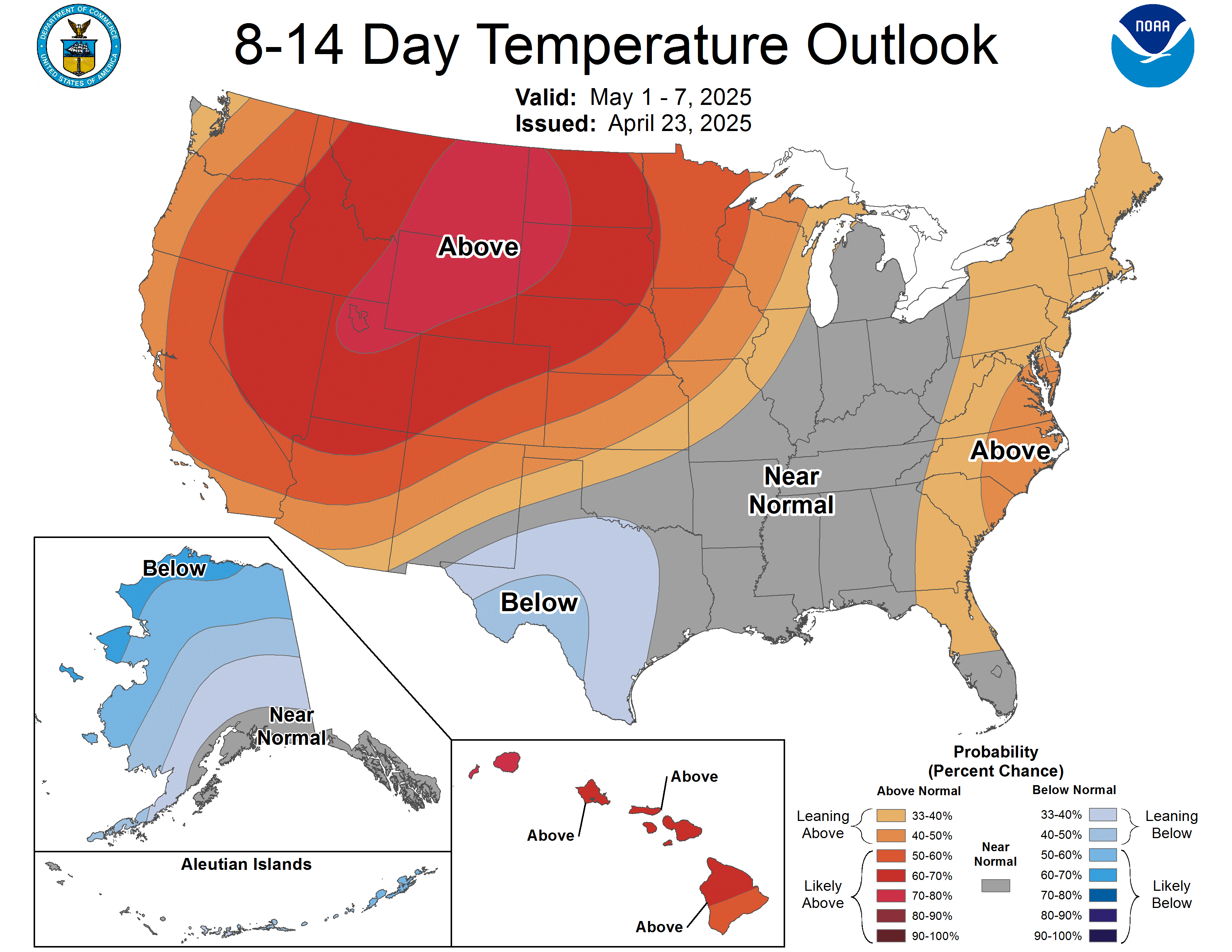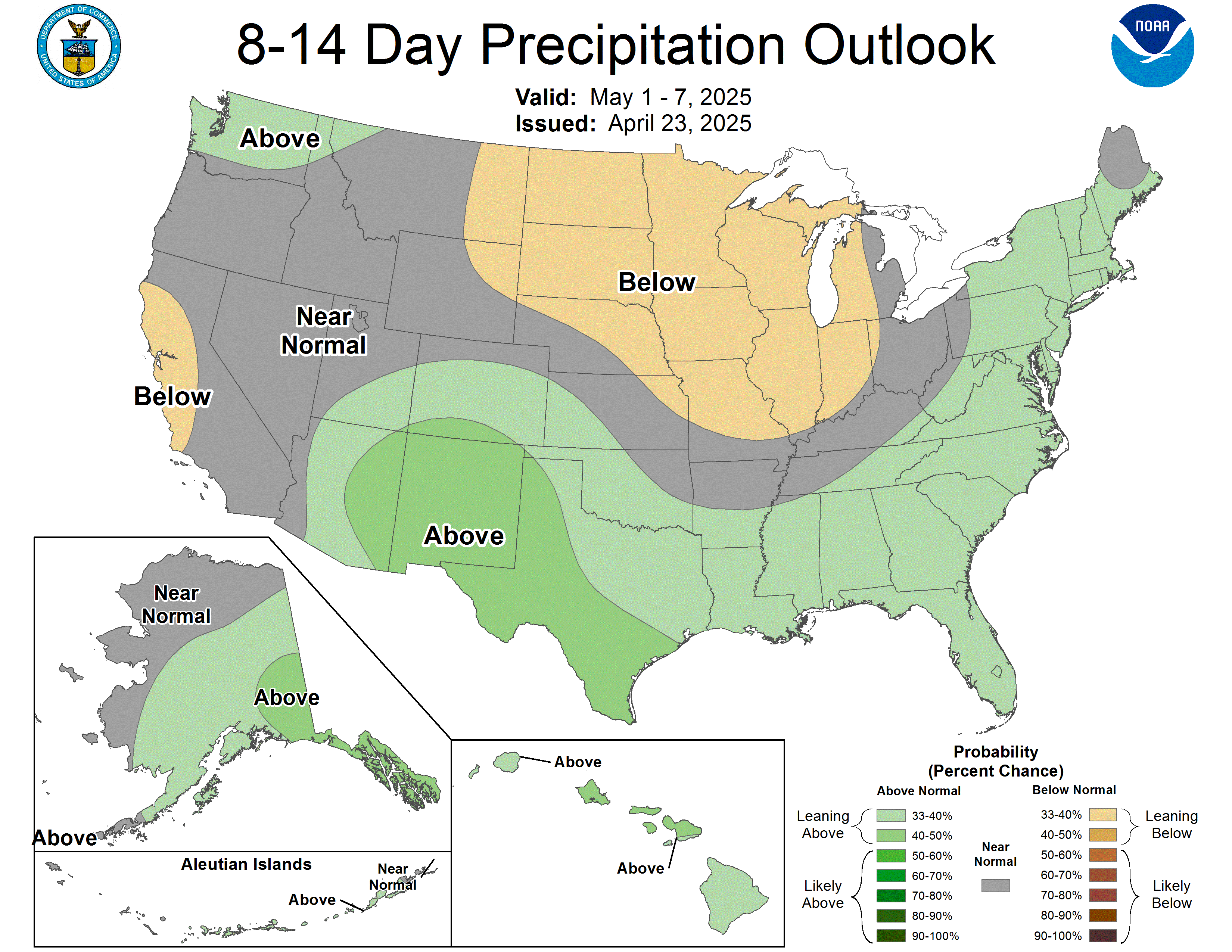 It's not really a good look IF you want rainfall. I'm more or less about to give up the ghost on anything more than inconsequential wintry weather around the area.
Our feature photo comes from Helen M. Hamilton Traphagan of a bald eagle up towards Riss Lake from last weekend
Joe