Joe's Weather Blog: Snow for some…others not so much (SAT-3/11)
It's like pulling teeth in the area for snow so far this morning. Through 10AM or so the snow has favored areas from about 10 miles south of I-70 and points northwards to south of St Joe…it's overall a rather thin band of accumulating snow in areas north of I-70. For many the accumulations are mostly on the grassy areas/car tops. There have been some crashes as well…and there are some slick areas, especially on untreated surfaces and around bridges and overpasses. With temperatures in the 20s…be careful into early this afternoon.
Forecast:
Today: Mostly light snow with an occasional burst of moderate snow. Accumulations in some focused areas north of I-70 but south of St Joseph may be close to 2″ on the grass. For areas farther south of I-70…minor amounts are possible. Roads will be mostly wet this afternoon but watch for slick areas through noon. Temperatures below 32°
Tonight: Clearing. IF there are still wet roads…watch for black ice to form. Lows near 20°. This will be a damaging freeze for some of the early blooming fruit trees out there and it's the reason why a Freeze Warning is in effect.
Sunday: Variable clouds and milder with highs in the mid 40s. There may be some rain showers or a light wintry mix early Monday.
Discussion:
Another overall light nuisance type of weather event today. Snow has been falling in a more confined area from KC north towards near 36 highway.
Unfortunately the combination of snow…which melted then tried to refreeze on some of the bridges and overpasses created hazardous conditions out there. There have been about 10-20+ crashes that I've noticed pop up on KC Scout this morning that were likely weather related.
These small bands of snow were expected to be an issue…and as I talked about for the last few days…where the set up after they fought the dry air that was in place overnight would determine the impacts. It appears that the biggest impacts this morning is on the northside of the KC metro area. Here is a look at the current radar showing the snow falling…keep an eye on this because we should see a slow southward drift to the snow as the morning and early afternoon moves along.
At least as of this writing you can tell the snow is struggling to push towards the south. The HRRR model does show an eventual sag southwards.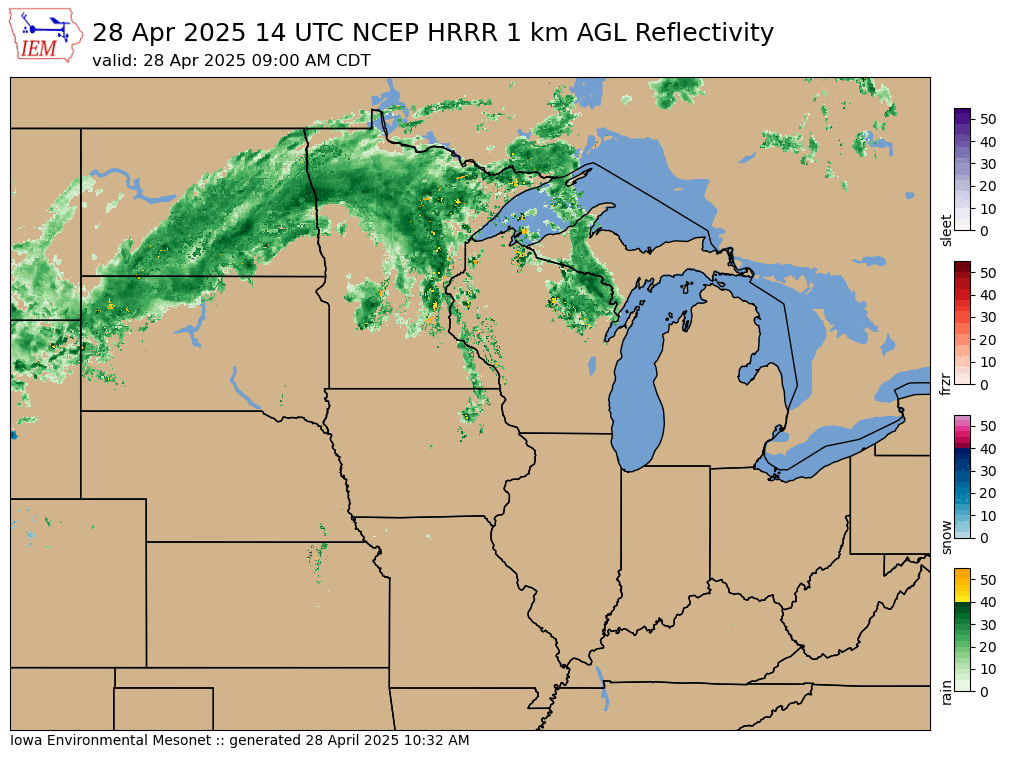 In terms of how much will fall…again I think a dusting to 2″ as a general rule for many areas from the KC metro northwards to south of 36 highway. Most WON'T get 1″ of snow. A few isolated areas, on the northside, may see a bit more than 1-2″, again mostly on grassy surfaces and car tops.
Tomorrow the weather will be fine with highs into the 40s after a cold start in the morning.
Another fast moving system will zip through the region later Sunday evening and may create some rain and or mixed showers in the area. Temperatures should stay above freezing for that event.
Then another clipper is possible early Tuesday AM…that might trend towards some light snow somewhere nearby.
The temperature trends though are overall chilly though Tuesday and into Wednesday with below average highs and lows through the period. Average now is 53° and 31° (high/low).
Overall trends do show some milder weather later next week…but till we get there it will be chilly!
So a case of the blahs really over the next 5 days.
Our feature photo comes from Lisa Reinhart of Smithville, MO. the week started with tornadoes…and now a nice covering of snow. Looks like a solid 1/2-1″ of snow there on the grass and deck.
I may do a blog update later today depending on the weather. Have a good Saturday…although a good day to just stay inside.
Joe