Joe's Weather Blog: Drips…drabs…and a massive blizzard (SUN-3/12)
Catchy headline…no? I won't keep you in suspense…the blizzard will be for many areas of the Northeastern part of the country. For us, we're the drips and drabs part of the title as the dry weather continues. A look at the melted snow totals from yesterday indicate .02″-.15″ of moisture and it's possible that rain showers this evening may sort of do the same thing again. Basically get the ground wet…and not really do a lot of soaking in to help the cause that much after a relatively dry week ahead.
---
Forecast:
Tonight: Rain showers are possible from 7PM-12AM or so. There may be  few renegade snow flake or ice pellets mixed in as well. Lows will drop into the 20s by daybreak but evening temperatures should be closer to 40° or so. Moisture amounts look to be under 1/10″ for the KC metro, with perhaps some near 1/4″ totals farther east on the MO side.
Monday: Variable clouds (generally gray though) and chilly with highs around 40°
Tuesday: There may be some morning flurries (no accums expected) then mostly cloudy and cold with highs 35-40°
---
Discussion:
Just a real blah March day out there with lots of clouds and struggling temperatures. The satellite picture this afternoon shows this cloud cover well. There is some better moisture towards the west of the area that is trying to sneak into the region late this afternoon. You can see the feed of moisture from central KS southwards into Texas.
The latest weather map shows a nice little area of low pressure across SD. This separates the cool air around these parts and the colder air across the northern Plains.
That's some pretty chilly air up there! Once that low scoot through IA, bringing a nice little snowstorm through parts of the upper Midwest, colder air will again come southwards…and we get into that before daybreak on Monday.
For us, about the only thing this system may do is generate some areas of light rain or a wintry mix in some places for several hours this evening. The amounts shouldn't be a lot with this. Here is the HRRR mode showing the potential evolution of the evening hours from a "forecast radar" standpoint.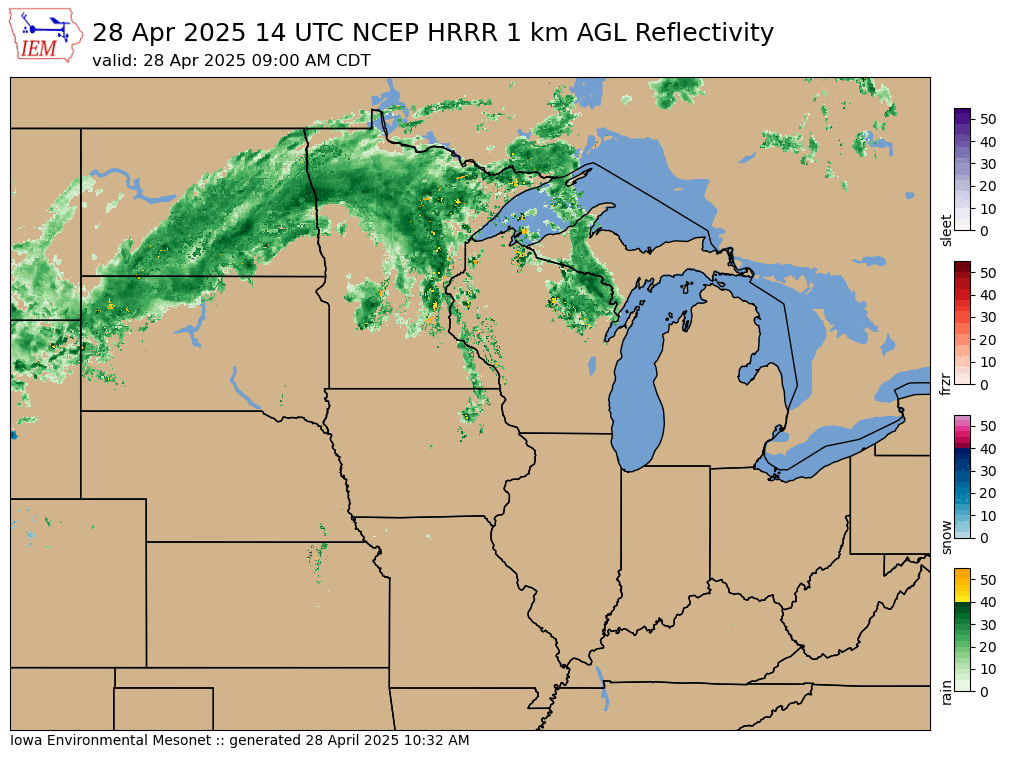 You can see it doesn't last long…whatever comes down it appears although it does get a bit more impressive farther off towards the east of KC.
Interesting to note that this system will turn into one of the main components to a soon-to-be blizzard for the eastern parts of the US as it helps to carve out a big trough back east. This will place the Plains into NNW flow…and any little ripple travelling to the SSE could, in theory, set of skinny bands of precipitation. Since the air aloft will be cold enough…odds would favor snow. The problem is that this is also a typically dry set-up for us…so unless something is stronger than I expect…odds are there could be another bath of flurries or light snow showers in the area on Tuesday. Worst case on this would be a dusting of snow in spots.
Some pretty darn chilly air will be with us through Wednesday before we start to moderate on Thursday and Friday. IF things work out…the weather for St Patrick's Day looks mild right now. Rain chances appear to be <20% at this point but there may be some sort of wind shift line/front passing through the area at some point…so it bears watching just in case.
Sometime about a week ago…when we were talking about the month of February and how warm it was…3rd warmest I think…in the other 2 February's that were warmer…in both cases it was colder in March than February. Right now we're about 5° above average for the month…but that number may come way down over the next 4 days or so.
Meanwhile back east…Woah Nelly!
That's a lot of snow through Tuesday…and you need to add in 40-60 MPH winds to that…and now we've got ourselves a rather stout blizzard.
Expect an enlarged area of Blizzard Watches by tomorrow AM…and probably warnings being hoisted tomorrow too! There are some questions about how this will affect the big northeast cities…for example Washington-Philly-NYC-Boston because of the path of the surface low. Too close to the coast and that means there could be real mixed precip issues for some of the bigger cities…a solution farther away…let's say only 50-100 miles east would allow the cold air to hold on and bring the higher snow number to the coastline. Tough forecast for the bigger cities. Inland (away from the coastal areas) it appears to be a strong blizzard. Odds are the NE part of the country will be closing down later Monday into Tuesday and Wednesday with flight cancellations…so IF you know anyone heading there…won't happen by plane for most. Even IF the blizzard misses the big airports…the wind won't.
Barbara Yerganian has the feature photo today of some frozen blossoms on her Magnolia tree
Joe