Joe's Weather Blog: A dusting and a blizzard (TUE-3/14)
Good morning. Clouds and a light dusting of snow to start our Tuesday in the KC area. Not all are seeing the snow though but it sort of is pretty watching it fall from the sky. A light dusting is about all it will generate although there may be some 1/2″ totals on the KS side show up over the next few hours through lunch before things wind down. we're going to be cold again today with highs only around 35°. Warmer days are coming starting Thursday.
---
Forecast:
Today: Light snow ends then mainly cloudy and cold. The average high is around 55° and we'll be 20° below that with highs in the 30s.
Tonight: Clouds start to break up and the temperatures should tank. A HARD freeze is ahead with lows 15-20°
Wednesday: Mostly cloudy…perhaps a few flurries and chilly with highs closer to 40°
---
An interesting weather morning out there today as the eastern part of the country is getting thunder sleet/snow while here in the Plains I'm watching a lazy light snow fall as I type this blog. The snow as I type this may be a bit heavier the farther west and SW of KC that you go. I'll add radar so you can see a bit better.
Again this will be a mainly morning item around these parts.
Meanwhile back east…all sorts of mayhem is happening. As I mentioned last night, NYC was going to have one tough forecast because of transitioning from snow to sleet to perhaps rain. As I type this they're getting thundersleet. It's a sign of a very powerful and intensifying nor'easter that will be moving up the coastline today towards New England. This will also have strong winds associated with it as well.
Radar alone is looking very wet and for some very white…especially just inland away from the coast. Some areas are already over 1 foot of snow.
add in 40-60 MPH winds and it's quite the storm. Thousands of flights have been cancelled heading towards that part of the country…and as I mentioned over the weekend…if you were leaving KC today for NYC…it wasn't going to happen.
Here is a look at the surface map…showing the isobars which denote lines of equal pressure. You can clearly see the center of the storm along the coastline.
The coastal areas are having a tough time maintaining snow because of the flow of air coming in off the water. There appears to be a small layer of 32°+ air just above the surface.
Just for the heck of it…I plotted a model sounding for 9AM for NYC. A sounding is a way for meteorologists to get an idea of the temperature and dew point + the wind speeds and directions of the atmosphere as you go upwards.
In the image above…the red line shows the temperature and the green line shows the dew point.
Notice the area that I circled. That represents a thin layer of air above 32°,,,maybe it's 33°. That's it. That's what separates sleet from heavy snow. That tiny layer by just 1-2°. That's why snow forecasting can be a tough thing. Once you go about 50 miles inland…that tiny layer isn't there and hence they're getting dumped on. We have thousands of temperature data points on the ground…but we only have about 120 data points above the ground that we receive 2 times per day. Sometimes aircraft have sensors that can fill in the gaps but you can see why snow and ice/sleet transitions are a tough thing to forecast for.
It's a pretty neat looking storm though.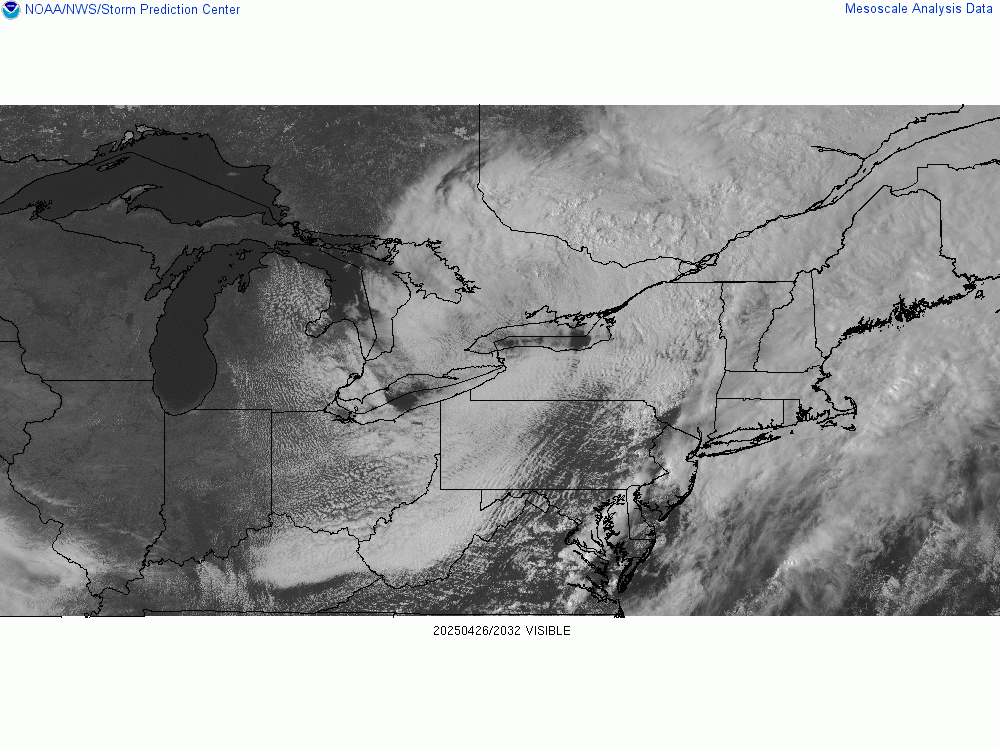 For us we can look forward to this colder air mass moving away from the area starting Thursday. we may rapidly warm up too once it does so. I've been forecasting upper 50s and some model data is warmer than that. A weak front slides through on Friday but dry and mild air will be behind it so more 60s are on tap and that should continue and it will get warmer over the weekend into early next week.
OK that's it for today…a tough start for the spring breakers out there. Our feature photo comes from Laura Crawford up in Smithville, MO. The shot is of her daughter after the Saturday snow. She's not happy because she wanted more of it. I feel her pain.
Joe