Joe's Weather Blog: Better for the breakers (THU-3/16)
Good afternoon. Bright and sunny out there as I type this blog up. Temperatures are approaching 60° and with south winds are busy at 15-25 mph. Overall not too bad. There is a cold front on the way but assuming everything moves according to plan…we should be in good shape for the parade later Friday morning.
---
Forecast:
Tonight: Increasing clouds from KC and south and SEwards. Lows will remain mild. In the 50s for most of the evening dropping to near 50° by daybreak. There may be some light showers moving though the area overnight with higher rain chances SE of the metro. About a 20% locally and a 60% SE of KC.
Friday: AM clouds move away then mostly sunny and mild with highs well into the 60s. Breezy as well with 15-25 MPH north winds behind the front.
Friday Night: Mostly clear and chilly with lows closer to 30°
Saturday: Mostly sunny and seasonable with highs around 60°
Sunday: Potentially a big warm-up day with highs 75-80°
---
Well we're halfway through with March and with the temperatures we've seen thus far…we're running just about average for the month's temperatures. The data through yesterday shows the KC area .4° above average for the month. The dry weather though is an conundrum for us though.
The drought report that was released today shows no change. We're now averaging about 6/10-7/10's of moisture per week…but it's been awhile since we had good rains from KC northwards at least. The latest report didn't show much appreciable change on the MO or KS side.
Our weather is going to be characterized by a few ups and some small downs as things will be moving at a brisk pace through the Plains. The cold front tonight will be coming through in the early AM Friday. it's a race to see IF some low level moisture towards the south of the area can make it to the I-35 corridor as the front arrives tomorrow AM.
The moisture though may not get here in time.
It's down towards SE OK and far S MO…but not exactly getting up here during the daylight. It's possible tonight it may try to sneak up towards the area.
The front itself will come through just before daybreak, so IF there is enough moisture in place…there may be some showers from KC southwards and again the higher chance would be towards Marshall>Sedalia (US 50 southwards)>Rich Hill>Pleasanton>Garnett. The dew points will be spike as well into the 50s before the front arrives. So in a weird way the temperatures may actually drop through 8-9AM Friday before turning around and recovering after lunch in the 60s.
I'm going to add in the HRRR model which shows the next 12+ hours and will auto-update as new data comes in (via IA State).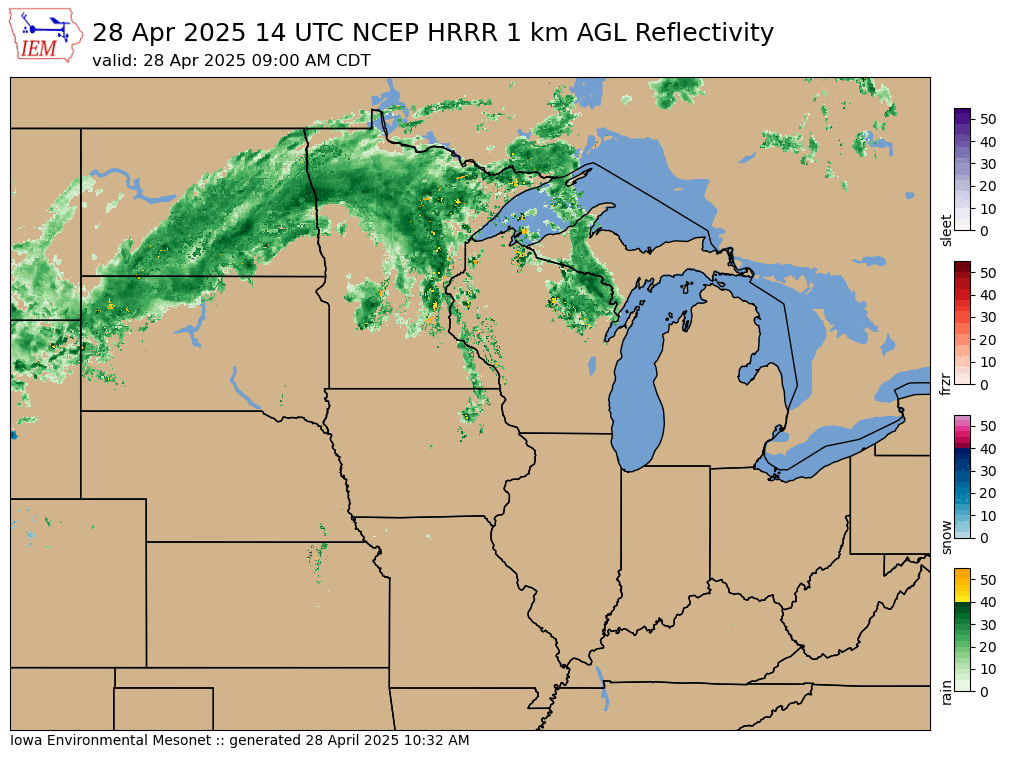 There will be enough wind on Friday to stir the air up nicely…this means that despite the front pushing through…we should recover nicely in the afternoon. Saturday will be cooler and more seasonable.
Sunday is sort of interesting as another cold front starts to settle south in the Plains. We'll once again see a return to warmer conditions and S/SW winds ahead of that front…sending highs into the 70s I think.
Monday the front will settle south and there are timing differences between the GFS model and EURO model in the arrival of the true chillier air. The GFS says faster and cooler on Monday…the EURO is actually mild through lunch with then steady or somewhat falling later PM temperatures.
More seasonable weather arrives later Monday>Wednesday.
No severe weather is expected through Wednesday of next week. Beyond that there are some suggestions that it may get more active heading towards the last week of March. There may be an increasing risk of severe storms in the Plains sometime later on Thursday the 23rd…where they develop and/or how far west they develop will play a role in whether or not we have to worry about anything significant locally. Just something to file in the back of your mind for now.
Finally let's switch from meteorology to geology. Mt Etna, in Sicily, Italy, is a constant source of volcanic activity. It's about 11,000 feet tall and is one of the most active in the world. Earlier, while tourists and researchers were on the mountain…it became more active…and the people there were caught in it including some from the BBC TV Network in England.
Our feature photo comes from Pamela Heller of Pleasant Hill, MO of the pretty sunrise from this morning.
Have a great day and come on down for the Parade on Friday. There will not be a blog on Friday but I'll get one out sometime Saturday afternoon.
Joe