Joe's Weather Blog: Yes there will be more rain…potentially a lot too! (SUN-3/26)
Good morning…it's really starting to look like spring out there as the grass is greening up considerably and the trees are really starting to come out of dormancy. It's this renewed life that will start the process of the vegetation needing more water and over the next 7-10 days it will get more water to work with as storm after storm comes through the Plains. we received a solid 1/10″-3/4″ of moisture from the system on Friday and Saturday and more is at hand for later tonight into Monday. Right now the severe weather risk looks to remain in OK mostly which is another good aspect for the local area.
---
Forecast:
Today: Mostly cloudy and cool with highs in the 50s to near 60
Tonight: Rain comes back into the area this evening. It will be developing in SE KS and spreading this way. Rain chances increase after 7pm or so. Some locally heavy rain is possible with some thunder. Lows in the 40s
Monday: A rainy at times early morning…then it should be drier in the afternoon. Highs near 55-60° IF we can get some afternoon sunshine to help us out a bit.
Tuesday: Lull between storms with lots of clouds highs near 60°
---
Discussion:
Went to Lincoln, NE on Friday to check out the Billy Joel concert. Excellent as usual. Probably by 10th time in my life seeing him … he hadn't been there in some 30 years apparently. So that's why there weren't any blogs the last couple of days…but the Thursday blog pretty well was an accurate portrayal of how the 1st system was going to affect the area and how this one coming tonight is going to impact things as well.
Today is starting out mainly gray. There are a few early morning breaks in the clouds though. Overall though it's probably going to be a rather gray next several days in the region a the storm from FRI>SAT has left a trail of moisture in the region and there is not enough sinking air behind it to clear out the cloud cover. This is a good and bad thing.
The bad think about it is it limits our sunshine today…the good thing about it for those wanting more rain…is the moisture is just hanging around…waiting on another storm to tap into it. Here is the latest visible satellite image showing the clouds in place.
Notice out towards the SE part of CO…see that "comma" shape…that's the next storm in a parade of storms that are affecting the Plains states.
That storm will move towards the east today…when there is more heating and instability (down towards OK and TX) there will be the possibility for severe storms.
That moderate area also represents the potential of hail and perhaps a few tornadoes as well.
For our area…no severe storms are expected but more rain is. Here is a look at the HRRR model showing the potential evolution of the rains spreading out through the Plains later today and tonight. This model should update throughout the day for you.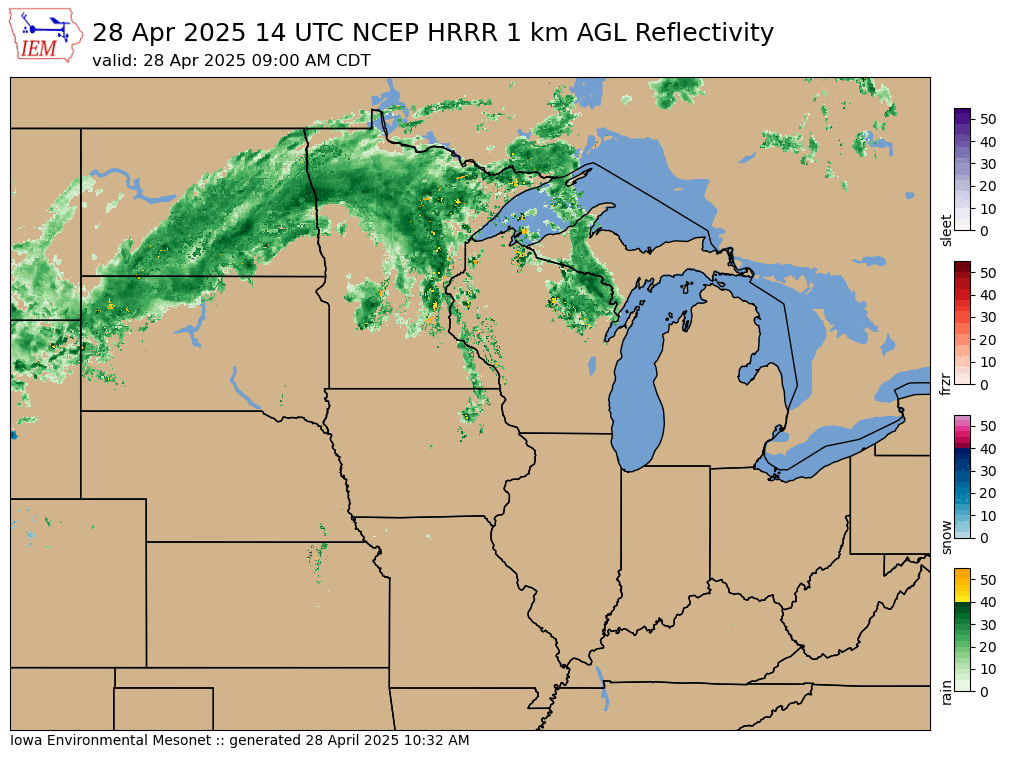 Notice we really get into the rain tonight…this should be a decent soaker with 1/4″-1″+ of rain likely for a large part of the area from the St Joe area and southwards. Any convection will help in determining IF we can get more than 1″ totals from this system in places.
Then we'll get another break later Monday into Tuesday before another, perhaps more moisture laden storm heads this way for later Tuesday into Wednesday. That one could bring another 1-2″ of rain if thing work out. Should that play out…then we'll be all caught up with moisture around these part for at least 2017 (for the time being).
As you know…I've mentioned numerous times that this is the time of the year where, in a dry spell, like we were in for months, that we need to "make hay" and recharge the soils and area ponds and lakes before the more irregular rains come to the area later in the spring and summer months. This 10 day period of moisture and storms is certainly welcome. Areas towards the SW of KC though need to catch up a bit more compared to others in the viewing area. Take a look at the rainfall over the past 7 days…
So all sorts of potential for another 1-3″ of rain this week on top of what you've received thus far…
Overall the week will not exactly be that warm…more of a seasonable to below average high temperature week mostly and this is because of the clouds and the rain coming through the area. This temperature regime should keep up relatively free of any big severe weather concerns for awhile as we start finish off the month of March.
This month is going to be another above average month for temperatures…we're running 4.7° above average right now and while it won't be that warm to finish the month…it won't be that cold either, especially at night. As of this morning we're about 9/10″ below average thus far…we should make up a lot of that in the next 3-4 days or so…and we have the potential of finishing the month off with above average rainfall officially at KCI.
Our feature photo comes from Stacy Sensenich Walton from Brookfield, MO.
Joe