Joe's Weather Blog: Better rains to the south of KC (THU-4/20)
Good afternoon…not exactly a gully washer last night…with the storms well west of here fading as they got closer, and since we didn't even get into the rain till early this morning…there wasn't a lot left of what developed…just enough to wet things down a bit. The late FRI>SAT system doesn't look great for us either in terms of a lot of rain, although the farther south of KC you go the better the rain amounts will be. KC is going to be on the northern fringe of this system it appears.
---
Forecast: 
Tonight: Fair skies and chilly with lows in the lower 40s
Friday: Increasing clouds but mostly dry during the day. There may be some sprinkles/showers later in the afternoon (scattered). Highs may approach 60°. A raw NE wind at 12-25 MPH will develop during the day.
Friday night: Showers with more steadier rains south of KC. Lows in the 40s
Saturday: Leftover light rains or showers in the morning then gradual clearing. Highs near 60° with enough sun BUT if we stay grayer…it may only be around 55°
Sunday: Mostly sunny and very nice with highs 65-70°
---
Discussion:
Not even worth recapping last night…anemic at best in terms of the rains in the region. Even from a severe weather standpoint there was the thought that perhaps parts of IA/SE NE and maybe far NW MO could see some rotating storms…and in reality there were a few but very little tornado activity. There was a brief touchdown near Carroll, IA…did a bit of damage to a farm building.
Whatever…KS did get some hail though…
Onwards…
On the subject of severe weather…there was an interesting article written by the Washington Post today regarding tornado warnings and some interesting trends with regard to early notifications…click here to read it. From my reading…and in my opinion…I have no issue with a few minutes less of warning IF it means a reduction in the warnings that don't verify. Just my opinion though…others will differ for their reasons…and their reasons are valid…perhaps a end-user who needs as much lead-time as possible for whatever reason.
Onwards….
Starting to hear from gardeners regarding the frost/freeze situtation. Obviously with the crazy warmth (5th warmest start to a year in KC)…and everything getting green earlier than typical…folks want to hit the garden and get those plants in…some are wondering IF we're going to have any more frosts or freezes. Odds are the freezes are done. We're also in the last stages of potential frosts too…although a random frost is probably still likely especially in the outlying areas perhaps even one on Sunday morning.
The folks at the University of Missouri (Integrated Pest management) created a handy frost/freeze website for the state…one graphic shows the some of the extremes in terms of the latest frosts…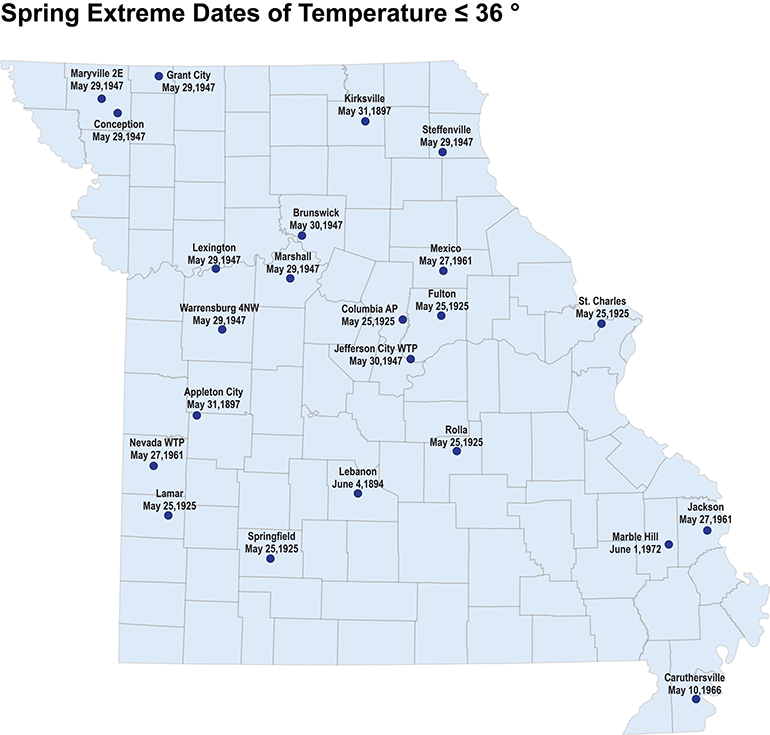 Anyway there is a ton of information on their page if you have agricultural interests and/or are into farming. Click here to be sent to their page…you might find it helpful.
Next up is a rather unusual occurrence way out in the Atlantic…and that is the development of a tropical depression in the open waters. It won't be classified as one for long though…perhaps only through tonight…
This afternoon, it does look pretty decent though, and they've decided to actually name the storm…it's now Arlene. There have been some early season named storms lately…but this would be the farther north named storm
Alex last year was actually a hurricane in January and hit the Azores.
Finally the system that should pass south of the area tomorrow night into Saturday morning. Right now it's sort of a discombobulated mess across the western part of the country but should get together better as it moves towards SE KS and AR into the early part of the weekend.
Overnight tonight into Friday, as the storm develops and comes into the southern Plains…quite a bit of rain and thunderstorm activity will develop in OK and AR into S MO tonight into Friday morning. This activity will move eastwards and conceivably train over the same areas creating flooding rains. As off this afternoon there are lots of flood watches in effect for that region.
The NAM model is cranking out the rains down there…
Notice though the sharp cutoff towards the I-70 corridor…this model actually gives us little to no rain whatsoever…and it may be closer to being right.
The GFS model has the northern fringe farther northwards…and it does impact the KC area a bit more…
Finally the EURO model has us getting a "little" something…but certainly not much.
It does appear that areas from roughly US 50/54 highways and southwards will see the most rain from this…it will improve quickly towards lunch or so Saturday even for areas south of KC. My feeling is that the ideas of the NAM/EURO are probably the best way to go with the rain totals.
Here is another way of looking at the totals…
When you slide the bar farther right…it's the NAM model…farther left the GFS.
Things will more or less calm down till the end of next week when we'll be watching a more potent storm in the Plains. Odds are there will be severe weather associated with it…unknown though who would be more under the gun.
Our feature photo comes from Justin Elderbaum of a nice sunrise in Kearney, MO the other day.
That's it for today…have a great evening.
Joe