Joe's Weather Blog: Potent wind/storm generator moving through the Plains (WED-5/17)
Breezy start to the day out there with gusty winds and a few showers. I heard a couple of rumbles of thunder early this morning but get only a handful of raindrops. Today the rains will be very scattered and whatever falls will be very short-lived…the big issues today are the potential for very gusty winds to 50 MPH+ and the potential for a couple of extremely fast moving tornadoes, mainly in N MO in a very limited time frame this afternoon.
---
Forecast:
Today: Overall mostly dry with windy conditions. Gusts to 50 MPH possible in the afternoon which will not be dependent on storms…actually the more sunshine we get the stronger the wind potential will be. Temperatures may approach 80° later today. Storms, should there be any in KC proper would be in a limited window of roughly 1PM-3PM or so. Much beyond that the threat will shift away from the metro. More on all this in the discussion.
Tonight: We should clear out somewhat and it will be breezy. Temperatures will drop into the 50s and it should be a bit more pleasant with lower humidity.
Thursday: Not too bad of a day with highs near 80° with lighter winds. If the clouds are too persistent we may fall short of that.
Friday: Off and on storm chances with the possibility of severe storms…somewhere around the area. Where is not set in stone at this point. Highs may be in the 70s depending on the consistency of the rain.
---
Discussion:
When the weather calms down a bit I'm going to try to get to some of the storm chaser controversies that are becoming more and more out in the open in the last few years. See my FB feed for some of the videos. I just don't have time to write things out today.
The reason why, is that we have a very active scenario playing out in the Plains for the next few days, probably into the 1st part of the weekend. There are two upper level storms that will be the issue…one bothering us today with mostly wind again (yesterday we had gusts close to 40 MPH) and the potential for fast moving showers/storms and then the other, which should be a more prolific rain producer moving through the Plains Friday into Saturday.
Let's deal with storm #1 first.
Here is the latest satellite picture showing our developing storm system..and you can clearly see a dry slot moving up through southern KS heading towards the region. This should move in at some point this afternoon. With upper level storms this strong…once the dry slot moves into the area the winds should really crank away. Above us towards lunch the winds will be cranking away at 55-65+ MPH. So with increasing PM sunshine and a turbulent atmosphere int eh region those winds should translate towards the ground…hence the concern for gusty winds. A wind advisory is in place for the afternoon hours especially from highway 36 southwards.
Now ahead of the dry punch, there should be a NW to SE oriented line of convection forming…roughly between 12PM and 3PM or so for KC proper. This then will be moving towards the NNE at close to 60 MPH or so. Some sever weather may be associated with that and our forecast profile of the atmosphere indicates a risk of potentially a fast moving tornado to form. These won't be typical supercell thunderstorms though. Their tops may be lower than average because of the strong shear in place amongst other reasons however because of speed wind shear (fast changing differences in wind speed between the winds nearest the ground and upwards) there will be a tendency to see horizontal "rolls" to develop aloft. The following graphic illustrates that aspect well. We also look for the winds to change direction with height as well…in an ideal scenario going from the S or SE close to the ground…towards the SW or WSW the higher up you go…that will NOT really be the case today locally. This will be driven strictly by the change in speed as opposed to the change in direction…up towards northern IA into parts of S MN and SW WI though they may get both playing in tandem with each other…
Again somewhat lighter winds below, stronger winds above…
In and of itself that's not a huge issue, BUT when storms are present at the same time and there is rising air…that horizontal roll can be tilted into something more vertical…and that catches our attention during these scenarios. More instability equals more of a risk for convection equals a better chance of this occurring somewhere from KC northwards towards the IA border into IA itself.
Another weird aspect of this is that sometimes there is SO much shear that the strong winds above can rip the storms apart as they are trying to form…so it's just a wait and see day with regards to this.
The main surface storm though will be taking a track roughly from western KS this morning into NE tonight.
The above run of the short range HRRR model shows this…notice the colors representing some of the strong winds coming into the metro later this morning and this afternoon especially.
The SPC (Storm Prediction Center) is showing the risk of stronger storms from the KC area northwards. Again it's worth monitoring because of how quickly things may go from nothing to something later this morning and early this afternoon.
The confluence of other various factors show the highest risk of severe weather towards IA…and that seems appropriate to me at this point.
The good news is that everything will be moving away towards mid afternoon at break-neck speed and we're in great shape for the late afternoon and tonight if you have tickets to the baseball game or Sporting KC.
Here is the HRRR model that should update regularly today showing what it thinks radar will look like as the day moves along…via IA State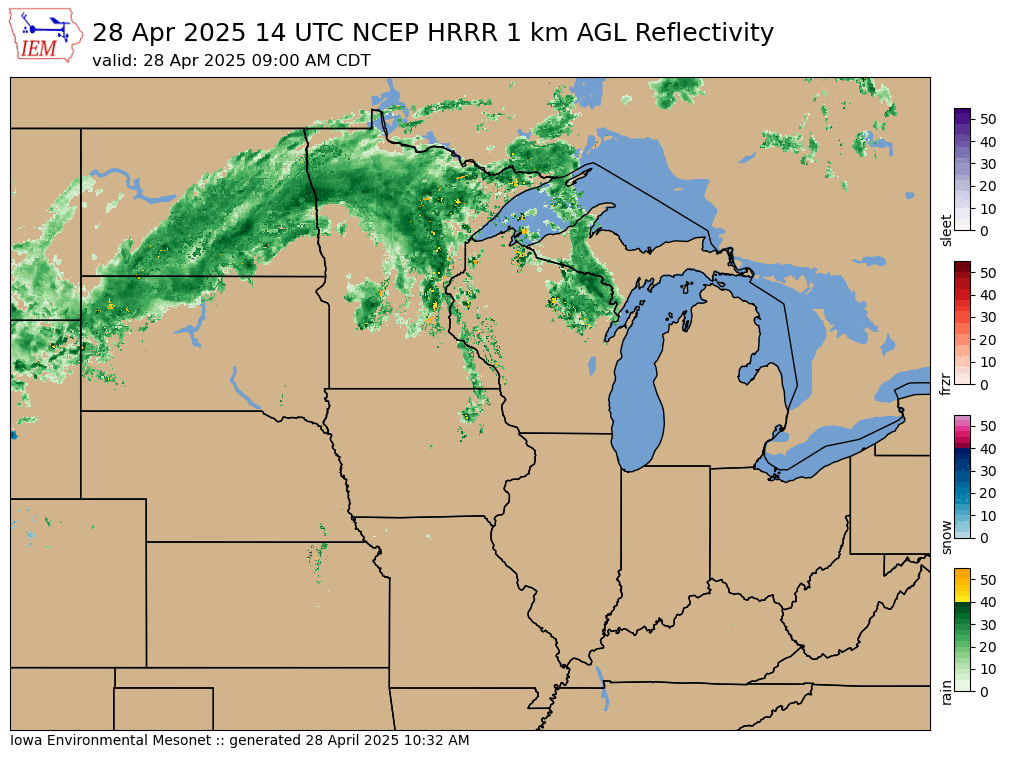 It hasn't really handled the morning activity very well, at least through 9AM…but look carefully at the 1-3PM timeframe in particular for the KC metro area.
Now here is reality…the radar from the NWS in Pleasant Hill.
Again the better rain scenario for us plays out FRI>SAT…pretty much what I've been saying since last weekend…even that scenario though does NOT promise severe weather locally for us…we'll just have to see how things set-up in the area to finish the work week.
Our feature photo comes from Jane Ellen McQuay from Bates City, MO taken on May 9th
Be Weather Aware today from 12-3PM around the KC area…then farther north and NW from 1-4PM or so.
Joe