Joe's Weather Blog: Tornado Watch till 10PM tonight
Good afternoon-3PM update: A warm front is now firmly established and slowly retreating northwards this afternoon. At 3PM isolated convection has bubbled up on the KS side as an indicator that the cap is breaking. These storms should be more of the scattered variety as opposed to the more widespread rain chances later this evening. The storms later this afternoon may be severe in cases with hail/wind the main threats although a very isolated tornado can't be totally ruled out because of the location of the warm front.
---
Forecast: (3PM Update)
Rest of today: Sct storm, potentially severe are possible between the time you read this and at least 8PM or so. With a warm front nearby, should storms interact with that front there is a small window where they could start rotating. Please be Weather Aware through this evening.
Tonight: Storm chances will be increasing. There may be 2 waves of storms. One chance is from this afternoon through evening with more scattered activity and another chance would arrive with whatever happens with bigger storms out towards the central Plains moving this way overnight into early Friday AM. Both have the risk of bringing severe weather (mainly hail and wind). How one may affect the other though remains to be seen and will be figured out as the overnight evolves. Locally heavy rains are also likely, in excess of 1-2″ in spots.
Friday: Another iffy day. Not a rain out really but storm chances continue mostly overnight. Our severe risk is there too but some of it will be determined by what happens overnight and where. The best chances (assuming we're worked over in the AM) would come tomorrow night into Saturday morning. Again heavy rains and strong winds/hail are the two main threats from the evening/overnight storms.
Saturday: There should be at least some AM rains…but we should be on a quick drying trend in the morning hours. Then gradual clearing and cooler with highs 65-70°
Sunday: Looks nice with highs in the lower 70s.
---
Let's start with radar from the NWS in Pleasant Hill. A storm popped up around Ottawa close to 2:15 or so. This indicates the cap is breaking in spots at least. The warm front that I wrote about this morning is very close to the I-70 corridor.
The scattered storms that are bubbling up should not be that widespread this afternoon and as they move north out of the more humid air into the cooler air just north of I-70 they will lose their punch. With all that said, any storm that is nearby over the next few hours can produce hail and wind at the very least. The SPC has issued a Tornado Watch till 10PM
Here is the bigger picture…
There have already been touchdowns in far SW OK. Those storms down there are classic looking on radar.
Busy afternoon/night out there.
Closer to home the changes to the forecast that are needed would obviously bring up the scattered activity later this afternoon (a few hours faster than the morning thinking) and that's about it. The storms down towards OK and KS that are/will be developing will get here late tonight. I still think they will be in a much weaker version of what happens out towards OK/KS later today and this evening.
There continue to be conflicts in model data regarding the true evolution of how things play out later today and overnight. One of our models…which I'll show below (the HRRR model) has a pretty significant chunk of rain coming this evening from the SW. I think what it's doing is being overly aggressive with what is going on this afternoon and as a result gets a bit feisty with an earlier arrival of more significant weather.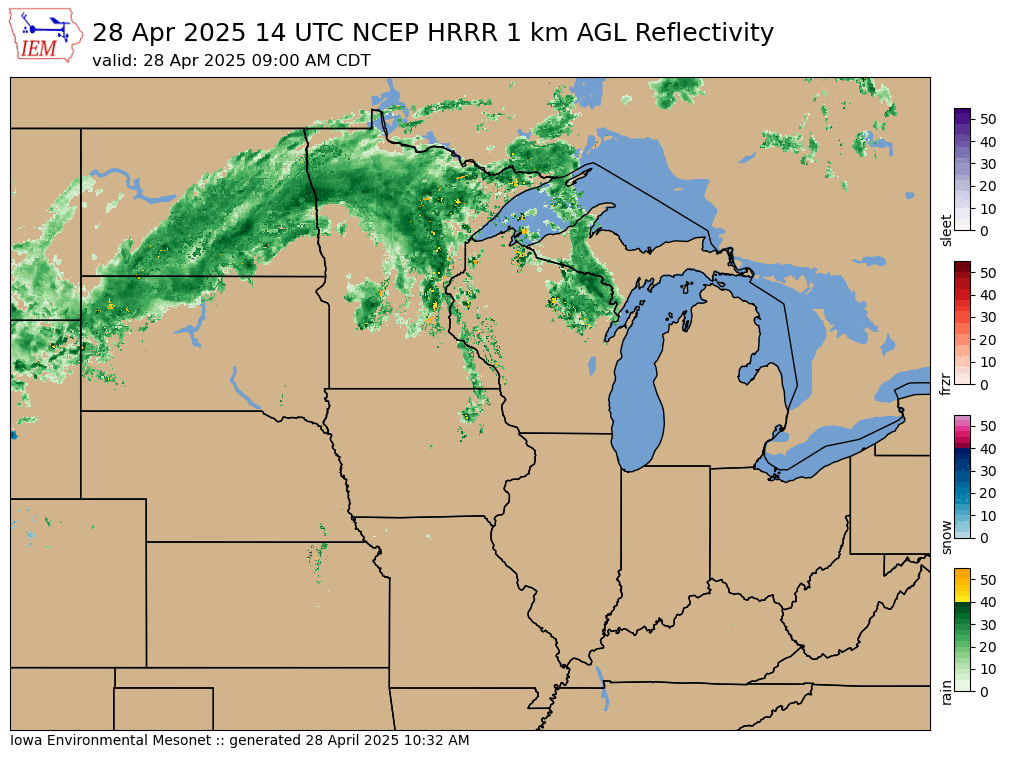 It's something to monitor…as I mentioned this morning be Weather Aware as we say for rain/storms/wind/hail and maybe an isolated tornado. The better risk, it appears from an isolated tornado, will be with this 1st batch of storms and the warm front in the area. NOT to say something can't happen this evening, again just because that warm front will be in the area, especially around the I-70 corridor.
Oh and to top things off a Flash Flood Watch is in effect for the region through Saturday morning. Need to watch that potential activity later tomorrow into tomorrow night. We'll see IF we're worked over to prevent severe weather tomorrow or now…but the threat of heavy rain is certainly there…andin some cases well over 2″ may fall.
More as I have time this evening hopefully.
Joe