Joe's Weather Blog: More storms around today… (WED-5/31)
May is going to turn into a below average month for temperatures…as of this morning we're running about 1° below average…so this month will be the 1st below average month for temperatures since December. From a rain standpoint, at least at KCI, despite the feeling that it was crazy wet…it's going to be pretty close to average, depending on what happens today. So far the airport has had 5.4″ or so of rain…average is 5.23″…
---
Forecast:
Today: Partly cloudy with more scattered storms with locally heavy rain and the potential for some hail as well. Highs around 80°
Tonight: Scattered evening storms fade but then overnight another chance will develop heading towards Thursday morning. Lows tonight in the 60s
Thursday: Storms are possible to likely during the morning into early afternoon. Then variable clouds. Temperatures are tricky depending on the clouds/rain. We may only be in the 70s but I'll still shoot for 80°-85°
Friday: We should be calmer with warmer temperatures highs could pop into the mid 80s or so.
---
Discussion:
Some impressive thunderstorms yesterday with hail and big old fat rain drops out there. I got caught in one while playing golf…walking back to the clubhouse in the pouring rain and hail…pretty funny site actually. I didn't see lot of cloud to ground lightning where I was…but there was some out there. There were some great hail shaft pictures sent in (those were the whitish streaks you saw coming from the storms) and also some cool rainbow shots too.
Areas that got it, sort of got several rounds, while areas that didn't see a drop…didn't get into the action. I thought the HRRR model was pretty good about the scenario yesterday and once again this morning it's showing the potential of more afternoon/early evening storms.
There is a weak front dangling along the I-70 corridor region. This front in combination with the building warmth and an uncapped air mass (nothing really preventing storms from building) should allow additional storms to pop this afternoon.
Meanwhile the storms yesterday/last night were pretty decent rain producers…when I was looking at radar at the game…I also notice some storms down towards Bates Co exhibiting some rotation…and there were a couple of reports of wall clouds down there towards the Rich Hill area.
As far as today goes…I'll insert the HRRR model…this will auto-update during the day.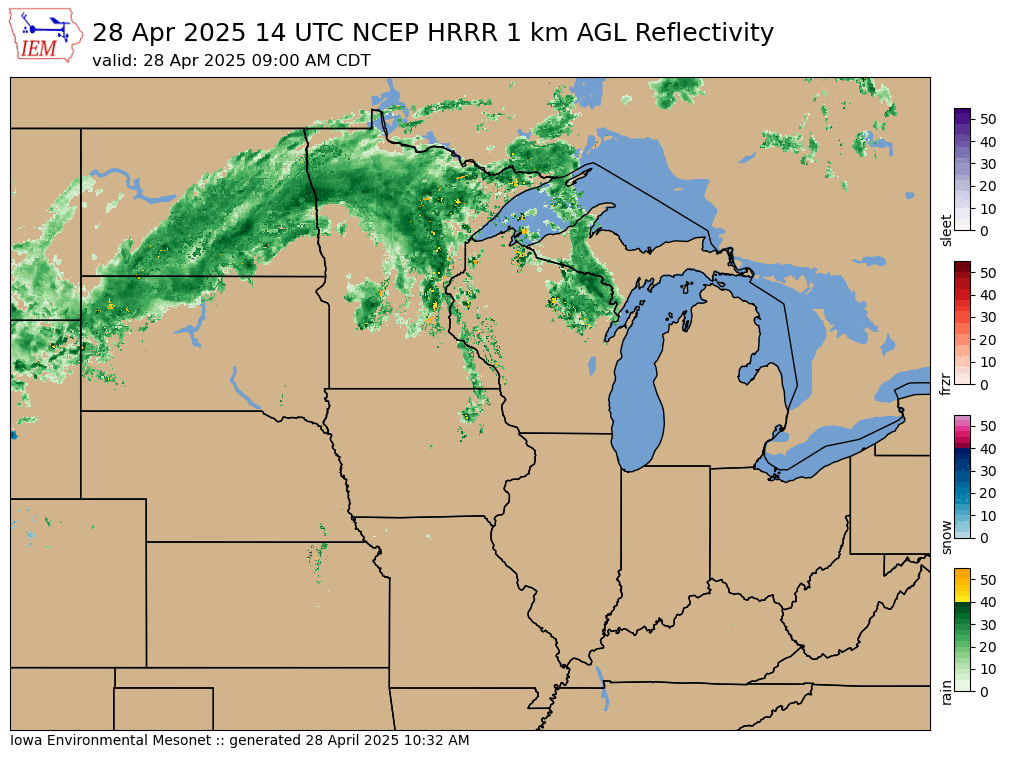 Notice as well what is happening to the NW of the area…there is some lift occurring today in the mid-levels of the atmosphere…and that will trigger other storms that would drop towards the SE or ESE…so we have a couple of ways to get rain today…especially from KC southwards.
Then overnight a low level jet stream will be developing and influencing the thunderstorm potential into the 1st part of the day. There will be the possibility of some hail and locally heavy rains with that as well.
Longer term we're going to actually have some really nice weather around here to start the month…then gradually warm up heading towards the end of NEXT weekend it appears…so a seasonable to cool start to June is expected.
Our feature photo is from Katherine Meyer down in Spring Hill…beautiful rainbow after some of the storms yesterday.
Joe