Joe's Weather Blog: Some rain and then more rain (MON-6/26)
Good morning…today will be a rather changeable day that has already been highlighted by a surprise record low temperature of 48° at KCI this morning…that occurred around 5AM this morning…we've been going up since then though. St Joseph dropped to 53°. They're record continues to be 50°. Meanwhile clouds and showers are popping up in the region and moving towards the SE and ESE…this means that today will be more of an iffy day and while I can't promise all will get rain…some will. Amounts though overall should average to least than 1/4″ for most…perhaps a bit more towards and north of 36 highway.
---
Forecast:
Today: Variable clouds and sun with off and on showers (mostly light). Highs will struggle in the 70s for today. Don't cancel all your outdoor plans because the rain will be rather intermittent…mainly nuisance type stuff.
Tonight: Any evening showers will end then partly cloudy skies with lows back down into the 50s
Tuesday: Should be a stellar day with highs around 80°
Wednesday: Increasing wind (20-30 MPH), humidity levels and temperatures with storm chances probably more towards the night into THU AM. Highs well into the 80s.
---
Discussion:
So apparently there was NO record this morning after all…not sure what happened but either there was a sensor issue or an observer issue…
While the rain chances today, later WED and into later THU are certainly there…the specific timing is still a bit iffy as are the potential amounts. As I wrote yesterday there may be a tendency for N MO and NE KS to get more rain compared to other areas but the atmosphere will be more primed with moisture as the week moves along so should storms be in the KC area they will certainly have the ability of producing locally heavy rains.
I mentioned last night on the news that IF you can wait a few more days before dragging the sprinklers around, and yes the grass could certainly use a good drink of water since it's been about 10 days without decent rainfall…you may be rewarded later in the week. That's my plan at least.
For today we're in pesky NW flow which combined with weak disturbances sliding towards the ESE and SE…means areas of rain. The instability is rather weak so no severe storms are expected but it's not out of the question that later today or this evening there may be a few renegade rumbles of thunder somewhere. Here is a look at radar showing what's happening.
A look at the short term HRRR model, which will auto update as the day moves along…shows these areas of showers (mostly) moving through the KC region. Again have an umbrella with you as you may need it every so often today.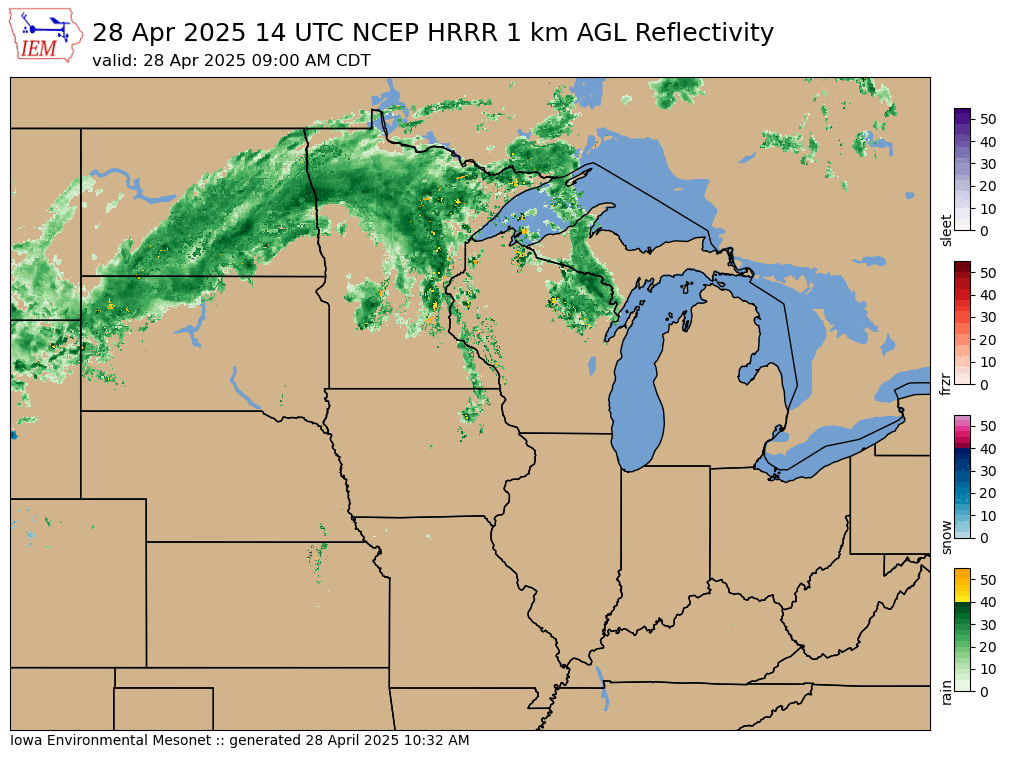 I won't promise 100% coverage…actually that won't happen…but there will be showers in the region overall. Some of the rain may evaporate before it reaches the ground at times (we call that virga) but once the lower part of the air mass is saturated the drops will eventually reach the ground…sort of similar to what happened Sunday afternoon/early evening.
Beyond this rain…the next weather story will involve the return of more typical summer weather into the Plains…the following maps show the changes in the air temperatures several thousand feet above the surface. Hopefully it works because as you slide the bar to the right…that's this afternoon…then as you go left that will be for later Wednesday afternoon…and you can really see how things get warmer as the south winds start kicking in
Those south wind will bring more moisture to the region in the form of higher dew points. This means the muggies will return Wednesday.
Notice in the above map…dew points are back to the more typical 65-70° range…that is more "average" for us in late June and with temperatures between 85-90°…summer will be back in full swing.
With all the heat and higher moisture…storms will start to become a factor. There will be a weak front lurking to the NW of KC it appears. It may never get to the metro however and where it bellies up will be the focus of storm coverage later in the day. What happens to the storms AFTER they form will be of interest to our area. How long they hold together and how strong they are when they finally reach our neck of the woods will be crucial in determining how much rain we end up with. Model solutions range from 1-2″ by the end of the week…but amounts will vary from city to city (perhaps considerably) and some areas may easily see over 3″ of rain this week since there will be so much moisture waiting to be tapped, not only on the surface but also aloft as well. It will be a matter of how the storms do well after they've formed and where the front is set up and where it moves because of the various storms creating outflows etc.
Unfortunately this will be a situation where you watch things as they evolve.
Our feature photo comes from the KC T-Bones of some great alto cumulus clouds from Saturday night! Pretty shot!
Joe