Joe's Weather Blog #1: Storms return to KC (THU-6/29)
Hello….. last weekend I promised that IF you could hold off on the watering for a few days that odds were pretty good you'd be rewarded by beneficial rains…well the rains in KC came this morning with widespread 1″-3″ totals in the area…what happened yesterday and last night in N MO though was something else. Rainfall tallies up there may have been in excess of 10″ in spots! Pretty amazing event that was marked by gusty winds…lots of funnels, flooding rains and even a few tornado touchdowns. Farther north into IA there were numerous tornadoes.
Thursday's severe weather threat, should be more timed towards the evening and overnight hours. My thoughts are that after 6-8PM storms will again threaten the KC area BUT the severity of the storms is still a question in my mind. Why? Because of what has happened already this morning. Most times the events of the morning can influence the severity of redeveloping storms…this will be something I monitor for the afternoon hours. How quickly does the atmosphere recover and how unstable will it get later today and especially tonight. Time after time AM storms impact the development of evening storms locally. It's something to remember when you watch whatever TV station today…
---
Forecast:
Thursday: Rain/clouds this morning then gradual afternoon clearing. Highs maybe into the 80s. NOT as windy as yesterday but still breezy. Also rather muggy as well in the afternoon hours.
Thursday night: Storms are likely, potentially severe with locally heavy rain, wind and hail mainly. Again a lot of what happens tonight depends on the instability built up today. It's worth being Weather Aware. Lows in the 60s
Friday: There could be some lingering rains in the morning…again depending on the playout of what happens tonight. Then we should see some clearing and we'll get a heat and muggy weather break. Highs around 80° or so.
The Weekend: Saturday looks good and Sunday should be OK. Warm and becoming more humid again with highs into the 80s. There may be some scattered storms later Sunday but odds favor this activity to become more apparent early next weekend
---
Discussion:
Rainfall tallies in N MO were VERY impressive which is interesting because parts of northern MO were teetering into moderate drought status. I think that has been wiped out…and now flooding rains are the big issue up there with numerous flood warnings after 6-12″ of rain feel thanks to strong-severe storms that lasted for hours and were "training" over the same areas. This flooding rain has created dangerous driving conditions in parts of N MO especially in the flood prone areas.
Rainfall amounts indicated by doppler radar are well in excess of 6″ and again I'll be curious to see some actual totals from N MO as the day develops. Notice the area in particular from Nodaway Co SEwards towards far northern Livingston and Grundy Co. That was the area hardest hit.
The latest watches and warnings show the Flood Watch in darker green and the Flood warnings in lighter green.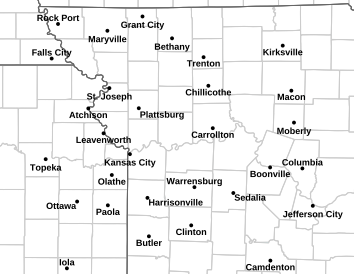 I was curious to see the newly issued morning drought report that came out today…notice where the drought was developing and notice who received the most overnight rain.
Radar this morning is still showing (through 9AM) rain moving through the region…the longer this continues…the longer the clouds hang around…the longer well wait for any potential redevelopment of storms later today and that's why I think the better chances of storms, assuming we get a round 2, will come later rather than earlier…perhaps well after 7PM or so.
The satellite picture shows the extent of clouds in the region. These clouds will have to thin out dramatically as the day moves along for storms to become an issue tonight. They will be in the "thinning" side…but there is a question how quickly they will scour out. The slower that process takes the slower the instability takes to rebuild.
The model guidance hasn't really handled the extent of the AM storms well and that is important. I'll be watching to see of the morning runs have a better clue about what is happening now. I've noticed that since I started writing this weather blog the the SPC (Storm Prediction Center) has knocked the severe weather risk for the region down one notch. They too are wondering about the events of this morning and how it may or may not play into what happens this afternoon locally.
We are under a "slight" risk of severe storms (down from "enhanced". Again to reiterate…morning convection can REALLY mess up severe weather forecasts for redevelopment.. I've been here some 20+ years and I've seen this happen time after time (mostly the forecast of severe storms fizzles). It's always important to monitor events and with the summer season/higher sun angle being with us…there can be some compensation for this "mantra" that I preach often. So again it's worth being "Weather Aware". IF there were NO storms this morning I would be considerably more bullish about the events later today and tonight.
It's worth putting in the HRRR model…this has had it's issues overnight BUT I think it's starting to show what I've written about so far this morning…the fact the renewed convection may be delayed quite a bit today.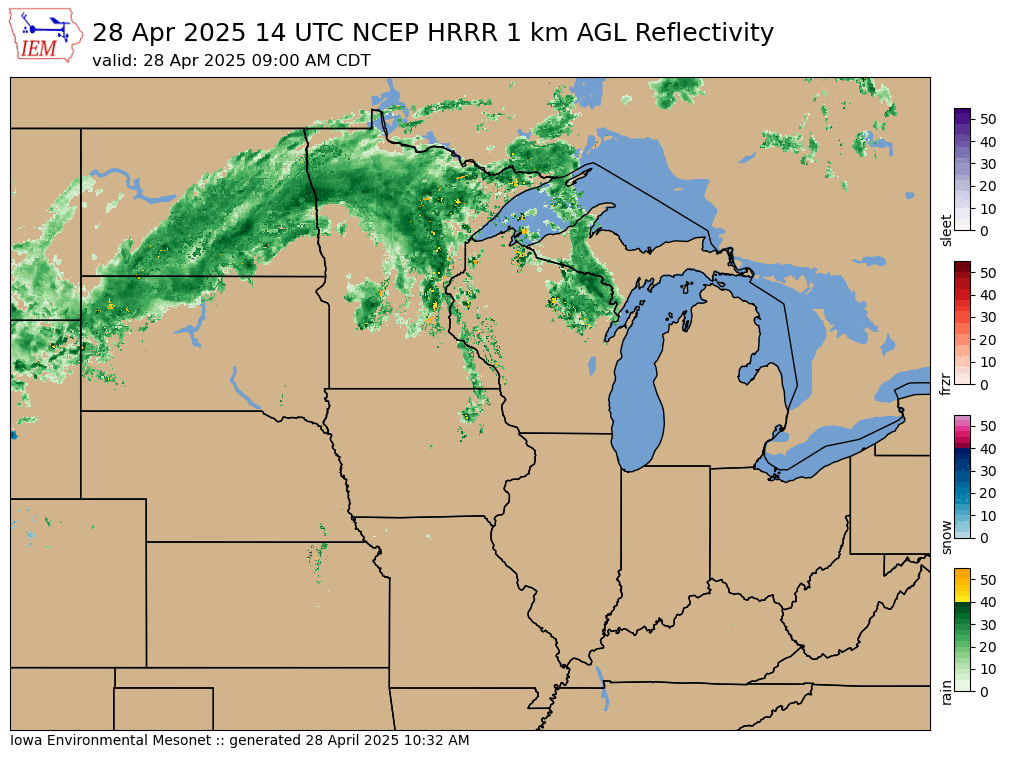 I want to emphasis that I'm NOT saying there won't be ANY storms later today or tonight. I'm just questioning the strength of the storms that reform and that's because I'm NOT sure how unstable we're actually going to be later today and tonight.
So here is what I want you to pay attention too today…
How long the rain lingers this morning…
How long do the lower clouds last preventing us from really warming up
How warm does it get today? IF we're only around 80° this afternoon that may reduce our overall severe threat later today/tonight
Watch the clouds that form later this afternoon. Are they developing vertically? Are they flatter looking? Flatter looking clouds indicate a lack of building instability (to a certain extent).
Monitor FOX 4 for a "Calm During The Storm" approach. My guess is some forecasters (on social media or on TV) will be hyping the potential for severe storms with scary maps and verbiage.
Remember to be "Weather Aware" later today and tonight in case the storms do in fact get their act together.
We should have a pretty good idea on the building instability after 4PM today (of not earlier)
I will be updating the weather blog this afternoon before 4PM or so.
Our feature photo comes from Sue Newell Holbert a couple of days ago around Overland Park.
Joe