Joe's Weather Blog #2-Will storms re-fire in the region? (THU-6/29)
Good afternoon…the storms from this morning are "mostly" gone although there is still lingering activity in a smallish east>west band on the MO side as of 4:30 PM this afternoon. I'm watching a couple of areas for potential redevelopment…interestingly these areas are outside of the KC metro area…but one or both areas may play a factor in whether or not we see additional storminess and also what for form the storms will be in when they arrive.
---
Forecast: (8:45 PM Update)
Tonight: The cap is winning the battle (for now) and this is no real surprise. We'll have to wait till to see storms fire up this  late evening. Activity is starting to blossom now towards the north of KC…The activity to the south…towards Yates City, KS is weakening as well.
Friday: There is a small window around daybreak that there could be some lingering rain in the area but we should see markedly better weather conditions in the afternoon. Highs will be cooler and the dew points will be a bit better. It won't be like earlier in the week though so still a bit muggy.
Saturday: nice day with highs well into the 80s
Sunday: nice and seasonably hot with highs closer to 90°
---
Discussion:
Hopefully you've read my morning blog…because, at least so far, it's played out rather perfectly . The complex of storms this morning has "worked" over the atmosphere around the KC vicinity so far through the late afternoon. The short term model data (which loves to create storms) doesn't handle these "worked" over atmosphere's well. Typically they err and create too much instability too quickly.  so I use them personally VERY carefully in these situations. There are shades of truth to them though and we're seeing that as of 5PM with some new convection firing near the I-70 corridor
There are still questions about what happens or really how things play out through 12AM tonight/early FRI AM. There are some positives to new development and negatives. The biggest negative is that we have a decent+ cap overhead and too our immediate west. For those not familiar with this…a cap refers to a layer of "warm" air above the ground. It may vary in height from roughly 4,000 feet up to over 10,000 feet up. Essentially what happens is that as the warm and moist air rises and cools…it runs into the layer of warm air…and stops rising. This cap can make or break thunderstorm formation and we refer to it often.
In today's situation, in addition to the cap in place, there is also some semblance of stability because of the disturbance that rolled through this morning. Those are the two big negatives to further big storms.
IF it was that simple…it would be a dry forecast for the next 8 hours or so…but it's not because the entire Plains region WAS NOT affected by the complex this morning…only our area was…so as a meteorologist or weather fanatic…you have to look at your surroundings…and you have to look at where the rain cooled air of this morning is rapidly destabilizing…and in the region as a whole that process IS occurring now from around the Ottawa area towards Council Groves, KS. So I want to first include the Topeka radar so that we can watch what happens there.
This is in a more favored environment for storm initiation…but it also is fighting the cap right now as well.
One way of looking at this is by looking at the amount of instability that is building in the region…the following map is what we refer to as the CAPES. This stands for Convective Available Potential Energy. The higher the number the higher the instability…that is waiting to be tapped.
So you can clearly see, if you're reading this before 9PM tonight…the instability building to the SW and west (especially) of the KC Metro area.
That region from roughly Butler to Garnett to Ottawa > Topeka > Emporia and points westwards is an area of concern. They are warmer there too. The SPC is also watching that region.
My main severe weather concern is that the outflow from the storms this morning is south of the I-70 corridor towards SE KS and SW MO. Storms, if they reform towards that area, can quickly intensify because of the instability available, and with an outflow boundary towards that area…some 50-100 miles south of KC (give or take) storms that hook up with that boundary can start rotation. With that said, IF the storms form they would be moving mostly east…with perhaps some slight northwards movement too. So for areas south of the metro (at least at this point) it's worth paying attention too…this would be roughly from Clinton>Butler>Pleasanton>Garnett>Emporia and about 50 miles either side of that line. I'll be watching the northern trend of that retreating boundary (sort of like a warm front).
Notice the temperatures and the dew points in the 4PM surface map…look towards Emporia, KS (80° temps in RED) and Chanute, KS (90°)…that's where this boundary is right now.
Also notice the wind direction changes down there…from the south to north in Chanute…switching from the SE to NW in Emporia. That slight easterly shift can contribute to a spinning motion in the lower part of the atmosphere…hence the wonder about low level rotation. Again we need storms to actually fire first down there before we take that next step.
So the storms would (IF they form) move eastwards…and perhaps ENEwards…as they do so they should then move into the stability (or less unstable air) around KC where they may decrease in strength. The potential to me is that IF the storms hold together maybe some locally heavy rains and some gusty winds as the main threats.
Another issue is what happens with the activity developing in an east>west fashion from the action in western MO…as of 5PM it's developing slowly farther westwards, along the 24 highway corridor towards the north of I-70…so there should be some showers/storms with that line as it fills in between the time you read this and 9PM tonight
Then there is what happens farther to the NW of KC…let's use regional radar to show what's happening in NE right now.
The cold front that will help push away some of the humidity on Friday is up there and triggering off storms…There is a wave as coming out of eastern CO…so what area will be watched for expansion and a drop towards the SE…not showing yet though.
So there are multiple ways of us getting more storminess overnight and into early Friday. Another concern would be the heavy rain potential in the area after the 1-almost 4″ of rain from this morning locally and the ridiculous rains in N MO overnight. Hence the Flash Flood Watch in effect represented by the dark green counties below. The lighter green counties are the flood warnings…expansive across northern MO.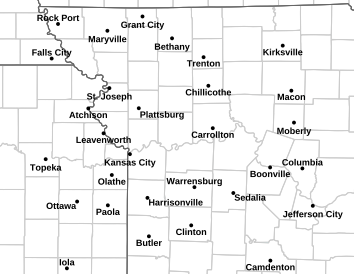 So you can see there are many ways we can see additional rainfall between now and 9AM Friday morning.
Our feature photo comes from Savannah Whitesell of a gorgeous sunset in Gardner, KS.
We'll keep monitoring the situation.
Joe