Joe's Weather Blog: More storm chances tonight/Friday AM (THU-7/13)
Good afternoon. The storms that affected the area from KC northwards this morning have complicated the atmospheric picture a but this afternoon. Last night parts of N MO saw 4+" of rain in areas. In the KC metro…it flat out poured at my house (it was welcome rain for sure after a steamy week…and Metro amounts varied from nothing to about 3/4″ or so. New storms may fire later this afternoon through the overnight and again locally heavy rains (possible flooding) will be the main issue.
---
Forecast:
This evening and overnight: Storm chances increase once again…initially this evening from the KC Metro southwards…then overnight just about region wide. Lows drop to near 70°. Flooding rain is the main concern with the storms although there may be a few isolated severe cells that are short-lived.
Friday: Some additional rain is possible in the AM hours till about lunch then variable clouds. Not as hot with highs in the 80s
Saturday: Seasonable with highs around 87°
Sunday: Seasonable with highs nudging closer to 90°
---
Discussion:
Temperatures this week never really got out of control on us…basically, and this was what I promised last weekend, a typical KC shot of heat and summer humidity. The heat index though was something that all of us felt outside. Peaking at 105-110° and I think we may see something similar come back into the area sometime next week.
That's why the rains that parts of the area have sen in the last 24 hours or so are needed because I think another week of dry weather is likely after the rain chances fade tomorrow afternoon.
Some areas though saw too much rain…northern MO up towards Grundy Co got a boatload of it…in excess of 5″! here are some of the heavier totals via CoCoRaHS.
Up towards Gallatin, MO there were some gustier winds…that brought down some tree limbs last evening. This picture is courtesy of Chelsea Herren
The question for the day is what happens closer to the I-70 corridor later this afternoon and into the evening. The atmosphere locally has been somewhat worked over (although it's slowly recovering now) by the morning activity. There is a cold front poised towards the north of KC that will be migrating southwards later today and tonight and there are a couple of little disturbances swirling in NE And western KS that are drifting eastwards today.
The atmosphere has been thrown for a bit of a loop today due to the storms/downpours from this morning…the surface map is a bit chaotic but there is a front to the north of KC right now…
As we heat up the rest of the afternoon to near 90° with 95° temperatures on the south side of the metro (basically where it didn't rain this morning) we should see a very unstable air mass develop. Then as the front enters the picture later today it should be enough to create storms…and with the winds in the atnosphere overall on the light side all the way up to 35,000 feet or so (under 20-25 mph)…the storms will be slow movers. That will an issue because the atmosphere is swollen with moisture right now. We can measure this by looking at a parameter called Precipitable Water. When the values are over 1 3/4″ that catches your attention…when over 2 or 2 1/4″ that is noteworthy and indicative of a very juicy air mass
That's why these slow moving storms have the ability of producing SO much rainfall. Combined with the fact that the storms could also train through the same areas…that's how you get the 5+" rain totals. So again later today and tonight watch for the potential of flooding rains…and should this set up on the I-70 corridor there could be road issues to boot as well. Here is a look at the short term HRRR model that shows the convection sprouting, especially from KC southwards later today into tonight.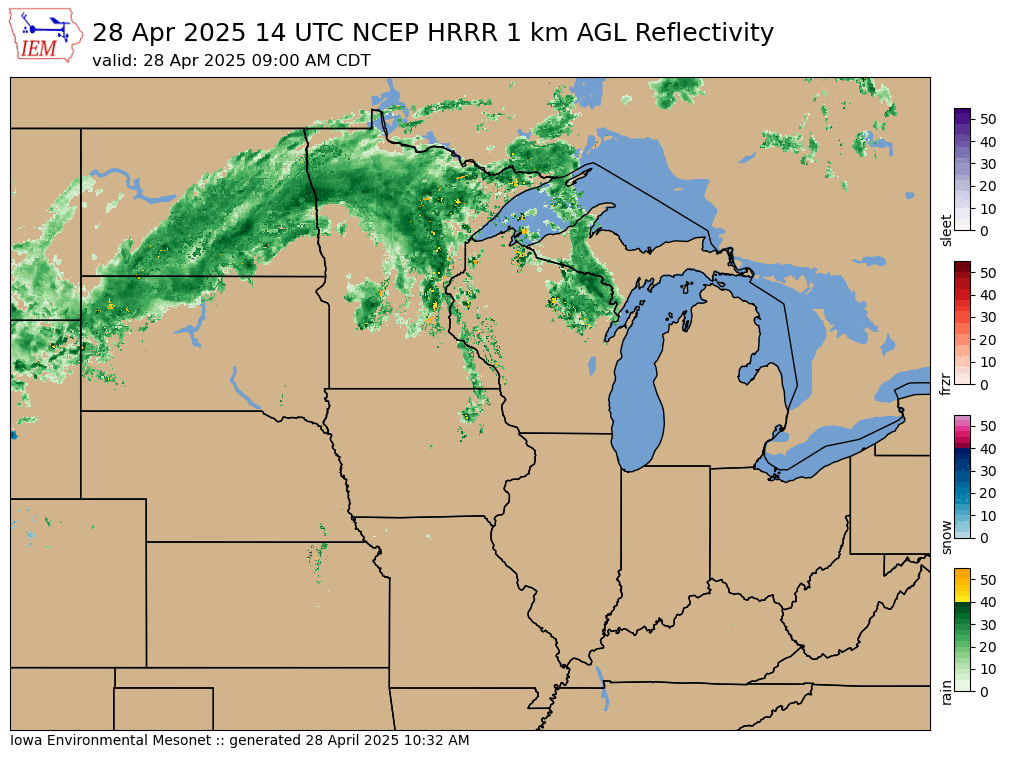 The chances may continue through Friday AM as well. I still wonder about these little disturbances caught in the flow that will be drifting through the Plains tomorrow. Let's see if they can add on to the rain totals Friday morning.
It's important to get the rain now because again we may dry out heading through the weekend into next week as the ridge vacillates back into the Plains. On the assumption though that we get solid rain totals over the next 24+ hours…that will be moisture that again needs to get baked out of the soil. It will take a while for that to occur though…as a result we may again be fighting to get much about 95° next week @ KCI but the dew points may well be in the mid 70s+ again leading to rather obnoxious heat index values once again…105°+.
Overall the weekend looks fine though.
Our feature photo comes from Tracy (@amscjsmom) of a nice shelf cloud up in Platte Co this morning.
I'm off for the next few days so no blogs…have a great weekend and I'll get a hot weather update out next Monday.
Joe