Joe's Weather Blog: Busy times in the tropics (FRI-9/1)
Good afternoon…you may notice the "funny" look to the skies around here today…that is actually smoke from Canadian and western US wildfires that has made it into the area…and there is more of it streaming towards the region so don't be surprised if you see that even into the weekend too! Rain chances aren't zero…but there doesn't look to be a lot to really concern yourselves with through Monday afternoon at least. In addition you WILL notice the hotter weather coming back to the area as well as highs on Monday my be near to above 90°.
---
Forecast:
Tonight: A small chance of a few showers out there, nothing too heavy though. With more clouds around lows will be in the low-mid 60s
Saturday: Variable clouds with a small chance of a few showers but overall not that bad of a day with highs 80-85°
Sunday: Warmer with highs 85-90°
Monday: Hot! Highs 90-95° with heat index values pushing near 100° in some areas. Also of note is the chance of a few storms as a cold front moves into the area. This will drop our temperatures some  20° on Tuesday
---
Discussion:
Smokey skies around the region today and you can see the thin veil of smoke in teh atmosphere by looking at the satellite picture this afternoon…taken a few minutes ago (2:30PM)
Notice the "hazy" look to the skies around parts of the Plains…also notice even behind the thicker clouds to our west…there's smoke there too…so that's why I won't be surprised that we have that "hazy" look into the weekend.
All the red specks below represent fires that are being detected. Some are pretty small, but others are rather large…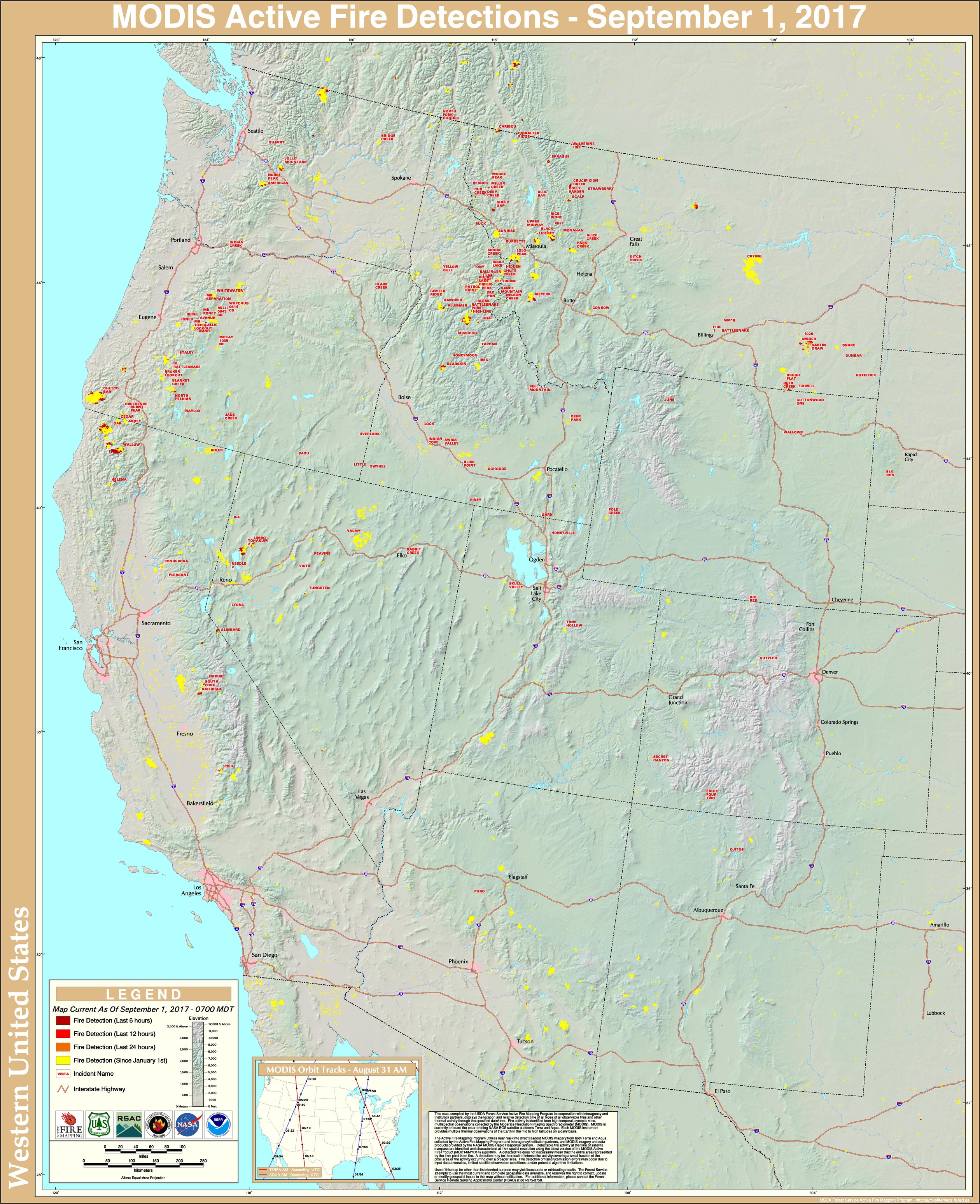 Those fires are throwing smoke into the air…and the flow in the atmosphere is going to bring this smoke through the the northern Rockies and into the Plains.
So know you know…
Meanwhile our weather eyes are out towards the Atlantic too where Irma is moving westwards at around 12 MPH or so. It's been going through various cycles today…weakening some…now perhaps bulking back up late this afternoon.
Here is a more close-up view of Irma…
and the latest forecast…
So we're talking about a storm that will be off the Islands of the eastern Caribbean by later NEXT Tuesday the 5th. That's still some 2000+ miles away from Savannah, GA…1750 miles from Miami, FL…1900 miles from Cape Hatteras, NC and almost 2000 miles from Jacksonville, FL.
In other words even 5 days from now…Irma is 2000 miles away from the USA. Now for Puerto Rico…it will be about 500 miles away…and odds are moving around 15-20 MPH or so. That's assuming the Hurricane Center's forecast is perfect…which it's not!
I bring this up because A LOT WILL CHANGE BETWEEN NOW AND NEXT TUESDAY. There are indications today that the threat into the Gulf Of Mexico is somewhat lower compared to yesterday. By the same token the threats from FL northwards towards NC are certainly there to the extent that we're talking about something almost 10 days away from hitting land IF IT EVEN HOTS LAND.
From the history of storms in this area, and actually hitting the US…let's say the odds aren't great, just going from the past.
With that said however…September has brought some memorable hurricanes into the US regardless of where they formed…
You can see the bias of where the storms hit…the Carolinas/FL and the Gulf region. Notice as well the lack of hits in northern FL and GA…this is more connected to the orientation of the coastline and how storms typically are travelling more towards the NW or NNW or N than WNW from the Ocean.
There is some though that this WILL BE a rather strong hurricane during it's life however…again this is JUST A MODEL(!) RUN from today…and this is NOT perfect either…
With that said…again it needs to be watched although any real worries for a US strike won't really get higher till TUE/WED of next week…so still about 4 or 5 days away from getting a stronger confidence level of a storms just hitting the US coastline.
Finally I know there are a multitude of ages reading the weather blog every so often. For those who are somewhat younger than yours truly ;)…here is something that might interest you IF you want to pursue this farther into college.
Our feature photo is a beauty! Coming from @PeopleOfCowtown … it's the state flower of Kansas.
Have a great weekend…I'll get a blog update out on Sunday I think.
Joe