Joe's Weather Blog: Will today be the 20th straight dry day (SAT-9/16)
On August 27th we had some rain officially in KC…since then bubkis, nada, nothing, zilch, and zippo. It's been a long dry stretch. Technically on the 4th I think we received a trace of rain, but we're starting September on a record dry pace. Will we get through the day without any rain? Well there were a few scattered showers out there this morning, but the rain train has been towards the north and NW of the KC area mostly (so far) and it appears that our chances will go up later this afternoon (not much rain) and then overnight.
---
Forecast:
Rest of Today: Variable clouds, breezy and hot with highs well into the 80s and a heat index around 95° or so. There may be some showers moving through the area late this afternoon as well. They should weaken some…but there will be some rain in the area before evening.
Tonight: We should be dry for most of this evening then overnight storm chances increase from a cold front moving towards the area…lows into the lower 60s by daybreak. Storm timing appears to be after 10PM…but will be watched in case something comes in or forms ahead of the main area.
Sunday: Showers may linger through kickoff then rain fades. A cooler day…kickoff temperatures may be around 70° with variable afternoon clouds highs will be only around 75°.
Monday: Another chance of showers/storms with highs again in the 70s
---
Discussion:
Well let's start with radar since there is some rain out there early this afternoon…
As I type this at 12:30 there are some brief but nice rains falling around the St Joseph area…
The cold front that will be working into the region overnight and into Sunday morning is located in the Plains this afternoon.
In the above surface map the temperatures are in RED…note the coolness behind the front…that cooler air sweeps into the area before daybreak and should send out lows down to near 60° and potentially some 50s to start out Sunday morning!
The rain/storm situation is somewhat muddied but we should get something moving through. Storms should fire up this evening across the front (still W and NW of KC) then move towards the northeast. Initially this will keep the storms away from KC…so we're going to need the storms to generate outflows on their own OR additional storms to develop towards the SW of KC overnight (and move up the I-35 corridor) for us to get rain into the KC area…with that said some later afternoon showers today are likely to move through parts of the KC metro area.
I've seen better set-ups frankly. The instability will be fading overnight into Sunday morning so that isn't a big positive…again let's hope the front can do this and generate storms ALL along the boundary as it moves toward the area overnight. Some may initially miss out on the rain tonight. Sunday AM will bring another chance IF we can get some rain to form behind the front itself, and since the cold front may still be in the region…that's why I still have rain into the first half of the day. There may be some subtle areas of lift coming in behind the front…so maybe we can get some additional rains from that lift in the morning.
Here is one of our short term models…this will update every few hours…it tends to be overly "hot" with convection at times (heads up). (via IA state)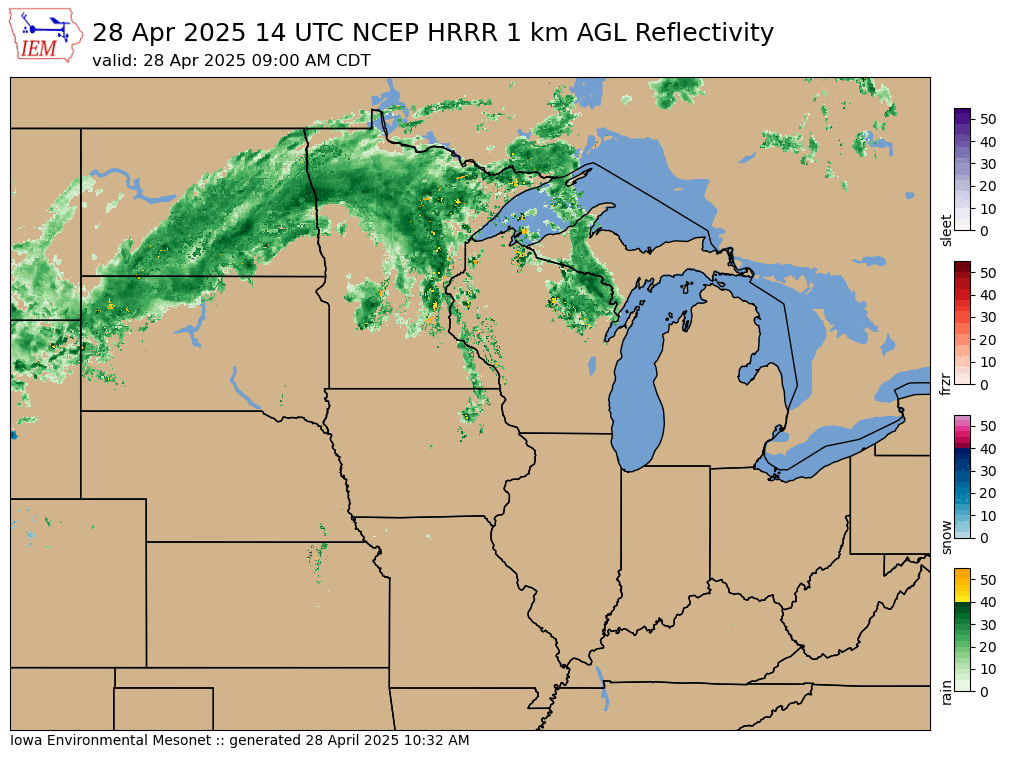 The SPC is watch areas NW and W of KC for the risk of severe storms…right now I'm not overly impressed though.
So Sunday and Monday will be cooler.
The front that comes through early Sunday will get to about I-44 then fall apart. Our winds will go from the north Sunday to the east Sunday night then towards the SE>S on Monday. Moisture will quickly return towards the region. With our region in a SW to NE flow of air aloft…weak little disturbances will be coming up through the Plains…these disturbances will also generate lift and with the moisture moving back in it should create a conducive set-up for rain. Actually the atmosphere will be rather saturated on Monday…so the potential of locally heavy downpours will be with us Monday as well…some areas could see over 1-2″ of rain in the next few days!
We should be drier on Tuesday, but it will be breezy and hot with highs 85-90°.
90° temperatures have been rather rare for the last 6 weeks or so. Assuming KCI doesn't get there today (may be close though) we've only hit 90°+ twice since July 26th! That's pretty amazing for the back half of the summer time. As a matter of fact this summer we've hit 90°+ 8 times in June…14 times in July and 1 time in August=23 times…the average for a year is 41 times…obviously this year will be well below that average. That's pretty incredible really.
Our feature photo comes from Glenna down towards the Grandview area. It was a pretty sunrise this morning!
Have a great weekend…we'll delve into the tropics Sunday…a lot going on out there!
Joe