When Will the Great Days End
I can't imagine how, at some point, we don't see the other shoe drop down on us, but from a weather standpoint one really wonders if this has to be the the best fall weather we've ever enjoyed in these parts in our KC weather history. I think it's easily the best since I've been here, some 17+ years I think and while we'll see some seasonably strong fronts blow through, the pattern is so progressive (fast moving) that whatever cold air delivery we do get won't last but for some 36-48 hours before the cold airmass is moved along and/or moderated by a still strong late October sun angle. This is also helped by our bone dry ground which is now showing signs of stress from all the dry weather and also by a browning landscape as the trees are losing their leaves and/or seeing them go from green to brown. In the summer when this happens we see the temperatures soar and while the effect is muted significantly with the lower sun angle you can get an extra degree or two out of your high temperature potential. That should be the case for the over the next 7-10 days every so often.
The dryness though is now becoming something a bit more than a curiosity. We've really not had a decent (.50″+) rainfall for over two months. IF this would be the precip set-up heading into summer, our chances of having a devastating drought during the summer would be on the increase. From a yearly standpoint we are running some 5.5″ below average, most of that has occurred since 9/1 as we're some 5.9″ below average in the 50+ days. While at times this year we've been in the positive category for monthly rainfall, it has been a struggle to stay wet for any length of time. Take a look at this next map showing a running total of precip since last October (which went dry in the fall of 2010). It shows us, essentially being in a deficit for the last year+ when taking into account last fall's weather.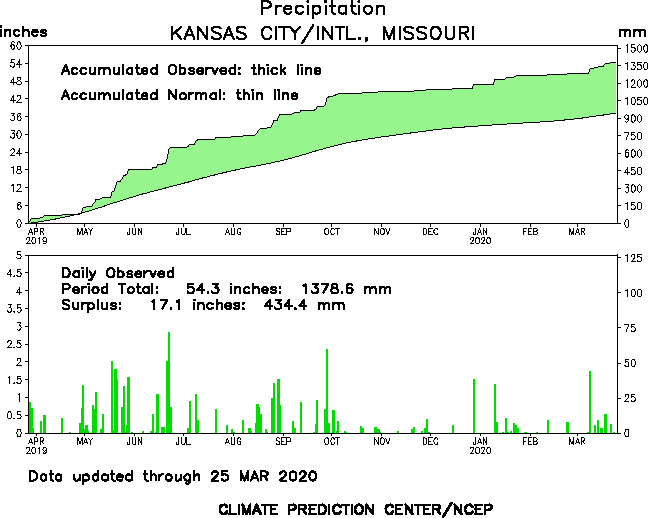 While pretty dry, this in no way compares to the devastating drought going on through the western plains states…take a look at the same chart for the Dodge City area…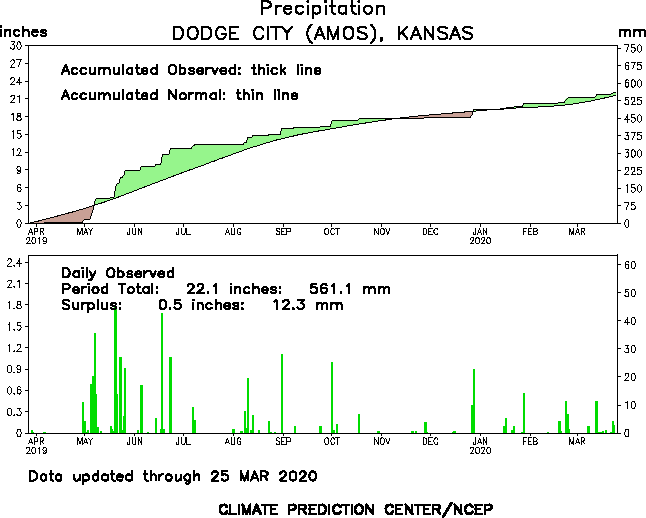 Again, give us avg rainfall for the last 2 fall seasons and we'd be golden (and a lot greener) but that has not been the case. Check out the last 30 days or so and notice on the following map where the deficit of rainfall is centered…
Our next frontal boundary is going to do about what I expected it to do, push so far to the south that the moisture that will be overrunning it will be to far south of the area. I wouldn't be surprised about the area from KC south getting some scattered light rains/showers/sprinkles but anything would probably just be a tease and amounts should be under .10″ for almost all of us. The wave/trof in the upper levels of the atmosphere will blow through here, so we should see clearing skies on Thursday with highs near 50 and then another frost/freeze later this week. This should be followed by a moderating weekend next weekend.
Well that's about all I can think of for a Sunday afternoon. Enjoy the great weather through Tuesday.
Joe