Warm Stretch Coming
There really isn't a lot to say about our weather over the next 7+ days as there are no significant storms in sight for the region. There will be a weak system moving through later Sunday night into early MON that MAY give us some rainfall, but at this point the amounts look to be under 1/4″ and that may be a stretch.
The main topic of conversation through Thanksgiving itself, will be the warmer air that will be setting up through the Plains states and we'll be in the middle of it for quite some time. As this occurs, colder air will be percolating through the northern reaches of Canada and the NW Territories and while "some" of that may sneak down here during the last week of November at this point there are no significant shots of cold weather expected for the next 10+ days.
As far as the warmth goes…there may be a day or two that could challenge some records. Let's take a look at the record highs from next Monday on…
Monday 11/20: 79° (1897)
Tuesday 11/21: 78° (1966)
Wednesday 11/22: 76° (1966)
Thursday 11/23: 75 (1966)
Friday 11/24: 73 (1990)
Saturday 11/25: 70 (1926)
Sunday 11/26: 78° (1990)
I think at this point most of these records are safe except for perhaps next Saturday. That is an record that MIGHT be doable, although it really get's tough to get to 70° during his time of the year. The average high for next Saturday is 49°. So we'd need to get highs more than 20° above average.
The only issue for the later part of next week is whether or not we start to see some moisture in the form of clouds, work our way from the Gulf region. We'll have a persistent southerly flow for several days before this happens but that is still a big ? at this point and not worth putting a lot of thought into from so far away.
I created a 2 pic animation showing the forecasted 5,000 foot temperatures off the EURO model. I wanted to see the progress and the loading of the cold air in Canada. So I decided to compare the temperatures for this coming Monday and then for 10 days from now (a week from Monday-the 26th)
you can see parts of Central and Northern Canada loading up with the chillier air, as is to be expected with the decreasing amounts of daylight up there, but there is really, through later next week no strong signals of a storm capable of delivering that cold air down towards our region. This is probably why the CPC has issued this forecast for the next 8-14 days…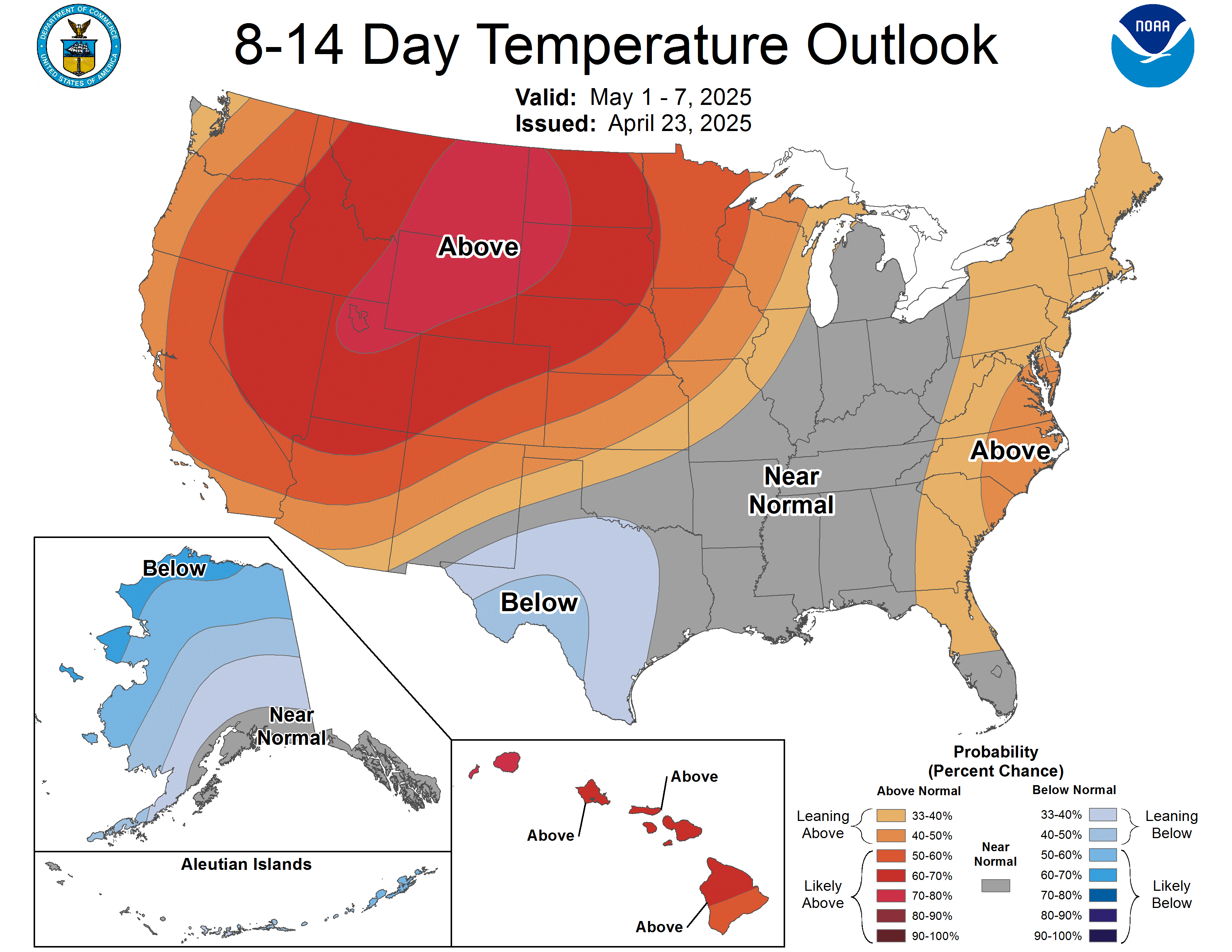 That's a LOT of mild air dominating the weather pattern heading towards the end of the month.
By the way, on average we get 1.2″ of snow in November…tough to imagine if that is going to happen, unless it's somewhere in the last few days of the month. It's NOT unusual to have a trace or less of snowfall…with about 17 out of the last 42 Novembers recording very little snow. 31 out of the last 42 have had an inch or less of snowfall.
For those of you who enjoy a good parade, I'll once again be up in Cameron, MO for the Christmas Parade at 2PM on Saturday. I'll be in Storm Fox so I look forward to seeing some of you on a beautiful day! Also there are a LOT of lighting ceremonies going on tomorrow so just keep in mind that while we should hit about 60° tomorrow afternoon, we'll drop about 10-15° as soon as the sun goes down, so dress warmly.
Have a great weekend. I'll probably write up a blog later tomorrow afternoon and get it posted by 5PM or so, after I'm done with my parade obligations! As usual I'll notify you on twitter (fox4wx) and also on our FB pages.
Joe