A Thanksgiving Weather Blog
On behalf of Mike, Karli, Michelle, and yours truly, we all hope that you have a wonderful Thanksgiving and a special hello and Happy Thanksgiving to all our faithful blog readers over the years. Do you know that I've been writing weather blogs now for almost 12 years I think. It actually may be more than that, because we were one of the first TV stations in the country to write a weather blog. When I think of the millions of words I've written over the years it's pretty bizarre. Each blog has about 750 words to it, some with close to 2000 when I get really rolling and while the forecasts connected with the blogs haven't always worked out perfectly, it's always been a passion of mine to do them and we'll keep chugging away till I get major writers block. Then again with the way the weather works, it seems as though there is always something to talk about and then to write about. Whether it's here or elsewhere. So that's one thing I'm thankful for!
So once again I have something to talk about on this Thanksgiving. That would be a cold front that is about to crash the warm weather party we've enjoyed for the past few days. After highs yesterday around 70°, we started this AM with lows in the upper 50s. As a matter of fact since Thanksgiving is on the 22nd this year (the earliest it can ever be I believe) we're starting THIS Thanksgiving the warmest we've ever started a Thanksgiving (regardless of dates) in our weather history, going back to the 1880s. I should mention that I looked at all the low temperatures for Thanksgiving day, this data wouldn't take into account perhaps some strong front that would give us a warm AM start then see lows occur closer to midnight. Our low this AM was 58°, but I'm sure by midnight tonight we'll be well below that. Our record high for the 22nd is 76° however our Thanksgiving record high is 70° and that is a record that is VERY doable today with at least some sunshine.
This will all be changing rather quickly as a seasonably strong late November front will be working it's way through the region later today. Here is the 9AM surface map showing the position of the front. Also notice the RED numbers on the map, those are the current temperatures. Immediately behind the front it really isn't that bad, just more typical of this time of the year.
Now the air is colder across the Northern Plains states as the following map will show.
With NW winds of 25 MPH up in the Dakotas, that cold air will be rushing southwards today/tonight so that by midnight, temperatures should be well down in the 40s, if not upper 30s. Highs tomorrow and Saturday should be in the 40s with lows in the teens. So yes, our weather is going to be a bit more typical for late November.
Actually over the next 10 days, we'll be gyrating all over the place. We'll briefly warm up on Sunday, turn colder early next week and then rapidly warm back up again later next week into the 1st weekend of December. The record highs for December 1 and 2 are 70°. I'm not forecasting that at this point, but a real run into the 60s is possible again and we should start at least the 1st 5 days of the new month with highs well above average.
Take a look at the EURO model showing the temperatures @ 5000 feet or so. Notice that in the 1st map, for next Monday evening, we are on the cold side…
That's a LOT of blue color (cold air), especially north of the I-80 corridor. Now look at this next map for next weekend.
The Plains area is being flooded with mild air! This map is valid for NEXT Saturday (12/1) @ 6PM. Notice also the winds up across Canada, how they are all from the south, this means even Canada will be flooded with warm air (except NE Canada). This would be a VERY mild pattern for us for at least the 1st 5-10 days of the new month should this work out.
Our GFS ensemble models are also on board with this concept as well. Check out there temperature probabilities for 11/30-12/6.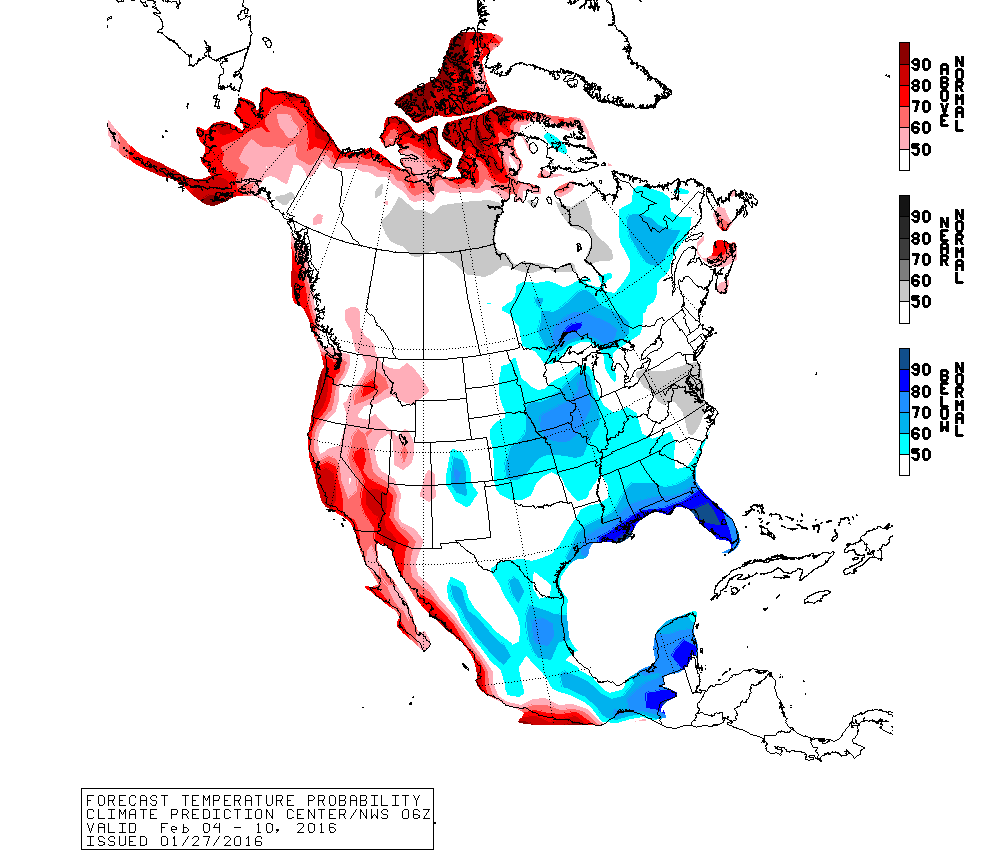 For us winter lovers, it's the exact thing you DO NOT want to see heading into early December.
What's interesting is that the NAO index off the EURO model (see previous winter forecasting blogs) is forecasted to go in the tank NEXT weekend. This is why I blogged recently about NOT relying on any one index or indices. This could be a colder set-up for the NE or New England, it looks like for us we'll stay mild next weekend.
Oh and one other thing as we feel the chill for a few days around here…spring training for the KC Royals is only about 10 weeks away or so. I think I'm already getting ready for some baseball.
Whatever precip falls over the next 5-7 days looks minor. Odds favor under 1/10″ at this point…did you know that since April 1st we're almost 18.5″ below average @ KCI!
There you go, another 850+ weather word blog. Just add it to the millions already written about the KC weather!
Joe