So Where Is The Cold Air?
Pretty strange in early December to really not see any significant cold air across the USA. It's happened before, heck our records for today and tomorrow are 70° set back in 1956, but with the exception of a few places in New England, temperatures this AM are running about 5-25° above average nationwide! That's pretty remarkable. Of course there is cold air somewhere, except we have to go way up into NW Canada/Alaska to find it. Check out some of these 11AM temps (CST)…I circled some of the coldest temperatures. Click on the image to make it more readable.
So it is cold up there…really cold. Despite a strongly negative Arctic Oscillation (AO) value, the colder air that is farther east of there is still stuck. This is the reason why one cannot forecast just based off these various oscillations, there are bigger fish to fry concerning the trends in the weather, and the biggest fish right now is the strong Pacific flow of air that is cutting through the country. Until this flow seriously buckles things will stay rather mild. At times there may be some waves in the flow that tug down some cool air, but as I've talked about for the last 7-10 days, temperatures this week will be well above average.
If we go up to about 30-35K feet, we can see the jetstream flying along in a general west to east motion. This, bathes the US in pretty mild air and that is the case today as the potential for numerous record highs are there this afternoon.
This flow across the west is bringing copious amounts of Pacific moisture and slamming it into the Northern CA area. It is just pouring today in the San Francisco area as well as that entire region.
I've been talking about the Mt Shasta area, where, with the exception of the highest of elevations, this event has been mostly liquid and not white. I haven't found any snow totals from the storm's beginning, but if I find something impressive I'll try and get it to you.
Meanwhile around here skies have cleared out after a morning of dense fog in places. This was a view from our tower camera this AM from Signal Hill. Pretty cool to look over the fog from our elevation above it.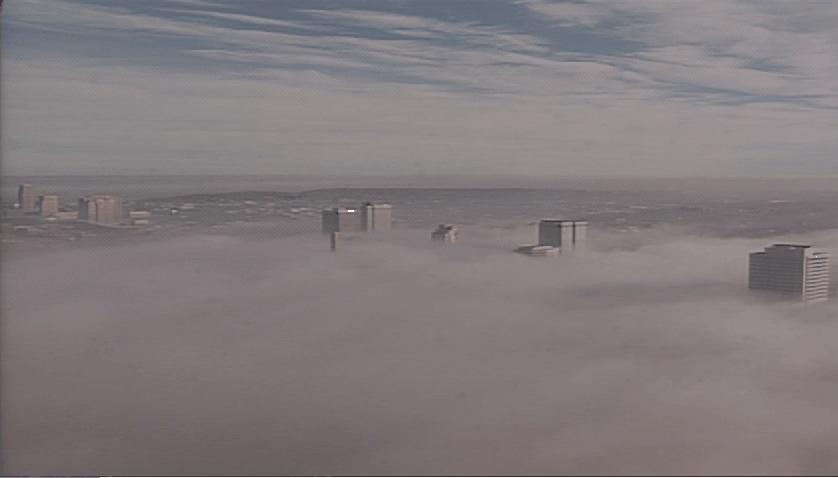 Here is a view from the satellite showing the fog/low clouds, still very persistent across N MO. Temperatures will certainly be affected with readings near 70° to the SE of the metro to only around 50-55° under the cloud cover!
So where are we going from here? Well we stay warm through Monday and see temperatures drop about 10 degrees on TUE/WED before going back up on Thursday and then retreating over the next weekend. In terms of when we may see the jetstream "buckle" enough to get some decent cold air down here…well that is a different story. There are model suggestions that it could happen starting next weekend. The GFS model wants to hold off on any decent cold air will around the 10th of the month. Truth be told, during this time of the year with fast jetstream motions, it's almost impossible to NOT have at least some cold air sneak into the region for at least a few days. The thing is though, we've really eroded the national snow cover over the last few days. Right now only 12.2% of the country is snow covered.
Want to hear something shocking…last December at this time, 20.5% of the country was snow covered! So we have LESS snow now than last December at this time. This is interesting because last December we were some 4.4° above average for the month.
For us to stay cold for more than a couple of days, we need to establish more snow cover. There is plenty in Canada as you cross the border, but unless there is a significant buckle to the jetstream, any cold air will be transient at best. Sure you can get some below average days, but it may be a bit of a struggle to get significantly below average weather around the Central Plains
Joe