Paltry Rains & White Christmas Update
At the bottom of the blog, I've started the odds of a White Christmas for KC, this will be updated with each new blog I write for the next 2 weeks.
Did you know that through yesterday, our monthly average this December is running almost 10° above average so far? A pretty impressive number for the 1st 11 days of the month and with the milder flow of air taking change for the next couple of days we'll enjoy a return to weather that started the month, although maybe not quite as warm.
This time however, the wind is going to be a rather big issue around these parts as a storm across the western part of the country starts to influence our weather in the Plains. Data today suggests that we may see winds in the 20-35 MPH range later today through Friday. Initially those south winds will have a tough time bring in any moisture from the south. Right now dewpoints in far southern TX are in the mid 20s. So all the south wind will do is recirculate the dry air back towards our area. The moisture though should start to increase (dewpoints) You can see the the higher surface dewpoints starting to make their move northwards from this map…
Now let's advance things about 24 hours…
Things that are important to note…1) the moisture return for KC is not very impressive. Dewpoints struggling to get to 45° is not a good sign for a warm air mass that will be on top of the area. 2) the storm in question is a fast mover and it would be a lot better IF the storm would slow down and allow more moisture to come up the state line. 3) the storm is forecast to rapidly move towards the NW of the KC area, that is a bad track for us to get a lot of precipitation…while I'll hold out hope we can see 1/4″-1/2″ amounts, the data early this AM favor amounts closer to 1/10″-1/4″ of rainfall so it appears again that we're going to get shorted by the storm. 4) with the track as is, amounts should be heavier towards the NE and N of the KC area, up towards IA and NE.
Should the lessor rainfall amounts verify, it will be another storm that underperforms for our area, in what seems to be an endless number of storms that don't come through for us. There is another one on it's heels, but I have even less confidence that we'll get much out of that one either. Since the 1st storm will sweep the moisture away again, the second storm, on it's heels for Monday, won't have time to suck the moisture back in.
After storm #2 moves by, probably to the south of here (MON-TUE), that again should do it for precipitation chances until potentially after Christmas…plus we're going to probably warm-up heading towards Christmas week. Next week though will be chilly, not unusually cold, but more seasonable for the 3rd week of December.
I'll probably do something more on this in tomorrow's blog, but I thought I'd show you just how dry it's been. Look at the bottom part of the graphs and notice the number of times we've had over 1″ of moisture for KC so far this year.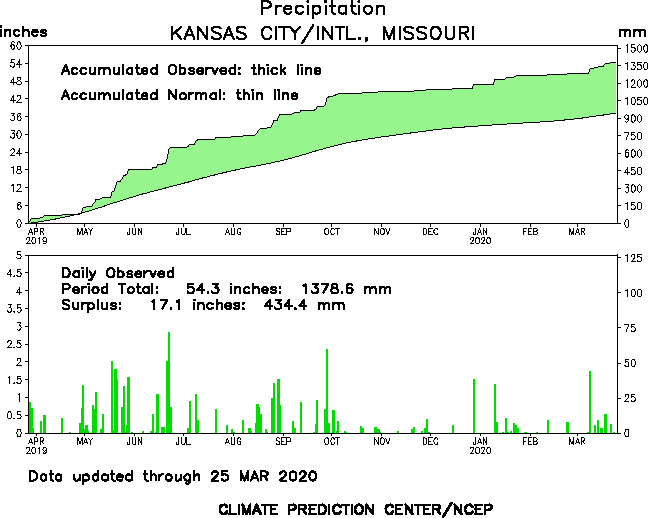 So far this year we've had 13 days with at least 1/2″ or more of rain in a calendar day. Of those 13 days, 6 have featured rain totals over 1″ in a calendar day. I wanted to bring this up because the averages are more substantial. On average we have 26 days with precipitation 1/2″ or more and 10 of those days are 1″ or more. These are pretty telling numbers.
The lack of snowfall is one thing, the lack of rainfall though has been a real nut to crack. Other randoms stats for the day…Chicago now is up to 281 consecutive days without measurable snowfall…that is amazing for them.
With that said, here is a look at the latest GFS model showing the snow on the ground on Christmas Day.
I should note that the GFS, for what it's worth does crank out some accumulating snow the following day along the I-70 corridor. I have no confidence that that is going to happen.
Finally, every time I update the blog till Christmas or so, I'll update the chances of us having a white Christmas. For us to have a white Christmas we need to have at least 1″ of snow on the ground on Christmas Day.
Joe