When Can We Crack 32°?
At 9AM this morning it will be 90 hours since we've seen our last report of temperatures 32° or higher. We'll try and get there again this afternoon as the sun breaks through during the AM hours. If we don't get there today it should occur on Sunday as warmer south winds start to take over for a day and allow temperatures to moderate a bit for one day. Overall however the forecast is pretty seasonable through the start of the New Year early next week.
It's sort of an interesting morning as radar is showing a developing band of flurries with perhaps a few embedded patches of light snow across NW MO as of this typing. This is connected to a disturbance that is moving through NE right now and just enough lift has been generated from it to allow the atmosphere to get saturated. With the air being pretty chilly, and remember that cold air does not efficiently hold on to moisture like warm air does, we're seeing some precipitation develop. Here is a look at radar showing the patch of snow that is out there. Keep in mind a lot of those returns are not reaching the ground.
The satellite images this AM are showing some nice clearing taking place across KS and hopefully we'll get to see that clearing in the KC area today. I was concerned that we'd have more cloud cover this afternoon keeping highs in the 20s…hopefully we can warm things up a few degrees extra today compared to the past few days.
Tomorrow presents another slight forecast conundrum as a stronger surge of chilly air is expected to be moving through the Plains associated with another piece of energy on the west coast now. As this rotates through the region, colder air will again spill into the region and, and at least at 5K feet we should see our temperatures drop about 6°C from about a -6° in the AM to a -10 to -12° later in the PM hours. We call that cold advection, and given enough clouds, with the colder air spilling into the region highs again should only be in the 20s.
The next issue is whether or not there is any snow from this, or since the atmosphere aloft will be somewhat on the dry side and sort of freezing precipitation. Yesterday I got an email from a landscaper who wanted to know why, when it's so cold out, we can get freezing drizzle instead of snow, even though the atmosphere is below freezing all the way up. This can occur when the air, above a saturated layer near the ground is too dry. When this occurs, snowflakes, which usually form in the clouds aloft won't form if there isn't moisture up there to form in. That leaves the saturated layer closest to the ground. Here the air is chilly and moist and instead of getting snowflakes to form, you actually get microscopic drops of drizzle to form. Since temperatures are below freezing, those drops freeze and you get freezing drizzle.
We all know around these parts that a little freezing drizzle can go a long way to creating some big headaches out there. I don't want to go there yet, but it is something to be watching today. Freezing drizzle can be a headache to forecast for.
As mentioned we should warm up briefly on Sunday before another shot of cold air moves in early next week (seasonable).
The storm system that prompted the blizzard and the outbreak of severe weather across the southern part of the country is moving through New England this AM. The Albany NY area is closing in on 12″ of snowfall. Along the coast last night winds were 30-60 MPH which is pretty impressive. A quick check of the airports back there indicate that LaGuardia and Philly are having some issues. As mentioned before the number of tornadoes on Christmas will break a record. Included in that were numerous EF2's (at least 6) and at least 2 EF3's so far.. Some interesting video came from some security cameras in a Walgreens in Mobile. Check it out.
The other part of the storm, as mentioned was snowfall. Much of the nation (65% or so) is under a blanket of snowfall to start the 27th.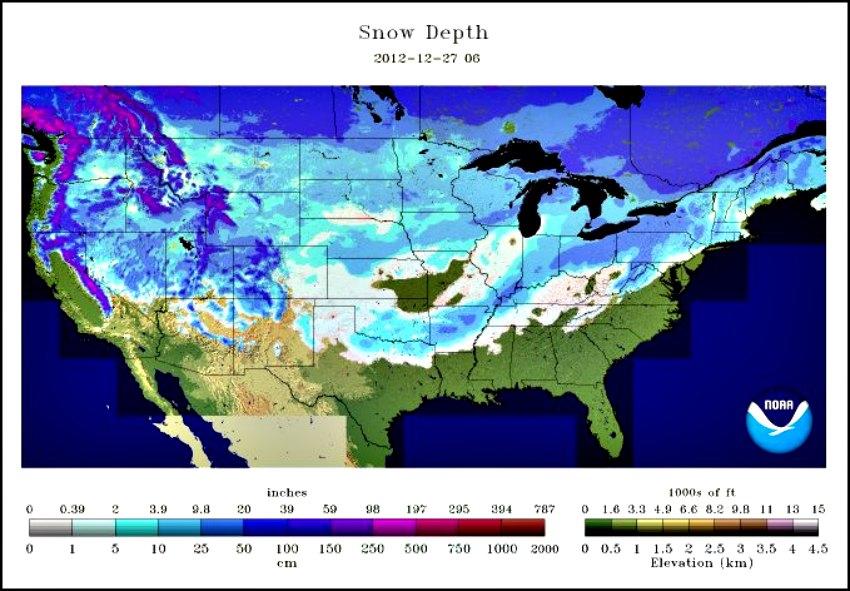 That's pretty impressive and more snow on the ground on 12/27 now than in 2009 and 2010!
Joe