We Go Up…We Go Down
We are not charging admission for the KC Roller Coaster that we're about to go on, although while admission is free, you still may get a bit of a tummy ache over the next 7+ days.
Lets start out with the up part of the ride. as temperatures tomorrow and Saturday should soar into the 50s. NOT record territory…in case your curious the record for tomorrow is 70° set back in 1951 and the record for Saturday is 66° set in 1906. Those are safe but it will warm up considerably over the next couple of days. Strong SW winds off the surface will bring in warmer air combined with a dose of warmer air descending from the western Plains states will allow a fast warm-up for FRI/SAT. Clouds should be at a minimum Friday before increasing SAT PM. Here is the NAM model showing the warmer air moving through the region.
That green/yellow shading represents warmer air @ 850 mbs or about 5K feet moving into our area (in the lower left panel which is 6AM SAT). Assuming we have enough mixing tomorrow, 50s are likely and since will have the bubble of warm air above us on SAT, through lunch, 50s are again highly probable.
Now let's talk about the down part of the coaster ride. It won't be a plunge from the highest peak, more like a small decline, followed by a quicker drop on Monday. Here is the GFS for Sunday…showing the "cooler" colors moving down through the Plains states. Notice across the northern US, the darker/colder colors! That would be the arctic air that will give us a glancing blow and move through the region over the course of about 36 hours or so.
That really is some cold air and promises way below zero temperatures across the northern Plains and the upper Midwest. It looks like the "Icebox Of The Nation", International Falls, MN may see lows of 20-30° below zero.
Notice though that that bitterly cold airmass, glides to the SE more than to the due south. That's shown by the GFS forecast for Monday…at 5000′ up.
We get into it…and then by Tuesday…we start clawing our way out of it rather quickly.
The Northeast part of the country/New England will certainly be the focal point for the cold weather.
What continues to be concerning about all of this is that these changes don't promise much, if any precipitation. Here is the CPC (Climate Prediction Center) forecast for the next 8-14 day time frame.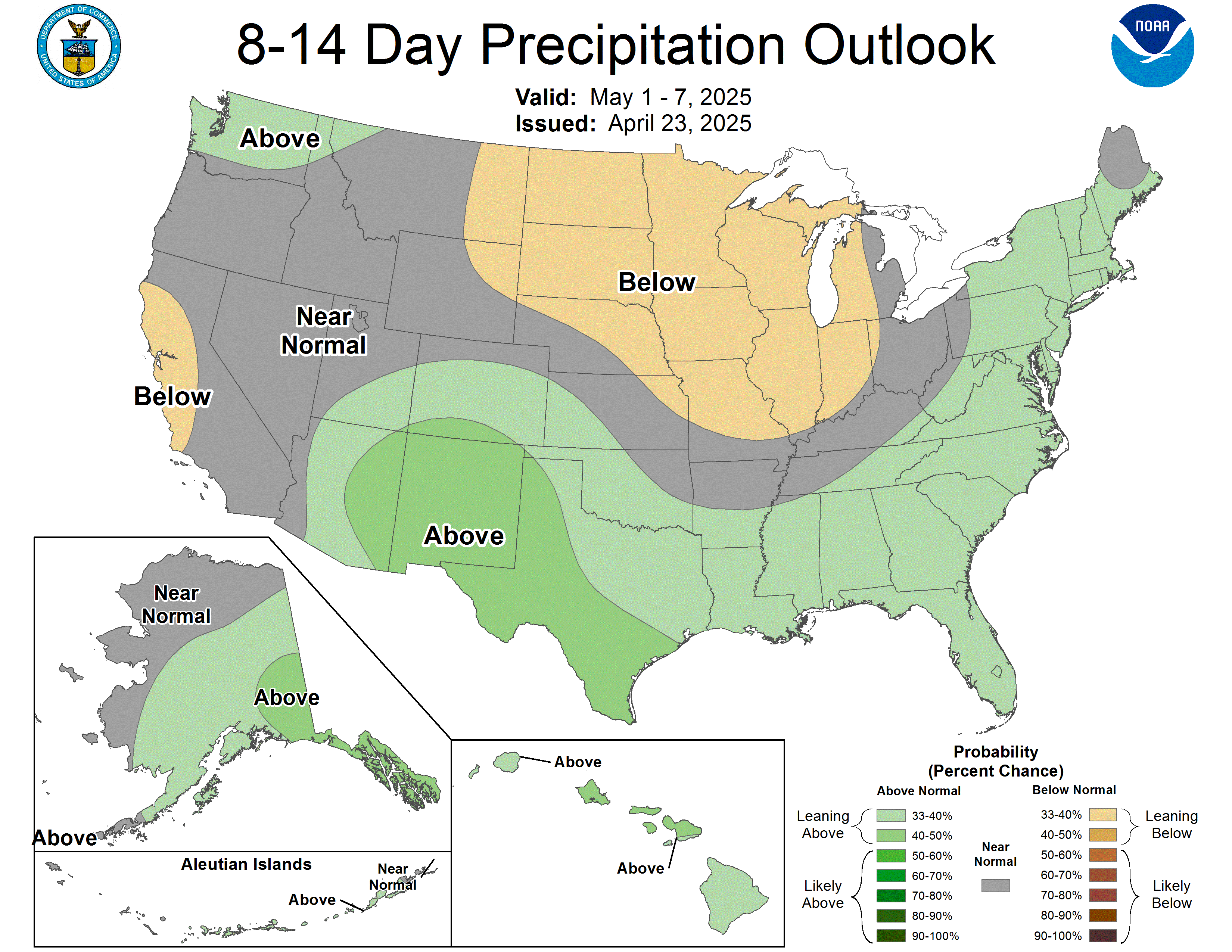 It's a probabilistic forecast but you can see from KC southwards were in the highest chance of having below average precipitation. JAN is our driest month anyway, we average about 2/10″ of moisture/week…so the hopes of us getting 4/10″ moisture in the next 2 weeks is not likely.
There will be some sort of system moving through next THU or so that may give us something (odds favor liquid) but it doesn't look like there will be much atmospheric moisture for it to work with as it moves through…IF we can get it to slow down a bit that would be most helpful for our rain prospects.
In case you haven't heard, quite a nice southern snowstorm in progress. It's snowed in MS, AL and now N GA. Several inches has fallen all ready and it's an impressive upper level storm helping to do this.
This storm will curl up through the Mid-Atlantic states and create more snow for the Virginia's as well as NC where Winter Storm Warnings are out right now.
So now some cities in AL/MS have had more snow than Chicago, IL. Today is day 328(!) without 1″of snow in a calendar day there…just amazing for the Windy City! Snow removal companies must be crying without the snow again this winter season. As a matter of fact today they are TYING a record for the latest 1st 1″ of snow in a winter season. The last time it happened this late was 1/17/1899 (that seasons 1st snow). Assuming there is no snow today, this record will be broken at midnight tonight! they're are establishing records all over the place when it comes to a lack of snowfall. Here is a resource to see what they are dealing with, or not dealing with concerning snow in the Windy City. Weather history up there says that 56% of the snow that accumulates occurs after 1/17. They need to start catching up pretty darn quick (h/t Tom Skilling-WGN).
That's it for today…sorry about the wind tomorrow but the tradeoff is warm weather!
Joe