The Arrival Of The Arctic Air
Well it's quite the comedown from yesterday's 63° high. we missed tying a record in KC by 3°, but St Joseph tied their record high of 63° originally set back in 1914.Let's though use a little perspective here, today's weather is just a return to seasonable weather around these parts with highs in the 30s…chillier for sure but again remember the average high for this date is 38°. We'll be a few degrees below average as far as that goes today but still well within the realm of average January cold.
To me anything + or – 20° from average really shouldn't surprise people for this time of the year, especially on the cold side. It's supposed to be cold! We tend to forget that after a day with highs in the 50s and another with highs in the 60s. Again it's supposed to be cold, it's the dead of winter, it's the coldest time of the year…so with that said, let's talk about Monday as some arctic air is going to descend through the region and then start to slide away on Tuesday. We're on the edge of the coldest air, as I've talked about for the last week or so. So while we won't get the full dose of this chill, it will catch people's attention. Highs tomorrow should be 20-25° which is chilly for sure, but again well within the realm of not unusual. Now if highs tomorrow were 10° or less, that would catch my attention. If lows were -5° or less, that too would catch my attention. Maybe it's just me though it just seems that there is a lot of talk-thoughts on a national scale about all this arctic air etc…but for us it really is no big deal.
Where it will be more of a deal is the upper Midwest where lows will be 20 to 30° below. Now that is something to think about. The average low in Minneapolis is 7° today and the average low in Fargo is -1°, again it's supposed to be that cold up there, but lows of -30° is a bit rough to take, especially when there is wind involved, pushing those wind chills down to near -50° in places. Here is the RAP forecast for tomorrow AM, showing the temperatures plummeting up there.
Anywhere that's white in color, represents surface temps of at least -20°. That's pretty impressive. Although for Fargo, ND on Monday -42° is the record low set back in 1883. Their forecast for tomorrow AM is -22°, a full 20° or so away from their record low. Our record low is -6° tomorrow and I'm forecasting a low of 10°. So in a way, we'll be closer to a record low than they will up across ND in the heart of the arctic air.
Here is the forecasted map for about 5AM Monday showing the extent of the arctic air moving south and especially SEwards.
This airmass will start to relax and moderate heading into Monday night and Tuesday. IF you remember last week, I talked about the meteorological aspect of what happens when this occurs, and how we should see a band of clouds develop in the interface of the edge of the cold air and the advancing warm air, especially in the mid-levels of the atmosphere. I talked about how, in cases past, there can be weird areas of light snow that develop in these scenarios. Well lo' and behold, here is what the hi-res NAM model is showing for late Monday night and early Tues AM. as a matter of fact I was tempted to increase the FOX 4 Snowfall Potential Index a notch but will wait on this decision till later tonight. We would have high snow ratios, in other words, it would take little (less) moisture to yield 1″ of snow so that is something that I will think about.
A little skiff of very powdery light snow streaking down from SE NE and NW MO. The lower resolution NAM also has this suggestion as well and it wouldn't surprise me. Remember that cold air doesn't hold moisture very well. When warmer air aloft fights it's way back, not only is the air warmer, but it also has more moisture with it. This moisture then interacts with the colder air and is squeezed out. Many times the snow will fall but evaporate in the colder, drier near surface air, before reaching the ground, and this VERY WELL could happen again and right now I'll keep the forecast snow free. It's something though that has been in the back of my mind since last THU/FRI and it's still there. What the clouds will do for us, assuming they are "still there" TUE AM, is keep lows from getting close to 0°. As a matter of fact, lows may only drop into the 10-15° range or rise to that range as the clouds move through. Depending on the extent, thickness and duration of that cloud cover on Tuesday, highs may stay only in the 20s or so (30s with extra sunshine).
Finally today I leave you with the regional snow map I worked on last night and tweeted out (@fox4wx) yesterday evening. This map shows the snow totals so far this season.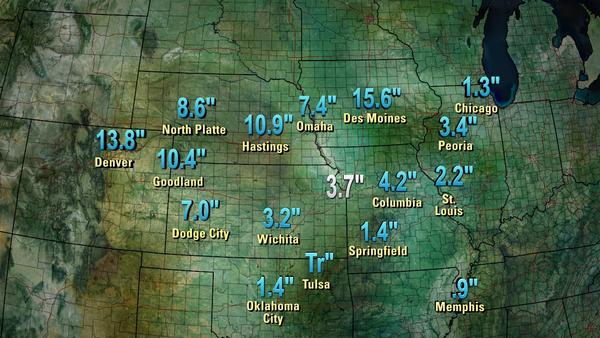 Through yesterday Des Moines had about 15.5″, but it is snowing there this afternoon so I'll be updating that map on the air later this afternoon/tonight. Here is a look at the snow across central IA this afternoon, coming down pretty good up there with several stations reporting visibility down to about 1 mile or so.
IF you're heading up towards the I-80 corridor, it could be rather slick!
Have a great Monday and I'll get another update on the blog tomorrow afternoon. One of my colleagues from the NWS has done a bunch of research concerning the climatology of sub-zero lows in KC and how snow cover can play a role in those forecasts. I'll share some of that with you tomorrow. It surprised me to say the least.
Joe