Shooting For Record Highs
Well that "storm" was just about worthless…actually it looked pretty good on radar for awhile late last night but as the rain was moving towards KC, it was encountering drier SE winds at the surface so despite a decent look on radar, the rain was getting chewed up. that plus a weakening disturbance in the atmosphere plus the fact that it was traveling at light speed through the region, and well, disappointing rain totals. Here is a gander of dozens of rain gauges across the region. Again for the most part amounts seemed to average about .05-.10″ of rainfall. There may be some additional showers tonight and an outside chance of some additional rains when the front pulls through on Tuesday, but IF we get more than 1/3″ out of all of this, I'd be surprised. Some may be done with the rain entirely.
First let's start on the northside.
Now let's move southwards…
and even farther southwards…
Well the good news about this storm, is as mentioned in the past, the warmth will be coming in behind it, and while we're in the 40s now, we should finish the day with highs in the 50s and see the winds start to increase. Lows tonight will probably stay in the 50s and it now appears more likely that we'll see at least some sunshine tomorrow allowing temperatures to approach and break the current record for tomorrow of 65°. Highs look to be in the 65-70° range. Dewpoints should also be well into the 50s tomorrow, so you may notice some dampness on the roads as the moisture condenses on the colder road surfaces.
Farther to the NE of here, temperatures are colder and there are some rather significant icing issues going on across far NE MO, IL, IA and WI. Here is the 9AM surface map showing the 32° line drawn in. Along and N/E of that line mostly freezing rain is falling.
The highest chances of at least 1/4″ ice accumulation should be across NE IA between now and tomorrow AM
Our next cold front should be moving in Tuesday AM…we'll probably have a midnight high early Tuesday (record is 63°) and then see sharply falling temperatures near lunchtime.
As usual click on all these graphics to make them more readable.
I should also mention that severe weather is possible/likely the farther SE you get into MO and into the TN Valley area…this is an area that can see some nasty JAN outbreaks of severe weather, and there will be the chance of at least a few tornados out of this.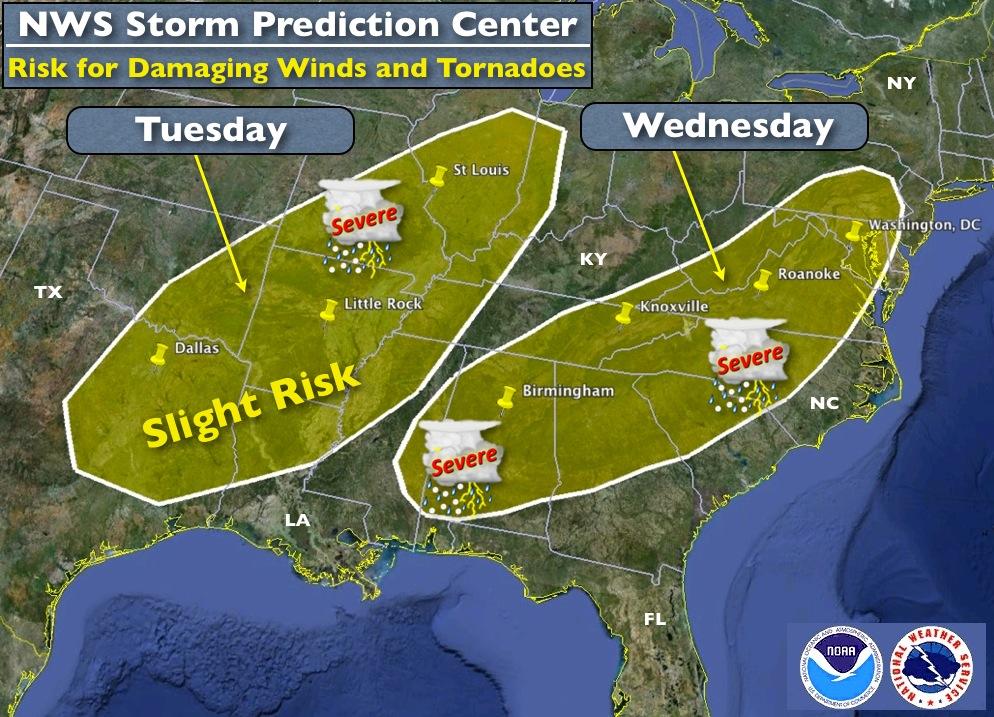 Wednesday will be colder than Tuesday and Thursday will be colder than Wednesday before we start seeing some milder air move in towards next weekend. It's possible that by Friday AM we're down to near 5° or so. No other storms of significance are showing up for the next 10+ days. This is how a drought gets worse and worse…even when we get a storm, moisture is limited to 1/4″ or less and then another long period goes by without additional moisture.
That's it today, may try and get some winter golf in tomorrow as long as the winds are somewhat manageable.
Joe