Joe's Wx Blog: Goodbye cold March, hello April
Well March of 2013 ended up being cold…very cold. We finished the month 6.4° below average thanks to a late rally at the end of the month where we made up a degree in the last 3 days or so. It was our coldest March since 1996. Colder March averages were in 1984, 1978, 1975 and 1969. There were others before 1969 as well. Interestingly, 1996 was a month with little snow (.7″). The lows back then were more extreme including a low of 2° and a low of 0° and numerous teens…hence the colder averages. This past March was not as extreme for the lows (-4°) as it was for the highs, which were almost 9° below average for the month as a whole.
By the way something else that's interesting…so far this year we've had 4.84″ of moisture officially @ KCI…last year on this date we had already had 7.75″ of moisture (mostly rain)…so it was considerably wetter last year going into April than it has been this year…we all know what happened in 2012 once April hit…I feel increasing confident that that will at least NOT be the case this April as a potentially wetter pattern takes hold next week. More on that in the next couple of days.
The big story today is the colder air that has moved in behind a cold front that came through earlier this AM. after highs over the weekend well into the 60s, temperatures today will only be in the 40s or so. as a matter of fact here is a look at the 24 hour temperature change comparing yesterday at this time to today.
Last night I talked about the chances of snow…there was actually some minor accumulation up across N MO earlier this AM. Spickard picked up about 1″ or so and a couple of others reported about 1/2″. You can see the snow on the satellite image from this AM.
There are no important changes needed to my weekend forecast for the upcoming week…so I won't blog about that…
What I wanted to talk a little about this AM is severe weather. Today sort of starts the "unofficial" severe weather season in KC. It's "unofficial" because as we know there is no severe weather "season" in KC, it can happen any day and any month throughout the year. The activity is typically more active through from about now through early June, and my guess is that with a cooler pattern, things may get extended a bit this year, perhaps till middle June. So far, and take this with a grain of salt, the year has started slowly. In March for example there were only  14 reports of tornados…the last time there were that few was back in 1969…with 8 (h/t @GCarbiin). On average there are about 75 tornados in the month (3 yr average). We did start the year with 74 in January though which almost doubled the 3 year average.
So with that said, we can't let our guard down, especially now that the season starts to get going. While this week should be pretty quiet, next week has more potential. Around these parts last year was a quiet as a church mouse when it comes to tornados. There were only 2 brief touchdowns…one in Olathe and another in the Raymore area…they were both rated as an EF(0) tornado, the lowest on the scale. As a matter of fact, all of W MO near the KC region was VERY quiet…take a look at the following map showing the ALL the tornados across the country and pay attention to our local area, and notice all the white…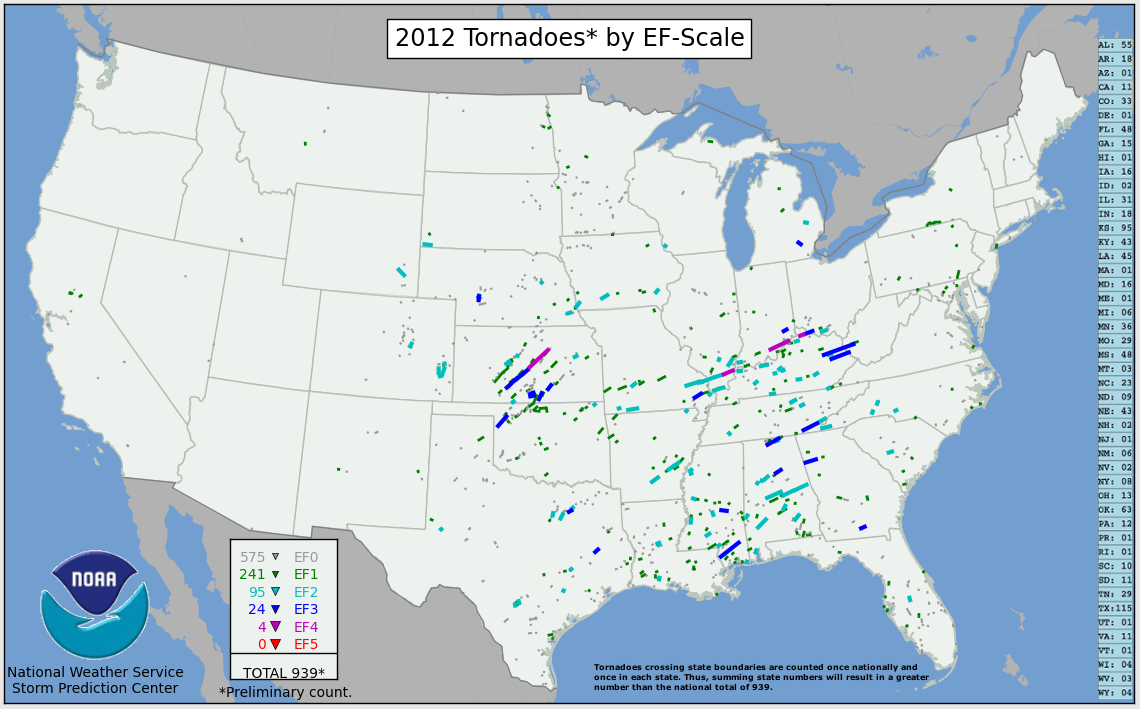 If you remember last February 28th, 2012 there was an EF(2) tornado in Harveyville, KS. Overall though you can see why the NWS in Pleasant Hill only issued 3 tornado warnings all year long!
On average there are about 1250 tornados/year nation wide…last year there were 939 which was the fewest since 2002. Most of the tornados (more than 20%) occurred in April last year (206). 70 died nationwide last year (average is 91) and 822 were injured in what was considered a "down" year. There was at least $1.6 billion dollars in damage last year.
I bring all this up because it's time to again think about and perhaps refining your tornado safety plan. This link has some great information to talk about with your family and loved ones.
Read it and think about what it says and be safe this season, because I have no doubts that this season will be more active for severe weather around these parts. I don't know about tornados but certainly the opportunity will be there for more storms that could produce tornados in the end.
Today will start a new day for the FOX 4 Weather Blog…from now through 6/1 or 6/15 depending on how the season is going, I will change the featured image to the right as soon as you start reading the blog from the Snowfall Potential scale tot he Severe Weather Potential scale. It will be the same 1-10 scale with 1 being doubtful and 10 meaning definite. This scale will be a little harder to customize for you because severe storms, by there very nature are more localized and somewhat more random. So the scale will apply to more widespread events if that's possible.
Joe