Joe's Wx Brief: Relief Coming
I'm growing increasingly confident that there will be actual relief in the heat that continues to simmer on top of the region towards the end of the weekend and early next week as a more seasonable airmass will be moving into the Plains states and taking the edge off the 95°+ days that are ahead to finish off the week.
Until then though more late summer heat as a run towards the hottest temperatures of the summer is possible/likely on Friday and especially Saturday ahead of the front that will be sliding into the region. Typically we should get at least some rain with this transition but while I wouldn't be surprised if forecaster's start mentioning that potential later today for Sunday, it's really not a great set-up for storms to form. Hopefully we'll get enough cloud cover on Sunday to lower the highs a bit before the cooler air moves into the region in time for Labor Day.
The latest EURO solution for rainfall over the next 10 days isn't encouraging though. Click on this image to make it larger.
The relief is going to come about because of an upper level storm off the western part of the country. This image is courtesy of Penn State.
This wave will move up into Canada then move through the Great Lakes and bring a chill to the Lakes region…perhaps with frost there early next week. That airmass will move into our region, and while we won't get a full blast from it…it will be significant compared to where we stand now.
Here is a look at the forecasted temperatures over the next 10 days…again click on this image to make it larger…IF things work out highs on Labor Day and Tuesday may only be 80-85° or so, with lows dropping to 60-65°. Maybe even some 50s across N MO!
So relief is on the way from a temperature standpoint but from a rainfall standpoint that might take more doing and while the long term pattern is a cooler one…it's also a very dry one which is not unusual for September.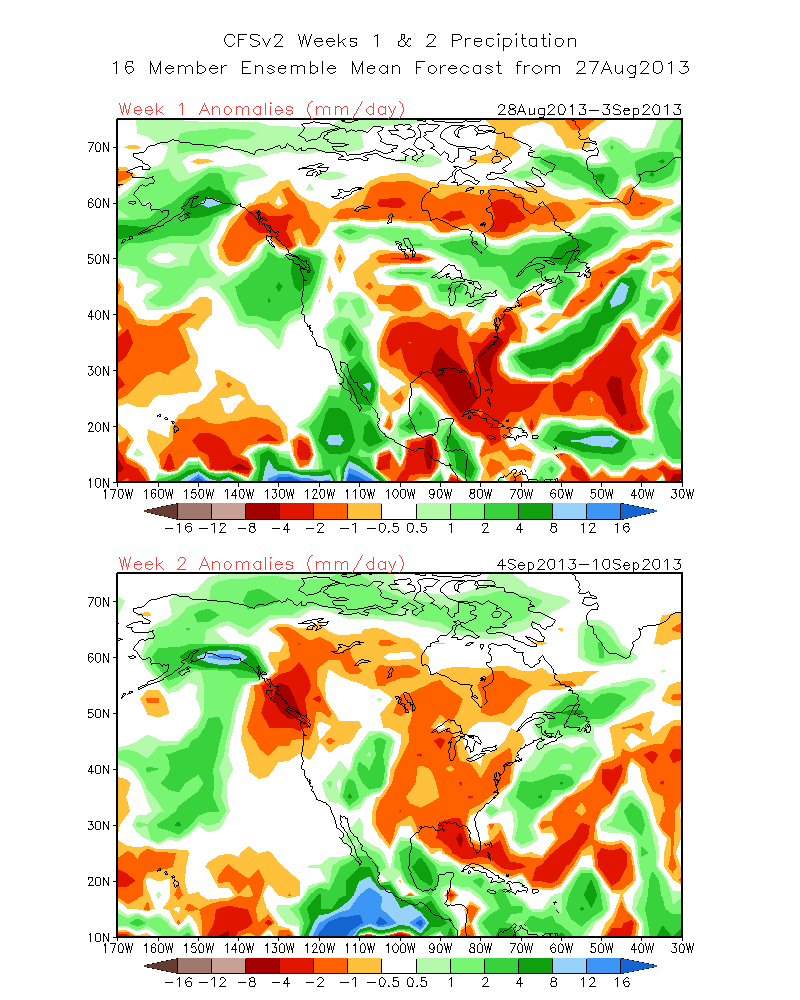 Have a great Wednesday! Oh and don't forget to check out yesterday's blog looking for a connection between late summer heat and winter snow…if any connection is there that is!
Joe