Joe's Weather Blog: Ache & Pain Alert + Arctic Air Arrives
Many years ago, when I was in the 3rd grade actually, I became fascinated by meteorology. For me it was snowstorms that caught my then very young weather eye and that passion for snow turned into what I am today. For me I always wanted to talk about the weather and how things were changing etc and the Plains were the place to be. It's one reason why I went to college to study in St Louis and graduate with a B.S. degree in meteorology. With that said there are different ways you can go after you get your degree. I was fortunate enough to slide into the TV side of things but there is research as well as other sub-fields of weather that are out there. One of them is something called Biometeorology. That's basically the study of how weather events affect living things whether they be plants or animals…including us!
Ideas for graphics to show our viewers come from my strange little mind. Or perhaps I get an idea from the web. Every so often though a person will give my a nougat and it develops into this thing. To make a long story short, Mary last night on the news gave me this idea…I was talking about how the pressure would change rapidly (off the air) and that people would be really feeling some pain over the next 24 hours. Either Mary or myself said…hey we should issue a "ache and pain" alert. It sounded a bit goofy but then it hit me…perfect.
So last night at about 10PM we did just that on Facebook at first then on the air. Well it ended up getting some 750 "shares" and hundreds of comments. Thus another "Working For You" moment has been created. People in cities outside of KC were commenting that they were sending this thought to others whether elderly or not. So now, if I can remember, when there is going to be a big swing in atmospheric pressure…I'll try and give you more of a heads up by issuing an Ache And Pain Alert so you're better prepared.
The back story to this is that many suffer from migraines or various aches and joint pains when there is either fast changes in air pressure or very high or very low air pressure, if for example a major are of low pressure is moving through. I'm not one of them thankfully, but it sure seems like there are a ton out there. One little google search certainly shows the effects of rapidly changing air pressure on people.
So the meteorology behind this stuff is that as of this writing our air pressure is 30.18″. The average air pressure is about 29.92″. We've had areas of high pressure move through over the past couple of days giving us the great weekend weather, because typically that's what high pressure areas do! Air pressure itself is a measure of the density of the airmass on top of an area. In a sense the "heavier" the air, the higher the pressure and vice-versa. When the pressure is lower clouds/precip can form easier. When it's high that correlates to sinking air. For folks who have issues with pressure it seems many have the problem with the transition times…and we're about to go through a couple…1st rapidly increasing pressure, then somewhat rapidly decreasing air pressure. By the way we measure all this using something called a barometer.
OK now let's get around to what is going to happen here…there is a strong for mid-November arctic front just north of the KC metro. It will overtake us around lunch and the winds will switch from the S/SW allowing us to be mild this AM (55-60° is doable ahead of the front…maybe even warmer to the south with some extra sunshine and a delayed frontal passage) to near 30° by later tonight as you go to bed. This arctic air is "heavy" and very dense because the air is cold. When the air is so cold the air molecule movement in the airmass actually slow down and hence the air get's "heavier". The opposite happens when the air is warm and moist…it get's lighter!
So with all that said, our computer models show this "heavy" airmass sinking right towards us. You can follow that by looking at the model data. Notice on the NAM model that big area across the N Plains sinking towards us…that's the dense and cold arctic air moving in.
This transition will happen later this AM on the north side and during the middle of the afternoon to the SE of the metro. I sent this tweet out yesterday (fox4wx on twitter) and I think it's still valid.
So let's now be more specific about the air pressure situation. As mentioned as of 8AM we're at 30.18″ and slowly rising. When the front blasts through the region the pressure will start to increase more rapidly as the denser and colder air moves into the region.
So by 6PM we should be close to 30.50″…
9PM: 30.62″
12AM: 30.74″
3AM: 30.80″
6AM: 30.92″
By tomorrow afternoon the core of the HIGH should be right on top of us…so the pressure will be maxing out on the barometer at about 1046 mbs or 30.92″!
That is unusually high for this time of the year. As I mentioned over the weekend, take this same airmass and add in the mid winter weather conditions (snowcover through the Plains, shorter daylight) and you would get lows 10-20° below zero! That will not be the cast with this airmass thankfully!
For those who read this blog this AM…you can see the cold airmass by looking at the clouds near the I-70 corridor…
As far as what the temperatures are behind that airmass…take a look at the surface map as of 8AM…
As the cold front undercuts the mild air with dewpoints in the 50° area (again remember the cold air is "heavier" than the warm air is…it will slide underneath the warm air and "lift" the moisture upwards and create low dense gray clouds that should produce areas of fog/mist/drizzle after the front moves through. The numbers in RED in the above map are the temperatures. Notice NE/SD are in the 20s and 30s while we're in the 50s. Only thing to watch for is in case we still have some of that very light precip going on later this evening as our temperatures drop to near freezing. There may be some VERY light freezing mist/drizzle/sleet or a few flakes. It shouldn't impact things but something to watch for IF it even happens at all.
At 11AM the front has just passed KCI. They've probably maxed out @ 60° which should be the "official" high for the day in KC. I forecasted 58° so I'm pleased. As a matter of fact yesterday's forecast should work perfectly as I anticipate temperatures to be near 40° or so by 4-6PM and down to near 30° by later this evening. Here is the 11AM map showing the front location. Click on the image to make it larger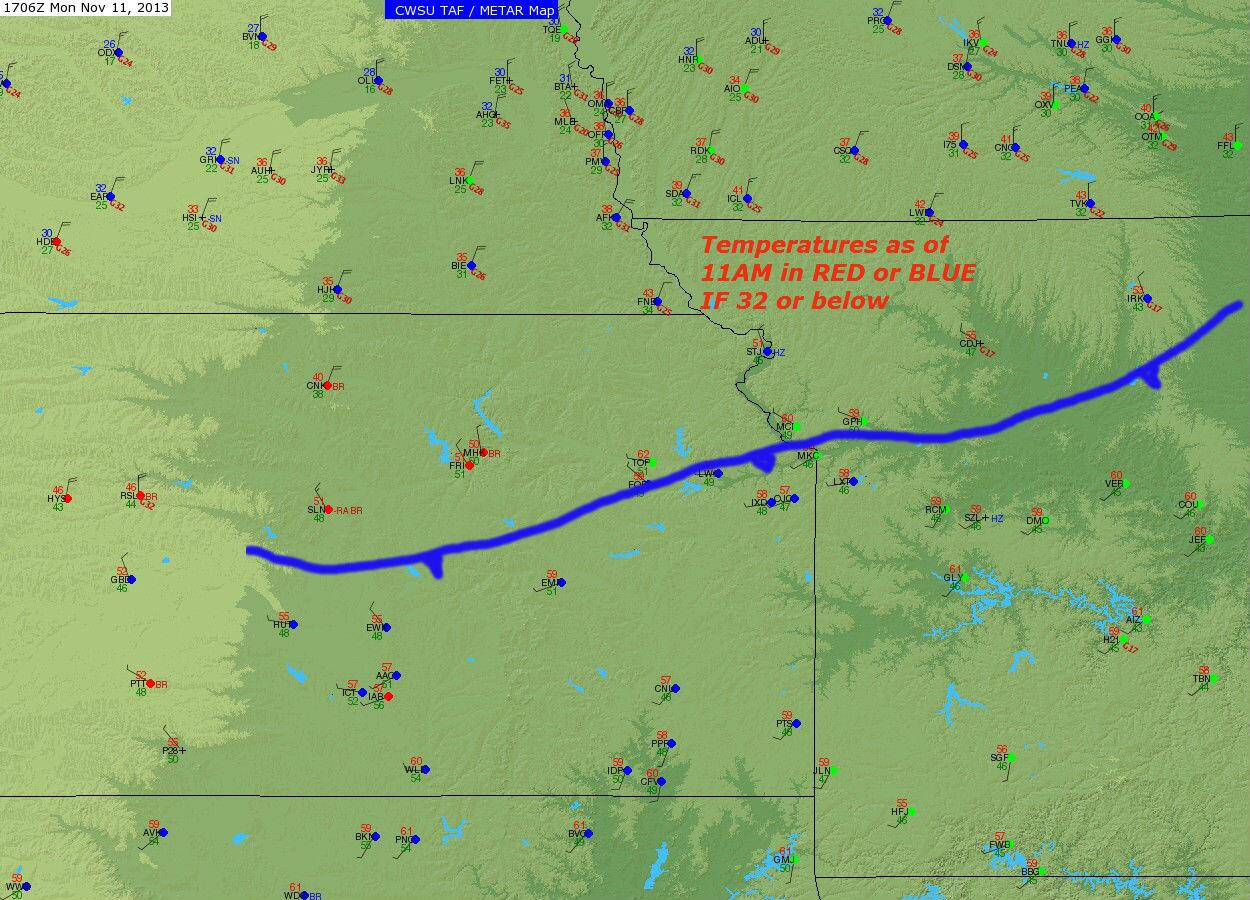 Finally one of our blog commenters and twitter followers @sedsinkc reminded my yesterday that today is the anniversary of one of the strong cold fronts in KC weather history blowing through the region. On November 11, 1911 a cold front took our temperatures from 76° near lunch to 11° by midnight, eventually down to 6° on the 12th! In Springfield, MO it went from 80° to 40° in 15 minutes! The front itself was called a "Blue Norther". I remember back in the day when I worked in Texas talking about these types of fronts as they moved south from the TX panhandle! Typically there was a lot of blowing dust with then as they past through the area!
Yes…I have the weather map from that date to show you…it's a little tough to read…but cool to look at I think. When the map was drawn using sparse weather station data the front was nearby the KC area
A pretty cool journey back in time!
Feel free to "share" this blog with whoever may be interested in the aches and pains information. I bet you know somebody who has the issues I described and more importantly they may be better prepared!
Working For You!
Joe
(11:30 AM updates added)