Joe's Weather Blog: Coldest Air Yet Possible + Outbreak Overview
For those who didn't get a chance to read a comprehensive research project that I wrote about over the weekend…let me remind you to go back and look at Saturday's weather blog. So many times I'm asked about how previous weather conditions influence the future. For example how the fall weather influences the winter weather. So I did a research project on just that concept. The blog is located here…lots of graphics and analysis. this was part 1…part 2 may be released tomorrow and that concerns precipitation trends in the fall and winter. I've compiled the data…now I need to set an hour or two to see what it says and if it means anything.
Onto what happened yesterday…I've written a lot about it already yesterday but as we continue to get more information I thought I'd share it with you. The most devastation occurred in E Peoria, IL. Here is an aerial view of the damage in Washington, IL from our sister station, WGN-TV in Chicago.
There was another big tornado near New Minden, IL, outside St Louis, that has been rated as an EF4 tornado (at least) with winds at least 166 MPH. It killed 2 and injured 2 people. Additional details will be on this link during the day as a report is filed.
Tough to imagine that the Washington, IL tornado is anything less than EF4 rated and there is upside to that rating based on all the widespread damage. Amazing "only" 6 people died (so far) from all the severe weather yesterday. There were a ton of reports of 60-90 MPH winds as well from the storms.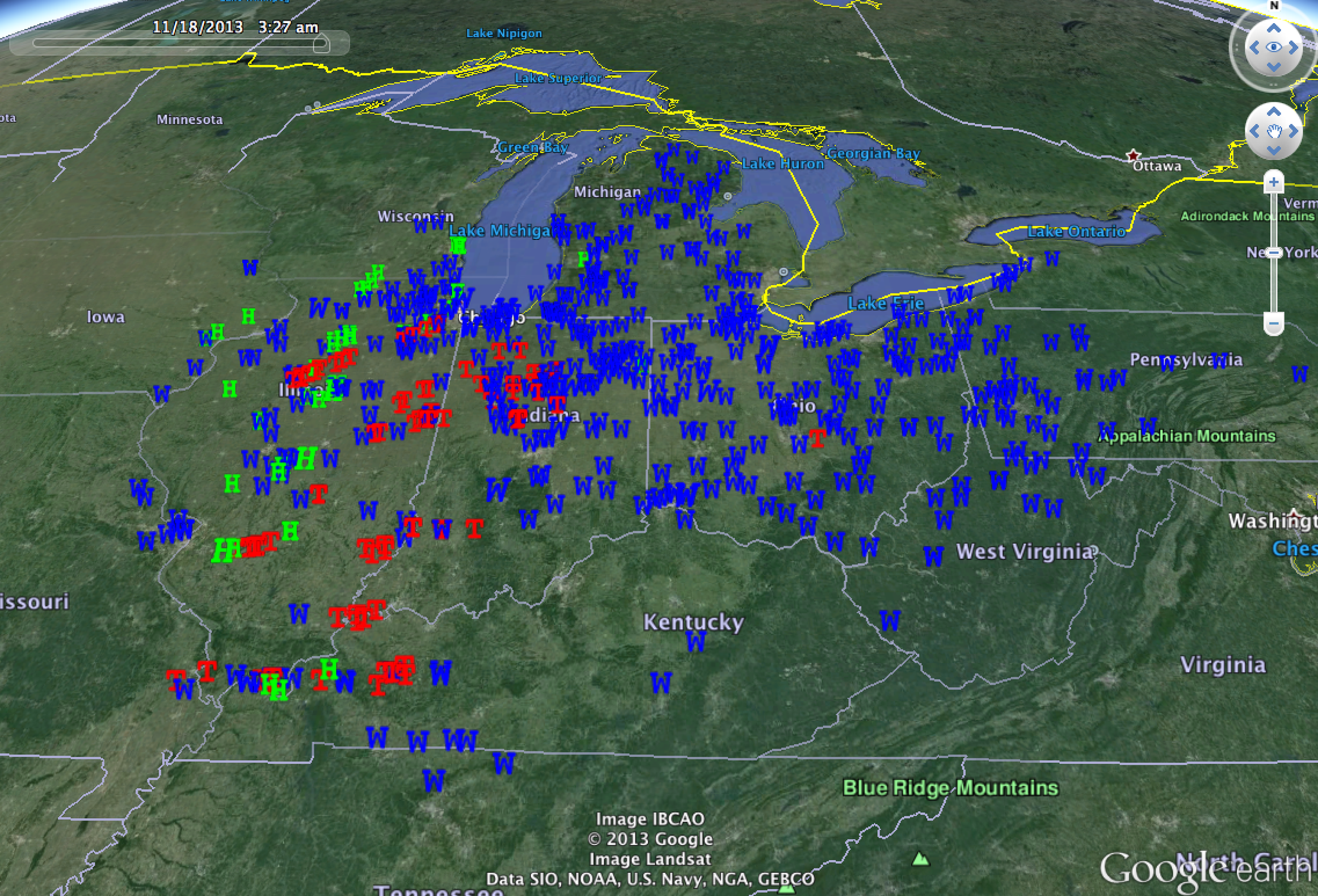 The RED T's are the tornado reports. It's important to remember that more often than not, the same tornado will generate many reports…so while SPC is reporting 81 tornadoes…that number will come down as multiple reports of the same tornado are filtered out.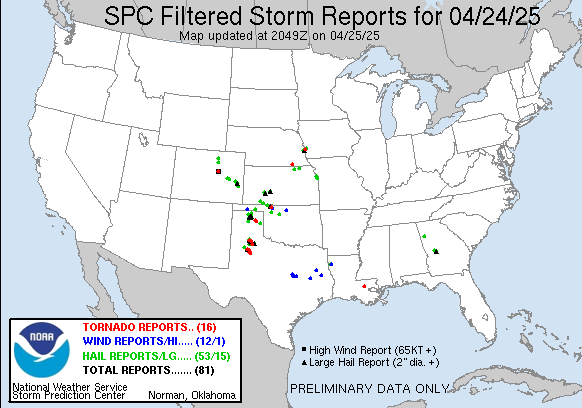 Major props by the way to them…they did a near perfect job yesterday with their moderate to high risk outline…and no doubt the weather awareness and and the timely warnings for storms moving at 60+ MPH saved numerous lives. All told there were 149 tornado warnings issued yesterday. When you look at the flattened remains, one really wonders ow people can walk away from that (basement or no). Here is just one of many videos coming out on Youtube…you may want to mute the volume though…this is from north of Decker, Indiana.
There were 507 reports of severe weather yesterday, making 11/17 the 3rd highest reporting day for severe weather this year. What a strange year it's been for tornados. We're on pace for one of the lowest numbers of tornados in a year in recent memory and then yesterday happens.
Yesterday also will go down as the 3rd most tornadoes in a day in 2013. Strangely #1 is 1/29 and #2 is 10/31…so the top 3 most active tornado days are in non-traditional tornado months!
How unusual is it for getting these stronger tornadoes in November? Take a look at this chart. They have happened before but since 1950, some 60+ years, they seem to happen on average about every 3 years or so (EF3/F3 or above). There have been 163 reports of EF3+ tornadoes and 20 EF4 tornadoes…so far there has never been an EF5/F5 tornado in November. (updated)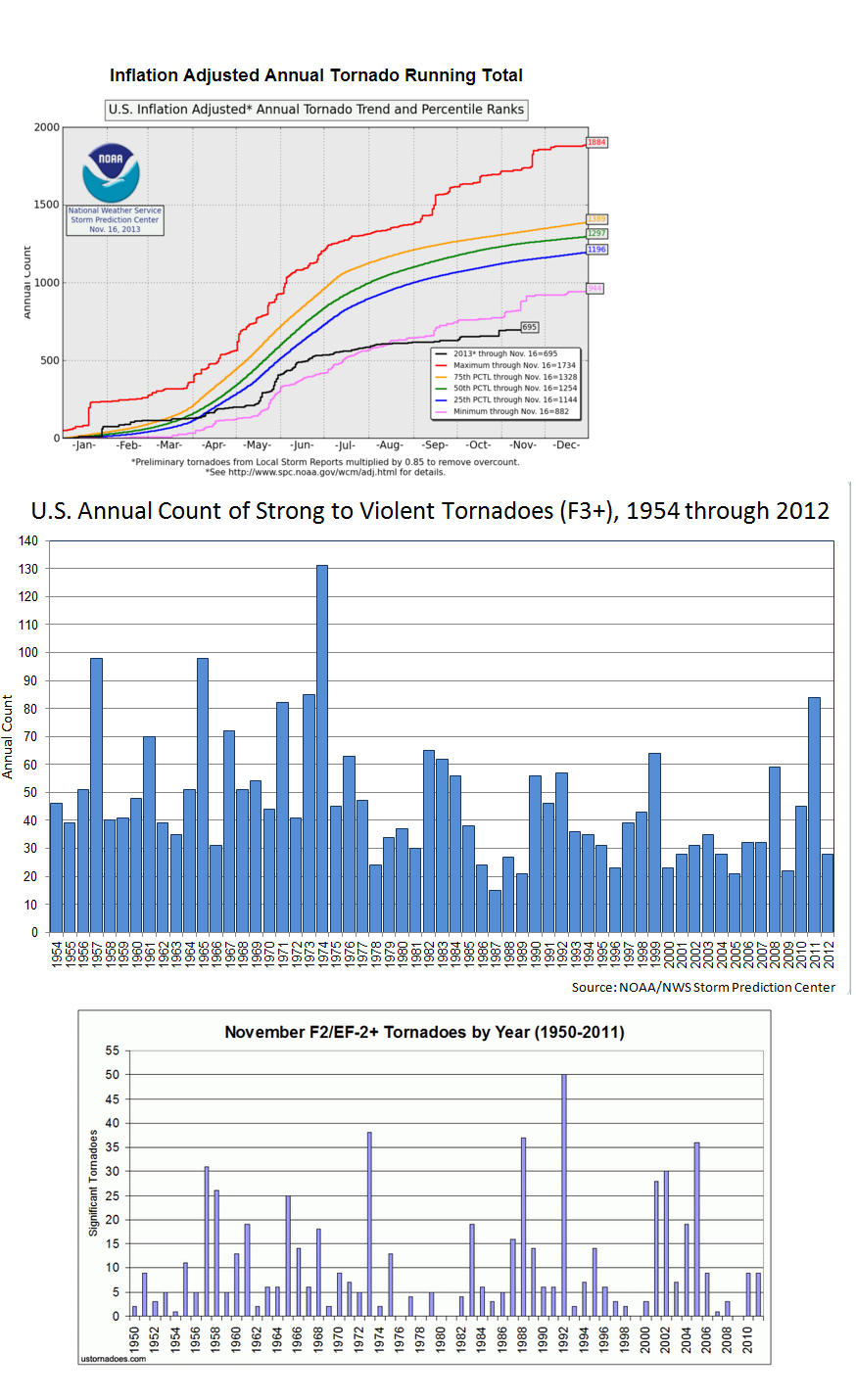 What is unusual is that this occurred so far north in November. Outbreaks in IL are not exactly common in November.
This picture though sums things up for me…apparently it was on reddit.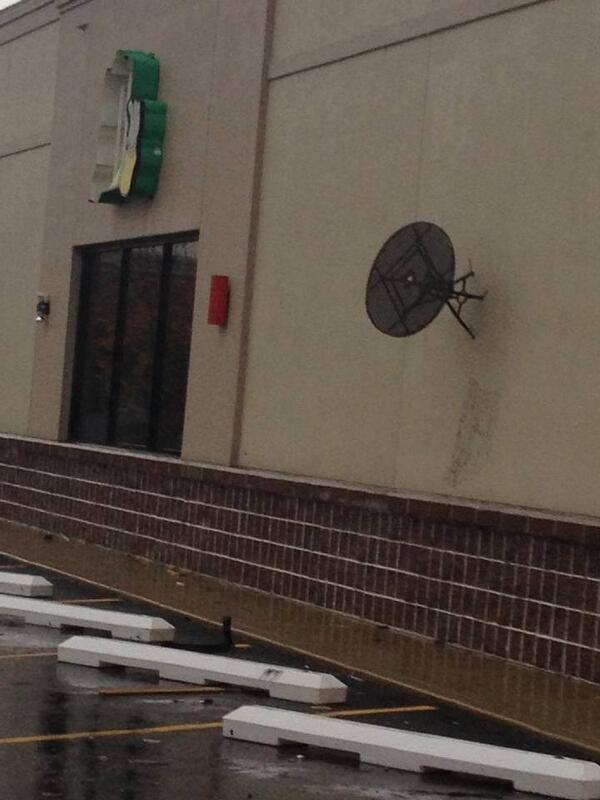 Yes that's exactly what you think it is in a wall.
So let's move on to our weather…it continues to appear as if a strong almost arctic blast of cold air is going to move in on Thursday. I'm not thrilled about the potential of snow out of this as of yet for KC proper. Anyway the front is due THU AM and temperatures will be falling from near midnight highs well in the 40s to eventually the 30s by THU PM with blustery conditions. Here is the forecast off the NAM model for 6AM THU…showing the front right on the doorstep and the colder air poised to move into the region.
Normally I'd show you the temperature profile for the next 10 days off the EURO model…but the EURO is thinking a little too hard about snow in the KC area. By noon on SAT it's got a large swath of accumulating snow (and NOT a little for us) through the Plains states…this then influences it's temperature forecast.
Yes…that's 6″ of snow forecasted for KC. I'm just not there yet with it.
To be fair, it's not like the other models have nothing. The Canadian has precip here with the set-up (broad SW flow over the cold air at the surface). However there is enough warmth aloft on the Canadian to suggest some sort of mixed precip event…and dare I say the potential for sleet and ice. Here is the same map above off the Canadian model…
and since I'm posting the model forecasts…here is the GFS model for the same time frame…
It's certainly something to be watched…and odds perhaps may favor N MO and SE NE/NE KS for some accumulations in the thicker colder air through the atmosphere. If anything were to happen it would be Friday that would be the day to watch I think. Needless to say the late week forecast is something that will be watched closely. One big key will be just how thick the cold air is through the atmosphere, especially above 5000 feet or so.
I'll write more on the set-up tomorrow and Wednesday.
Today and tomorrow look great though so get out and enjoy the weather because it get's a lot worse for awhile after that.
Joe