Joe's Weather Blog: Another Cold Shot+ Another Winter Ingredient
9PM Weather update:
Some of the new data out from our short range models are suggesting and in some cases downright showing a little area of snow developing during or just after rush hour tomorrow morning near the KC area and moving ENE. It would be moving in from the SW. It's not out of the question, if this is correct, that some areas could see a minor coating of snow (under 1/2″). It's something to watch for and I'll update the forecast at 9/10 tonight and check in with KR tomorrow starting @ 4:30 for radar updates.
++++++++
The forecast today is working out with all these cirrus clouds filtering out the sunshine. Frustrating for those outside at the game who are looking for a little warmth…just not going to happen today. These same clouds played the role in keeping temperatures last night from free-falling into the single digits in the KC area. The records for today, 9° in both KC and St Joseph will live for another year. I had a hunch towards the late shows something wasn't right with the clouds.
The issue as well was that the clouds were thinning as they moved east last night, so the tricky aspect of things was whether or not the clouds would thin enough to allow the temperatures to drop off…they did not and as a result we dropped to 11° this morning @ KCI.
The clouds are higher in the atmosphere…closer to 15000 feet…are are called cirrostartus clouds…they are sheet-like and composed of ice crystals.
As moisture from the south is introduced in the middle and lower part of the atmosphere overnight tonight and with the atmosphere still very cold, clouds will easily form, lower and thicken up. It can be a recipe for some freezing mist/drizzle/flakes to form, but the lowest 5000 feet of the atmosphere may stay dry enough for that to not happen. Something to watch for, especially the farther south of KC you get.
Speaking of moisture tot he south, it's been snowing to beat the band across parts of OK today, some places are closing in on 12″ down there.
Winter Storm Warnings (in pink) are all over the place int he following map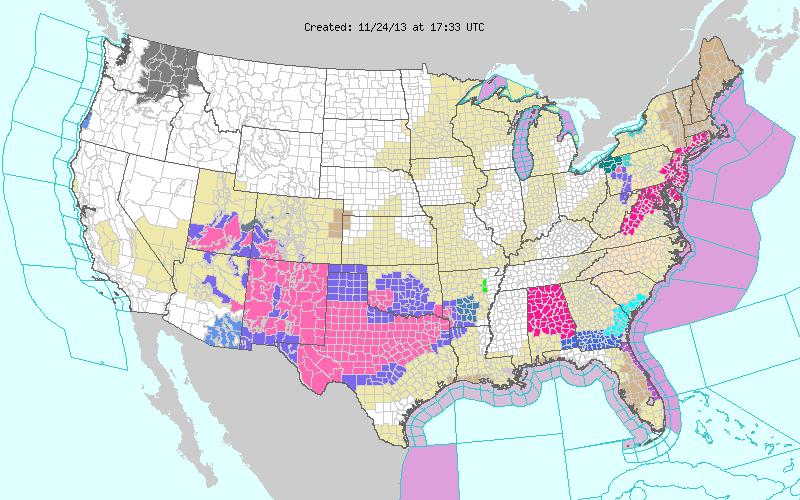 This moisture will skirt through the region but with the main storm staying towards the south of the region the best precip chances will stay to the south as well.
Our next focus will be on another shot of cold air that will move in later Tuesday into Wednesday, aloft at least it is even colder that what we're dealing with now! This airmass is being born now near the Arctic circle in N Canada and will be unleashed tomorrow into Tuesday through the Canadian Prairies and then will rush through here later TUE into WED. The temperatures of the air about 5000 feet up this AM were about -6°C…by WED PM it may be closer to -15° at that same level, almost 20°F colder. Tough to see us much above 27° on WED.
The forecast though is mostly dry as mentioned yesterday and we should see some nice moderation starting on Thursday into next weekend. Highs should get back to at least average with our next chance of any moisture perhaps holding off till the 2nd of December.
Let's talk a bit more about the winter forecast. I will be releasing my forecast on Tuesday. I've already laid out a bunch of things over the past couple of weeks so I won't be rehashing a lot on Tuesday's blog. Odds are after the thousands of words I've written already, it will be a weather update and then the snowfall forecast. There is another thing that I'm looking at that I want to write about.
In the past I've written a decent amount about a correlation between fall snowcover and the future of winter. There is a meteorologist who works for MIT's Parsons Lab for a company called Atmospheric and Environmental Research named Judah Cohen. His premise is that October snowfall in Eurasia and the rate of snowfall expansion play a key role in winter temperatures and even the future trends of the Arctic Oscillation (AO) and the North Atlantic Oscillation (NAO). See my previous blogs for why these are important.
His idea in a nutshell is that the snow advancement index or (SAI) helps forecast the future of the AO. When there is an increase in the snow cover and advancement in October it portends to a more negative AO. It should be noted that the latter has NOT been the case so far this late fall. The AO has been VERY positive mostly since mid OCT and guess what…the rate of snowcover advancement was slow in the month of OCT hence favoring a more positive AO phase this winter.
Got to say…that's pretty impressive. Figuring out the AO tendency this winter though is complicated he says because while there was less advancement this OCT in the snowfall…the "deepness" of the snowfall was much higher than typical. So he has conflicting signals. The folks from the Washington Post and their sensational weather blog have an interview with Judah here.
Another note about the AO/NAO indices that we love to refer to …they're not fool proof. Look at these cold outbreaks that we've seen these last couple of weeks…the one this weekend and on TUE/WED are impressive for NOV and are all with the AO/NAO that aren't exactly favorable for these types of events at 1st glance.
Last winter we were cruising along, if you remember with under 5″ of snow (most of that during the rush hour storm in DEC) until the last week of FEB…when we were slammed by 2 snowstorms back to back in about 5 days…giving us 20.5″ of snow in FEB (one of our snowiest FEBs on record). I decided to dig up the indices for last winter to see if there was anything noteworthy. I drew in a line at the approximate date of the snow flip (what I'm calling it). If you remember we then had snow in March as well! Click on that image to make it more readable and larger!
One thing for sure, after the snow flip, or because of it, those indices were very negative for awhile!
All this stuff is interesting to me…how things can flip so wildly from week to week and month to month. At his point I'm most intrigued about what I wrote the other day about the anomalous warmth in the N Pacific Ocean. This research as well is fascinating. I may try and reach out to Judah this week and see if he has any thoughts about the midwest weather this winter.
OK that's enough for today. Have a great Sunday and I'll update the blog again tomorrow. Winter forecast day for me is Tuesday.
Joe