Joe's Weather Blog: What's Old Is New Again
It's really been tough to come up with things to talk/write about with our weather. Even though this is probably the most active winter I can remember, and really it goes back to November when these strong winds and pressure changes were happening…the moisture situation has been much more "tranquil" for us in the KC area. We had some fun around Christmas and into early January…but here we are finishing the month, and I still don't see a lot of changes from a precipitation standpoint for at least another week.
So let's start the blog with some stats. When in doubt start crunching numbers. Let's put all this in perspective. If you've read the blog long enough, you know that us weather folks have a different take on the seasons. We talk about the "meteorological" seasons. Roughly 90 days apiece and easy to figure out. For example we consider "meteorological" winter to be from 12/1 to the last day of February. Obviously we're still in the middle part of the winter by those guidelines…but we're now passing through the end of the worst of winter by average in terms of highs and lows. So let's put things in perspective.
From 12/1 through yesterday…so far this meteorological winter is the 16th coldest. Here is the data
Notice the coldest start to winter…check out 1984 as #1. It was brutal. Now I know what you're thinking about…what about the wind. Unfortunately that information is not readily kept, or at least I can't find a good resource for it…but yes I sure don't recall a several week period of such wind in the KC area…and I've got news for you…it's not changing over the next week or so. Of course I write that and the NWS in Pleasant Hill comes out with this great graphic! It looks at the last 5 years…but you get an idea.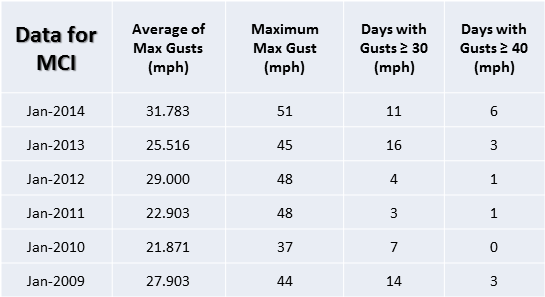 Now as your gas bills come in, odds are heavily favored that there are going to be some pretty big jumps in what you pay. The price for natural gas is going up…I believe up another 5% today and the price of propane is going way up as well,. Propane shortages are showing up in parts of the south from what I read yesterday and the weather that's coming for next week is going to NOT help the cause whatsoever.
This January has been marked by a few nice ups (last 2 Sundays + probably this Sunday as well) and some sharp in and out drops…
For the month overall, through yesterday we're running 4.5° below average which makes this the 23rd coldest JAN I think…so far at least.
Concerning the dryness…and winters here can be dry. January itself is our driest month..but when you factor in the data from 12/1 through yesterday…we've had 1.16″ of moisture @ KCI. That makes this winter the 20th driest start to winter since records have been kept.
So it goes…more dry weather…lots of ups and downs…although my feeling for the next 10 days after this weekend is more downs than ups after this weekend. Next week does overall look cold, and one of the colder airmasses of the year will come on Monday as our 5000′ temperatures may drop to around minus 22 to minus 24°C (-8 to -12°F)…not to the absolute extreme as in December…but darn close. Again a lot of modification because of a lack of snowcover but Monday looks nasty cold with Wind Chill Advisories likely for Monday morning at least. Don't be surprised if there are some school delays again on Monday AM.
That's about it for today…it's been an interesting day down in the south with snow and ice all the way into parts of FL and even southern TX. Winter Weather Advisories are in effect for the Baton Rouge, AL region. Freeze warnings and wind chill advisories are up for far southern TX.
Joe